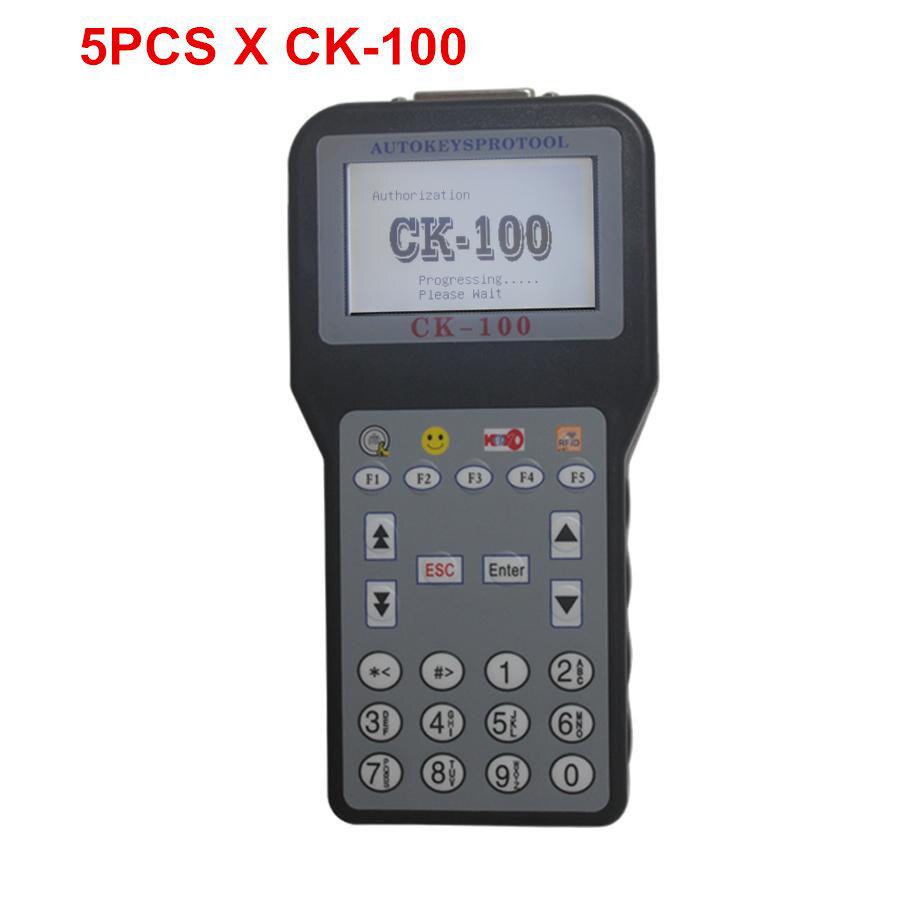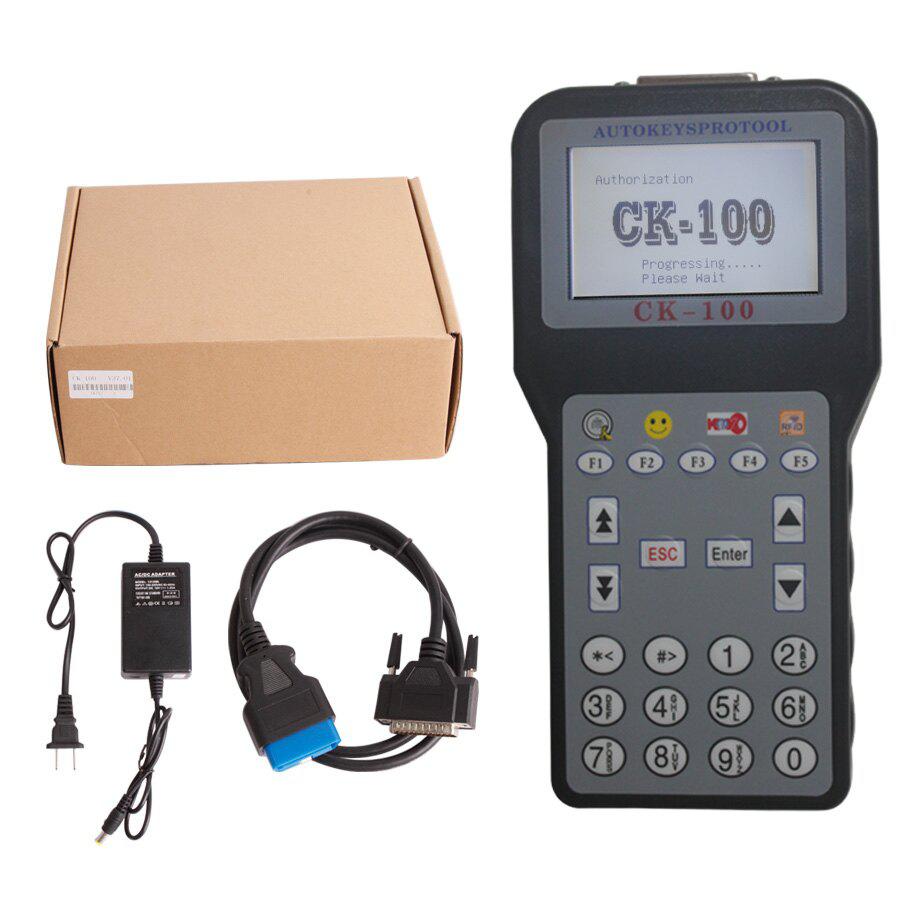 5PCS/lot CK-100 Auto Key Programmer CK 100 V46.02 SBB The Latest Generation
CK-100 Auto Key Pro Tool is a new generation of the SBB Key Programmer, the replace version.Alternative to function and feature of the SBB V33.02.Increase much more features and functions.More powerfull and functional.Excellent Quality.New Version: V45.02
Shipping:

Express Shipping Service


Estimated delivery time:

3-15

working days.

See details ?

Returns:

Return for refund within 30 days, buyer pays return shipping.

Read details ?

Support: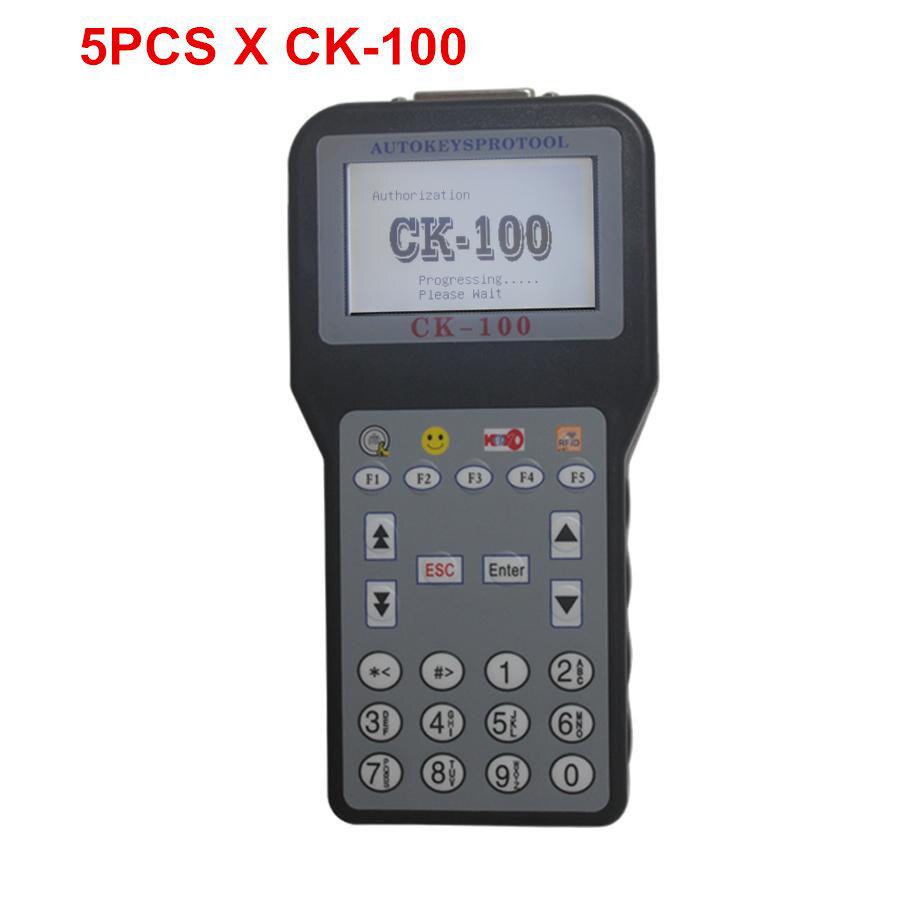 Product Details

Product's Reviews (0)
CK-100 Auto Key Programmer V45.02 SBB the latest generationFeature:
Software Version: 45.02
Supported Languages: English,Italiano,Deutsch,Francais,Espaniol,Portugues,Turkey
Old machine can be update free and you can send back.
Note:
When using if it fails to adapte key, then disconnected OBD16 adapter and car connection, after 10 seconds connect again,
otherwise vehicle
IMMO
system may damaged, CK-100 locked.
---
IMMOBILIZER List
ACURA
* TSX
04-06
INFINITI
* EX35 [PRX]
08-11
* TSX
07-08
* FX35 [IK]
03-11
ALFA REMEO
* GT[CAN]
03-10
* FX35 [NT5]
03-09
* 147[CAN]
00-10
* FX45 [IK]
03-09
* 166
04-08
* FX45 [NT5]
03-09
AUDI
* S4
00-05
* FX50 [IK]
09-11
BUICK(CAN)
* Allure
05-09
* G35 [IK]
05-08
Enclave
07-11
* G35 [PRX]
07-08
* Lucerne
06-11
* G37 [PRX]
09-11
CHEVROLET S.AMERICA
* AGILE[CAN]
09-
* QX56 [IK]
08-10
* ZAFIRA
01-05
JEEP
* COMMANDER[CAN]
08-09
CHEVROLET US (CAN)
* AVALANCHE
07-11
* COMMANDER[CAN]
09-10
* COBALT
05-10
* G.CHEROKEE[CAN]
09-10
* EXPRESS
08-11
KIA
* JOICE
00-03
* HHR
06-11
MAZDA
* CX-7[CAN]
07-11
* IMPALA
06-11
* CX-7[PRX]
10-11
* MALIBU
04-11
* CX-9[CAN]
07-11
* TAHOE
07-11
* CX-9[PRX]
09-11
CHEVROLET-DAEWOO
* LACETTI
04-09
* MAZDA 2[CAN]
11-
CHRYSLER
* ASPEN[CAN]
07-09
* MAZDA 3[PRX]
10-11
* SEBRING C.
01-06
* MAZDA 5[CAN]
08-12
* SEBRING C[CAN]
07-10
* MAZDA 6[CAN]
08-11
* TOWN&COUN[CAN]
10-11
* MAZDA 6[PRX]
09-11
* 300[CAN]
08-09
* MX-5[CAN]
06-11
* 300[CAN]
09-10
* MX-5[PRX]
09-11
CITROEN
* XSARA PICASSO
00-06
* RX-8[CAN]
09-10
DODGE
* CARAVAN[CAN]
10-11
* RX-8[PRX]
10-11
* CHALLENGE[CAN]
08-11
* TRIBUTE[CAN]
10-11
* CHARGER[CAN]
08-09
MITSUBISHI
* GALANT[PIN1]
02-05
* CHARGER[CAN]
09-11
* GALANT[PIN2]
02-05
* DURANGO
01-03
* MONTERO IO
00-06
* DURANGO
03-04
* SPACE GEAR
96-
* DURANGO[CAN]
04-06
* SPACE RUNNER
98-99
* DURANGO[CAN]
07-10
* SPACE RUNNER
99-02
* DURANGO[CAN]
11-
MITSUBISHI GREEK
* GALANT
02-05
* JOURNEY[CAN]
10-11
* PAJERO NEW
02-03
* MAGNUM[CAN]
08-09
MITSUBISHI USA
* ENDEAVOR
03-05
* MAGNUM[CAN]
09-
* GALANT[CAN]
08-10
* RAM [CAN]
09-
NISSAN
* ALTIMA
00-04
FIAT
* IDEA[CAN]
03-08
* NAVARA
03-05
* SEDICI[D]
06-
* SENTRA
00-06
* SEDICI[G]
06-10
NISSAN JAPAN
* MICRA MARCH
00-03
* FIAT S.AMERICA
* DOBLO[CAN]
00-06
NISSAN USA
* MURANO[PRX]
08-09
* DOBLO'[CAN]
06-
OPEL-VAUXHALL
* CORSA
04-06
* IDEA[CAN]
03-08
PONTIAC(Basic)
* Aztrk
01-05
* IDEA[CAN]
09-
* Bonneville
00-05
* MILLE
05-
PONTIAC(CAN)
* G5
07-10
* PALIO[CAN]
04-08
* G6
05-10
* PALIO[CAN]
09-
* G8
08-09
* PUNTO[CAN]
99-07
* Outlook
07-09
* PUNTO[CAN]
07-
SCION
* TC[CAN]
11-
* SIENA (ARG)
09-
SEAT
* CORDOBA
02-09
* SIENA (BRA)
09-
* IBIZA
02-09
* SIENA [CAN]
02-07
SUZUKI
* SX4[D]
06-
* STILO[CAN]
02-08
* SX5[G]
06-10
* STILO[CAN]
09-
* WAGON[R]
00-08
* STRADA[CAN]
05-
* WAGON[R]
00-08
FORD EU
* TRANSIT
00-02
TOYOTA - USA
* CAMRY[CAN]
11-
FORD USA
* EDGE[CAN]
10-10
* CAMRY[PRX]
11-
* EDGE[CAN]
11-12
* COROLLA[CAN]
09-10
* EXPLOERE[CAN]
10-10
* COROLLA[CAN]
10-
* EXPLOERE[CAN]
11-
* FJ CRUISER[CAN]
08-10
* FIESTA[CAN]
11-
* FJ CRUISER[CAN]
11-
* FIESTA[PRX]
11-
* PRIUS[PRX]
09-
* FLEX[CAN]
11-
* RAV 4
06-10
* FOCUS[CAN]
11-
* RAV 4[CAN]
06-10
* F-150[CAN]
11-
* RAV 4[CAN]
11-
* F-250 SD[CAN]
10-10
* SEQUOIA[CAN]
08-10
* F-250 SD[CAN]
11-
* TUNDRA[CAN]
09-10
* F-250[CAN]
11-
* TUNDRA[CAN]
11-
* F-350 SD[CAN]
10-10
* TUNDRA[CAN]
07-10
* F-350 SD[CAN]
11-
* VENZA[CAN]
11-
* MUSTANG[CAN]
07-10
* 4RUNNER[CAN]
09-10
* RANGER V6[P2]
99-00
* 4RUNNER[CAN]
11-
GMC(CAN)
* Savana
08-11
VOLKSWAGEN
* FOX
05-08
HONDA
* STREAM
01-03
* JETTA
00-04
HONDA USA
* ACCORD CROSST
10-
VOLKSWAGEN S.AMERICA
* FOX
09-
* CIVIC
06-11
* GOL(Trend)
09-
* CR-V
07-11
* VOYAGE
09-
* INSIGHT
10-
* ODYSSEY
07-10
* ODYSSEY
11-
HYUNDAI
* H-1
99-06
* MATRIX
02-10
* STAREX
98-06
REMOTE CONTROLS
BUICK
* ALLURE
05-06
* GMC
* ACADIA
07-11
* Century
00-05
* CANYON
04-08
* ENCLAVE
07-11
* DENALI
07-11
* LACROSSE
05-06
* SAVANA
03-07
* LeSabre
00-05
* SAVANA
08-11
* LUCERNE
06-11
* YUKON
07-11
* Park Avenue
04-05
* HUMMER
* H3
05-09
* REGAL
00-05
* HYUNDAI USA
* ACCENT
06-
* RENDEZVOUS
02-07
* AZERA
06-
* SRX
04-06
* ISUZU
* I-280
06-07
TERRAZA
05-07
* I-350
06-07
CADILLAC
* CTS
03-07
KIA USA
* FORTE
08-
* CTS
08-10
* FORTE
10-11
* Deville
98-05
* OPTRUS
04-
* DTS
06-11
* OPTIMA
06-
* ESCALADE
07-11
* RIO
06-
* SEVILLE SLS
98-04
* SEDONA
06-
* SEVILLE STS
98-04
* SEDONA
06-
* SRX
04-06
*SORENTO
09-
* SRX
07-09
* SOUL
10-11
CHEVROLET S.AMERICA
* ASTRA
08-
* SPORTAGE
08-10
* BLAZER
06-
* MAZDA
* CX-9
10-
* CORSA
05-
OLDSMOBILE
* ALERO
99-04
* S-10
06-
* SILHOUETTE
99-04
* VECTRA
09-
OPEL-VAUXHALL
* ZAFIRA
99-05
* ZAFIRA
06-
PONTIAC
* Aztek
01-05
CHEVROLET USA
* AVALANCHE
01-06
* Bonneville
00-05
* AVALANCHE
07-11
* Grand Am
99-05
* AVEO
04-10
* Grand Prix
00-03
* COBALT
05-05
* Grand Prix
04-06
* COBALT
06-10
* G5
07-10
* COLORADO
04-10
* G6
05-07
* EXPRESS
02-07
* G6
08-10
* EXPRESS
08-11
* G8
08-09
* HHR
05-07
* Montana
99-04
* HHR
08-11
* Montana
05-07
* IMPALA
02-05
* PURSUIT
06-09
* IMPALA
06-11
* SOLSTICE
06-09
* MALIBU
04-07
* TORRENT
05-06
* MALIBU
08-11
* TORRENT
07-09
* MALIBU Clasio
01-06
* SATURN
* AURA
07-09
* MONTECARLO
00-02
*OUTLOOK
07-09
* MONTECARLO
03-05
* SKY
07-09
* MONTECARLO
06-08
* SUZUKI USA
* XL-7
07-09
* SILVERADO
07-11
TOYOTA USA
* COROLLA
08-
* SSR
04-05
* PRIUS
04-08
* SUBURBAN
07-11
* TAHOE
07-11
* TRAVERSE
09-11
* UPLANDER
05-07
---
Image display: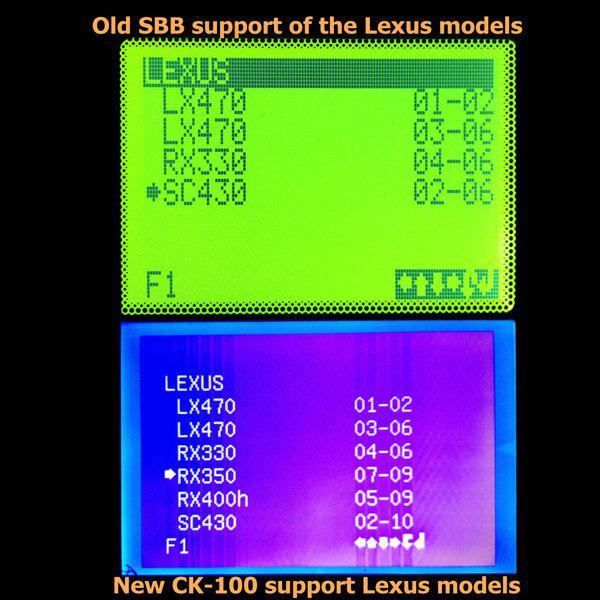 ---
Packing Including:
5pc x Main Unit
5pc x USB Cable
5pc x Power Supply
5pc x Packing Carton
---