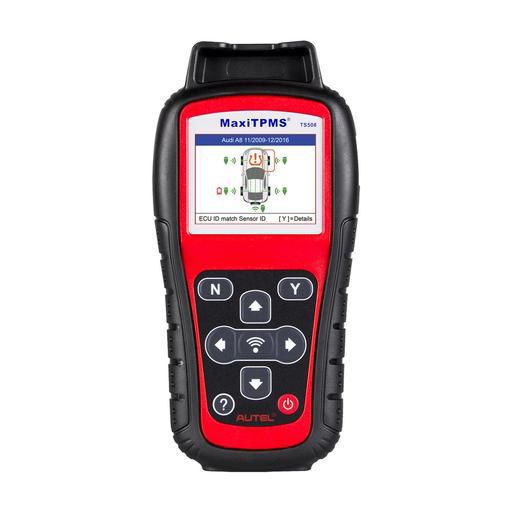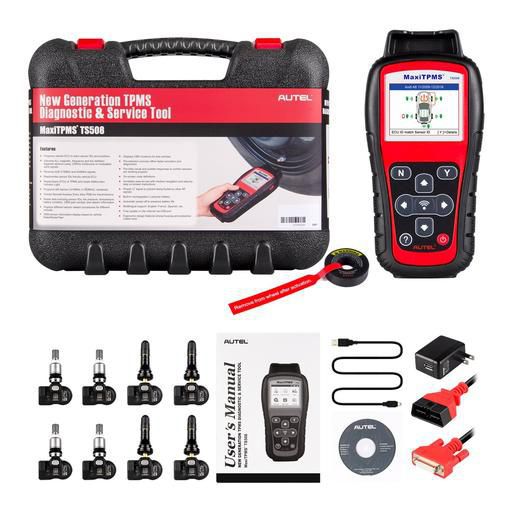 Autel TS508K Premium TPMS Service Tool Activate Tire Pressure Sensor Program ECU With 315MHz & 433MHz Programmable Sensors
The Autel TS508K (TS508 + 4PCS 315MHz Sensors + 4PCS 433MHz Sensors) is a new generation complete TPMS tool that offers the option to choose one of two service modes from the home screen, to provide faster and smarter TPMS repairs.Based on the TPMS service type needed, the option to choose the basic Quick Mode or the complete Advanced Mode will decrease repair time.
Shipping:

Express Shipping Service


Estimated delivery time:

3-15

working days.

See details ?

Returns:

Return for refund within 30 days, buyer pays return shipping.

Read details ?

Support: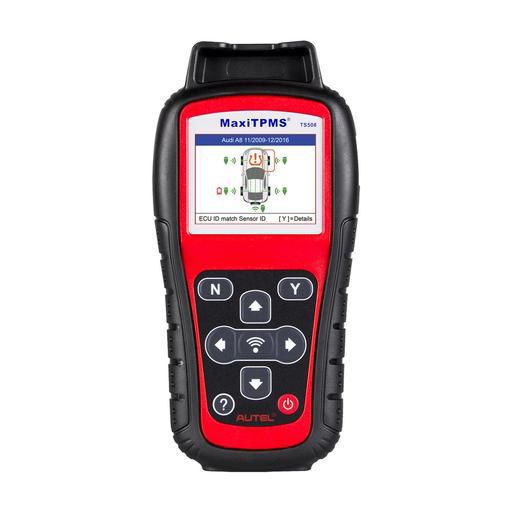 Related Accessories/Similar Items
Product Details

Product's Reviews (16)
Autel TS508K Premium TPMS Service Tool Activate Tire Pressure Sensor Program ECU With 315MHz & 433MHz Programmable Sensors
Autel
TS508K is the best TPMS replacement tool and also do service and diagnostic function for Car
TPMS
Autel
TS508K Support Multi Language :English, French ,Spanish ,German ,Dutch,Swedish,Polish ,Korean ,Japanese, Italian,Russian,Hungarian
The package with 4pcs Programmable 315MHZ Maxi TPMS Sensor and 4pcs Programmable 433Mhz Maxi
TPMS
Sensor. You can easily use TS508 program the sensor to install to your car!
The best tool kit for original tpms sensor repair or Replacement !

1.Read the data from original sensor .
2.Programming the Autel sensor and install it to your car
3. Activate the Autel sensor on your car . then it will show TPMS DATA directly on Dash board of your car!

FEATURES of Autel TS508K:
Vehicle Specific Database (Domestic, Asian and European)
Auto Selection of Frequency for Fast Scanning
Two TPMS Service Modes to Use
Quick Mode for Fast Installs designed for tire / wheel shops
Advanced Mode To diagnose, repair and replace TPMS for repair shops
TPMS Status Screens for Easy Diagnosis
Shows ID matching in color
Low Sensor Battery Indicator
Code Notification
Information - relearn procedures at the touch of help button
Batch Programming - Program multiple sensors with one touch (up to 16 sensors at a time)
Programs vehicle ECU to learn sensor IDs and positions
Activates ALL magnetic, frequency and tire deflation triggered sensors using 125Khz continuous or modulated waive signals
Receives both 315MHz and 433MHz signals
Reads / writes sensor IDs from vehicle ECU
Reads / clears DTC's of TPMS and resets Malfunction Indicator Light
Programs Autel MX-Sensors 315MHz or 433MHz wirelessly
Checks Remote Keyless Entry (Key FOB) for transmissions
Reads Data including sensor IDs, tire pressure, temperature, battery condition.
OEM Part number and relearn information
Displays different sensor relearn procedures for different OEM sensors
OEM sensor information display based on vehicle Make/Model/Year
Displays OBD locations for test vehicles
Pre-selection process offers faster activation and diagnostics
Provides visual and audible responses to confirm sensors are working properly
On-screen code definitions
Incredibly easy-to-use with intuitive navigation and step-by-step on-screen instructions
Proper LF signal to prevent being fooled by other RF signals
Built-in rechargeable 3.7 v Li-polymer battery
Automatic power-off to preserve battery life
Multilingual support: English, French, Spanish, etc.
Free Lifetime updates on the internet using USB port
Ergonomic design features strong housing and protective rubber boot
TFT Color Display (320 X 240 dpi)
8.0" LED Capacitive touchscreen with 1024 X 766P resolution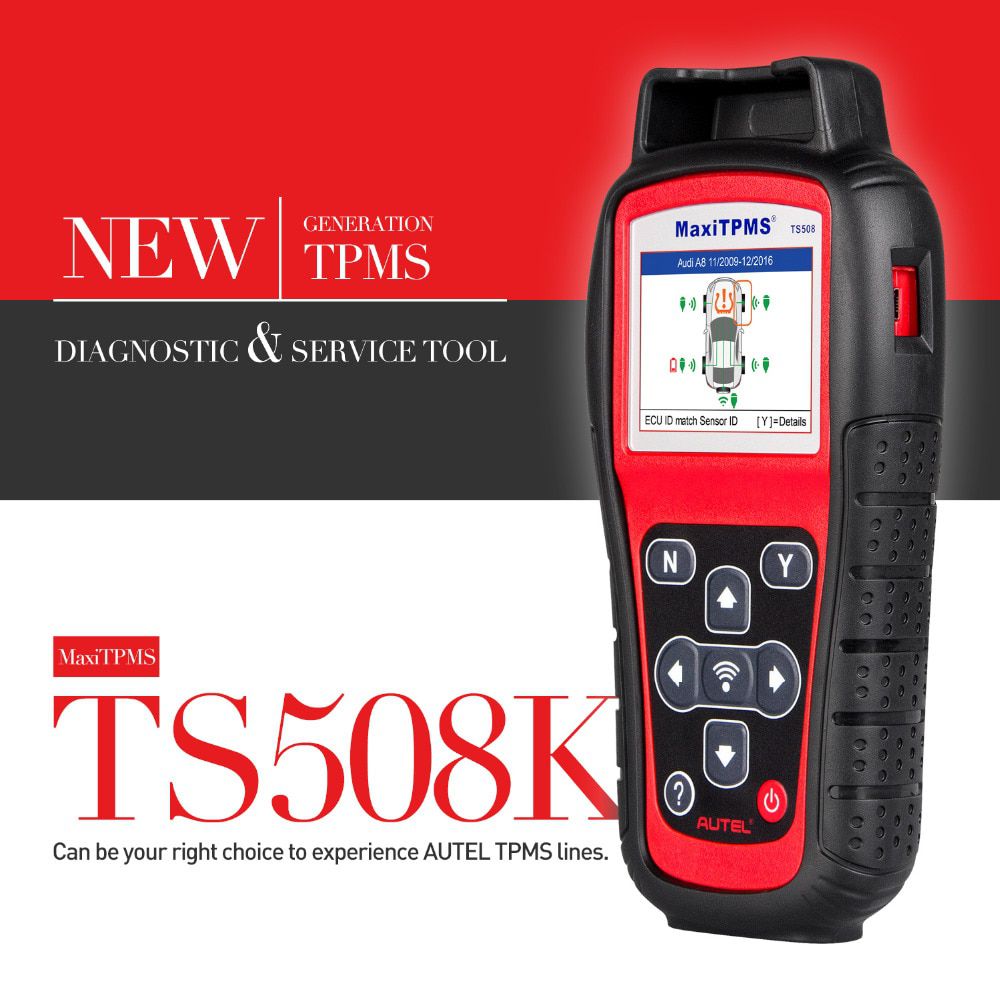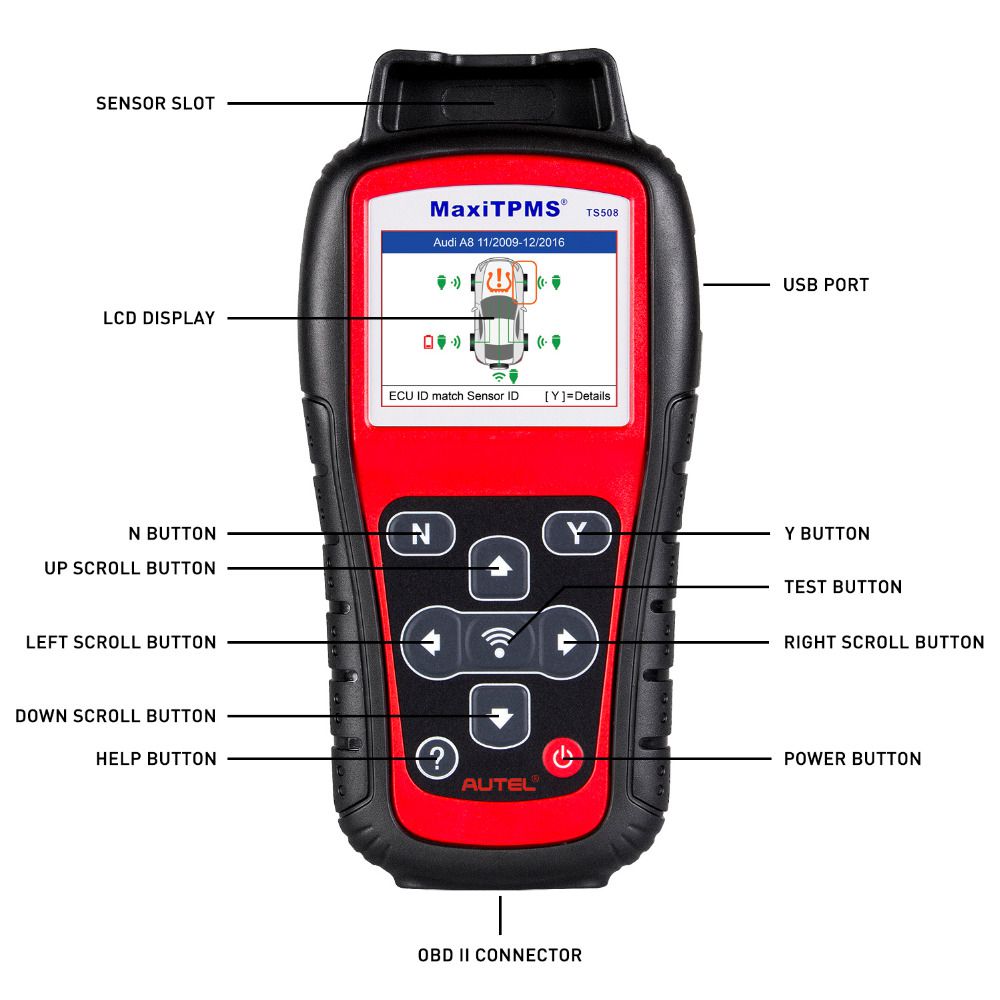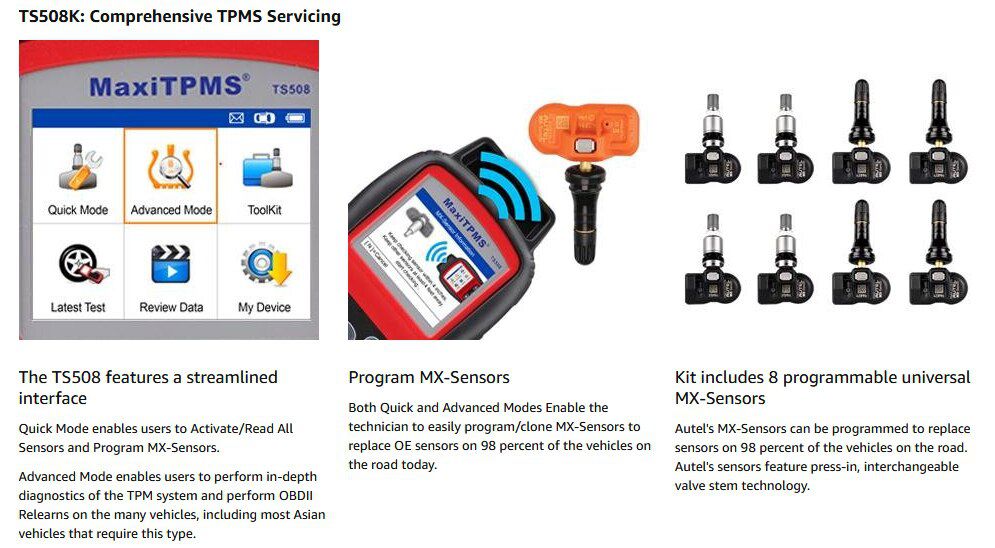 QUICK MODE / ADVANCED MODE COMPARISON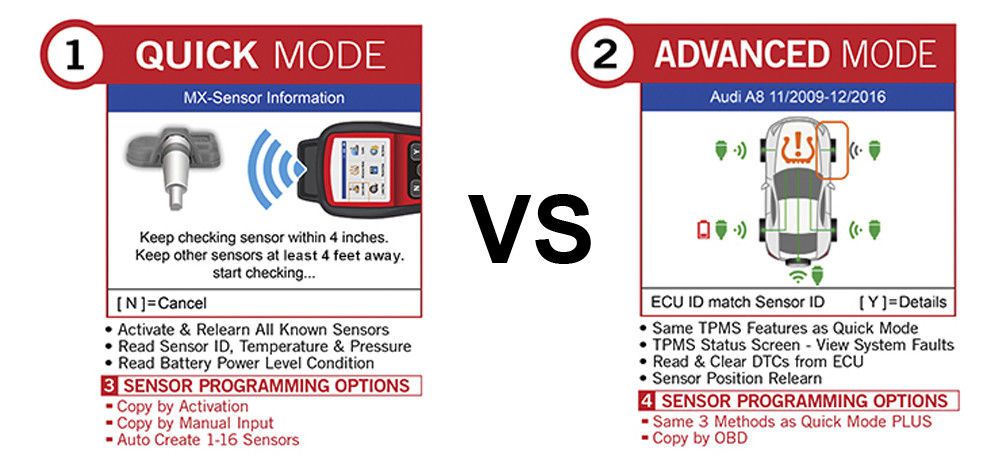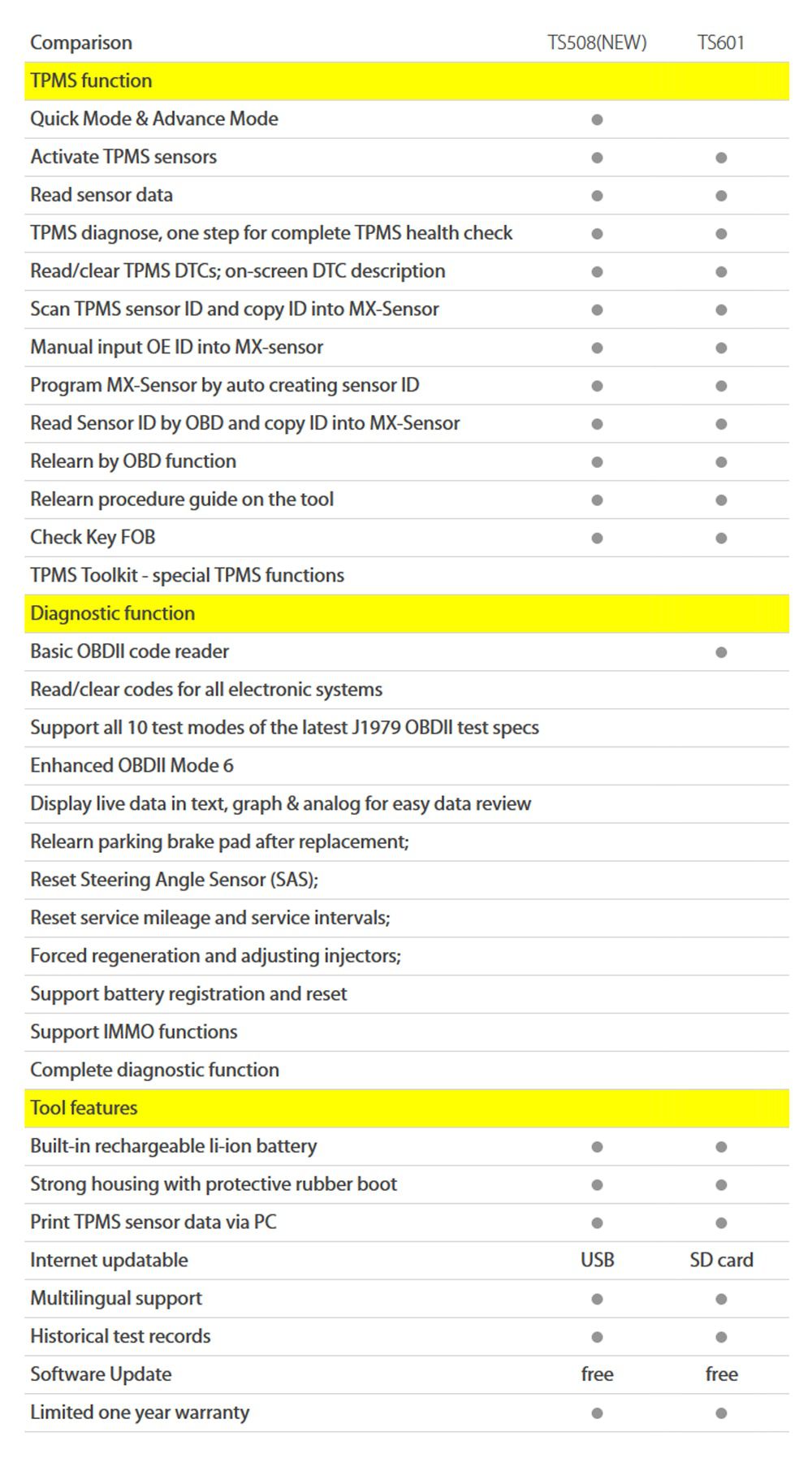 Specifications of Autel TS508K:
Battery Life: ≥5 years
Operating Temperature: -40°C to +125°C
Storage Temperature: -40°C to +150°C
Operating Humidity: 90%
Operating Frequency: 433 MHz
Pressure Monitoring Range: 100 to 900 kPa
Pressure Reading Accuracy: ±10 kPa
Temperature Reading Range: -40°C to +125°C
Temperature Reading Accuracy: ±5°C
G Sensor Reading Accuracy: ±15%
Transmission Power: 5-8 dBm
Battery: 3.0 V
Dimensions (W x H x D): 54.2 mm x 29.4 mm x 19.1 mm (Snap-in Sensor)
Weight (Without Valve): 15.6 g (Snap-in Sensor)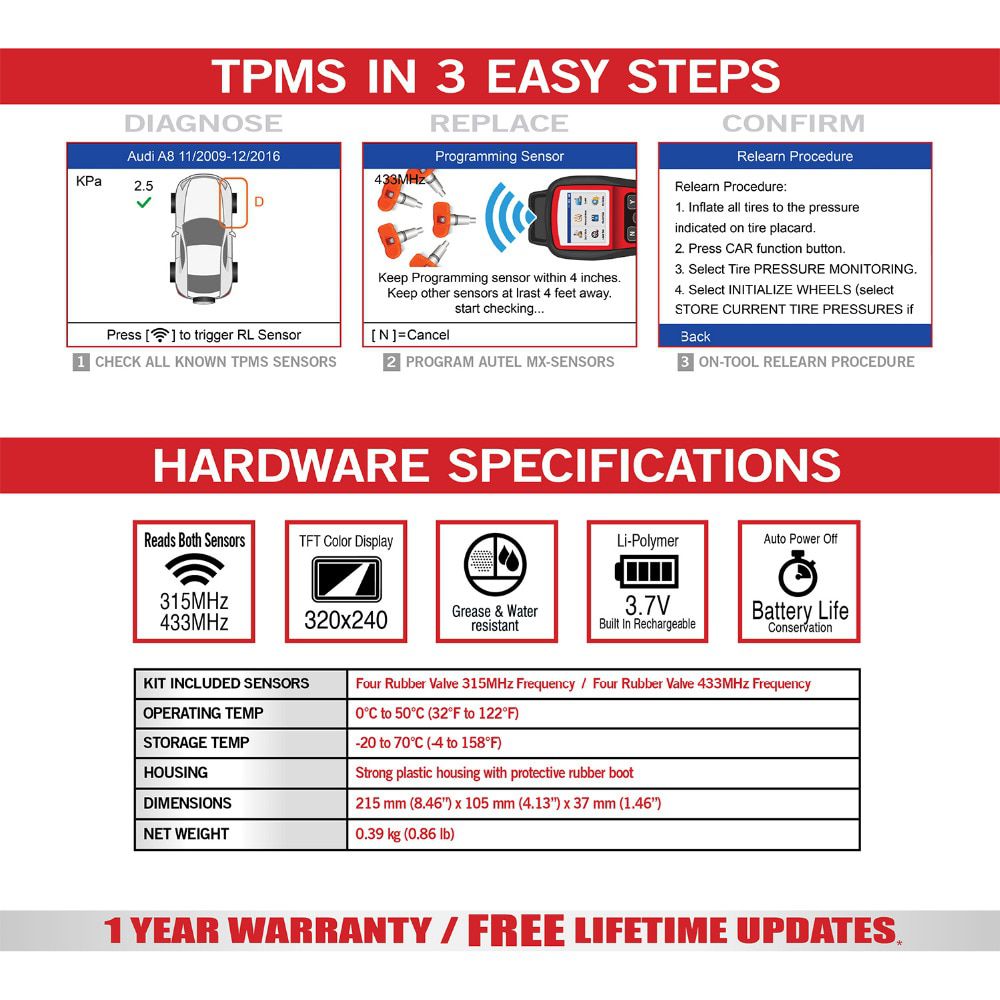 FOUR MX-SENSOR PROGRAMMING OPTIONS

1.Copy By Activation;
2.Copy By Manual Input;
3.Auto Create 1-16;
4.Copy By OBD;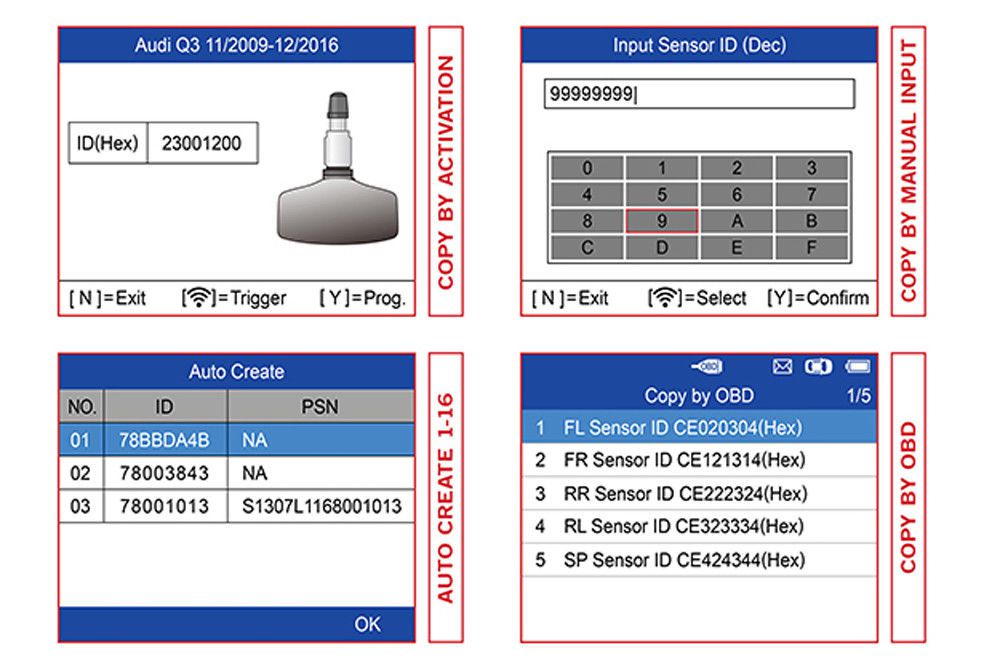 315MHz & 433MHz MX-Sensors
98% vehicle coverage with only 2 SKU types
Facing the growing OE sensor SKU numbers, AUTEL help to greatly reduce tire dealers and mechanic shop's inventory to only 2 SKU types, 315 MHz sensor and 433 MHz sensor, to replace 98% of OE sensors in the market. MX-Sensors are built to perform like O.E sensor, in terms of signal interval, durability & functionality.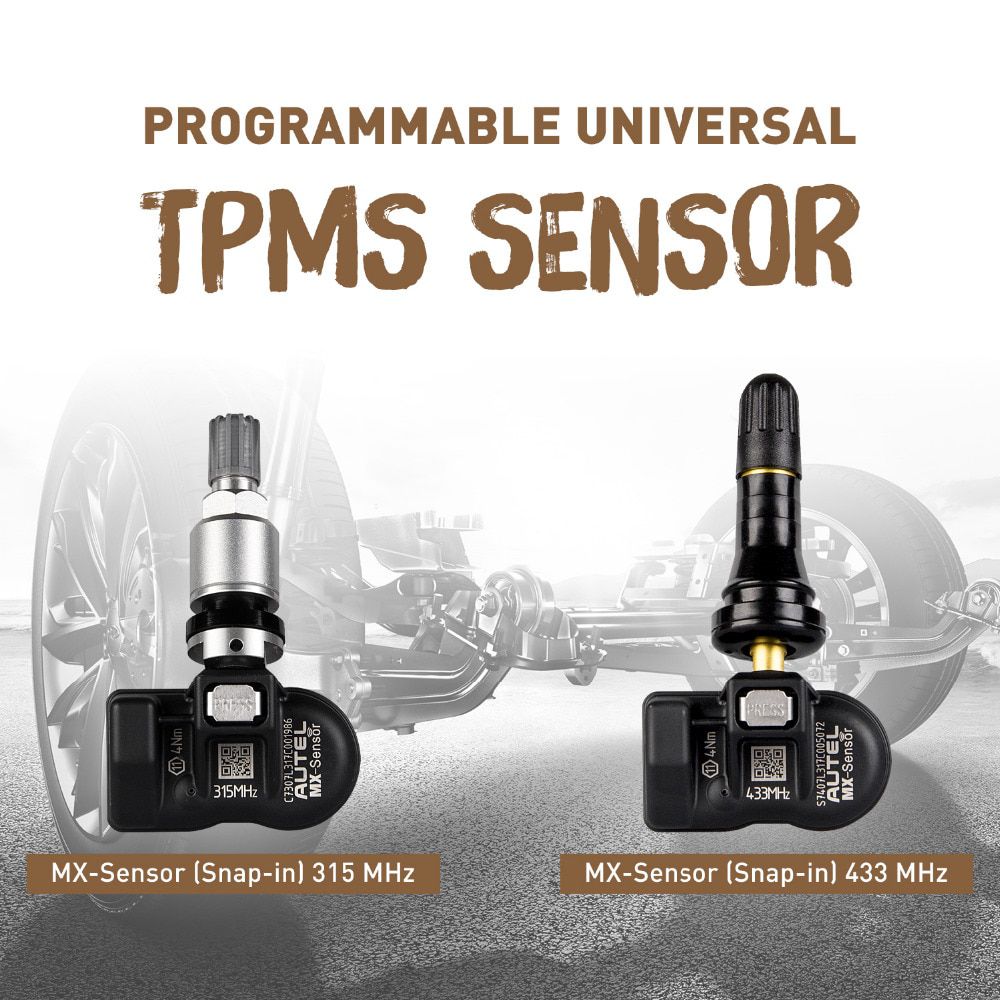 Interchangeable valves with press design
AUTEL MX-Sensors have both rubber valve and metal valve available. The unique patented press release valve design allows rubber and metal sensor valves to be freely interchanged by hand, without requiring a tool for sensor head fitting. Simply click in and press out. Installing TPMS sensors has never been so easy.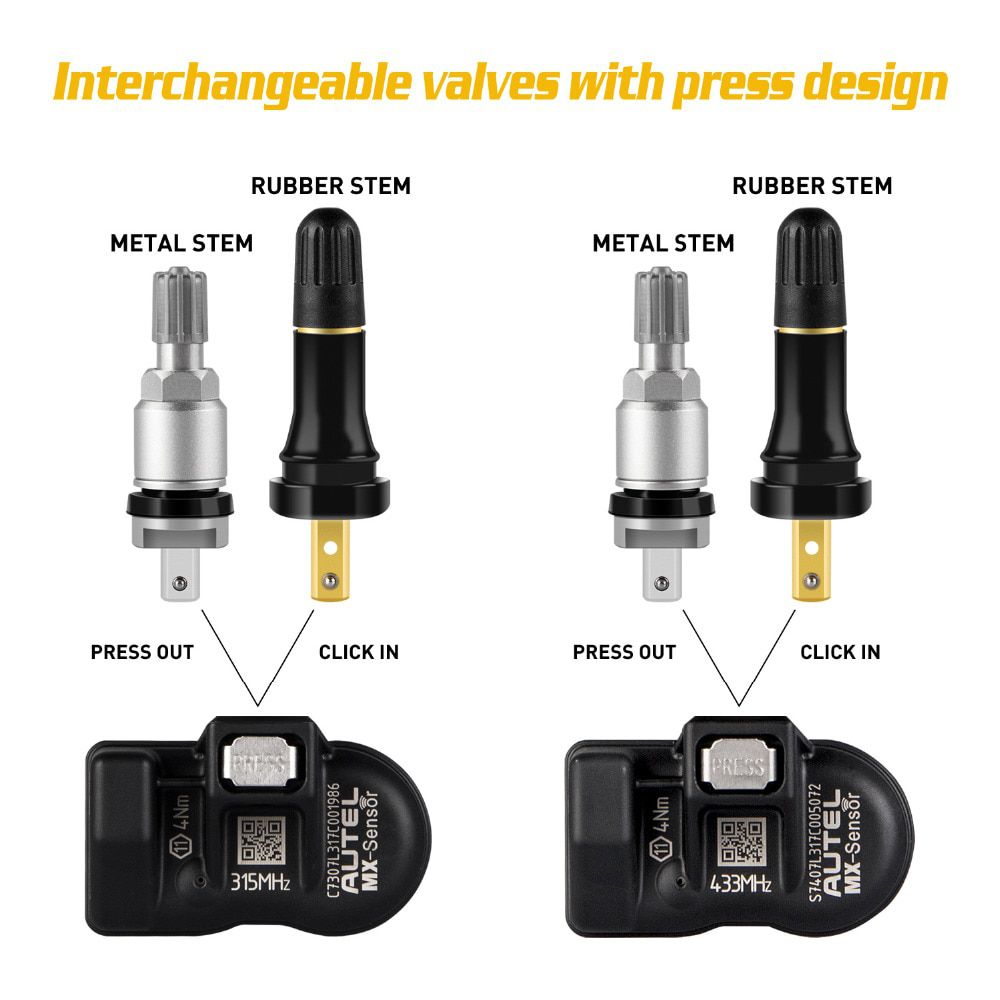 Wireless programming & 100% clone-able
AUTEL MX-Sensor can be wireless programmed by all AUTEL TPMS tools. MX-Sensor is 100% clone-able. No relearn is required when the MX-Sensor is cloned with the original sensor ID and put in the same position.
Tested & certified to meet SAE standards
AUTEL high-quality MX-Sensor is tested and certified to meet SAE standards. AUTEL guarantees MX-Sensor are free from manufacturing defects for a period of 24 months or 24,000 miles, whichever option comes first.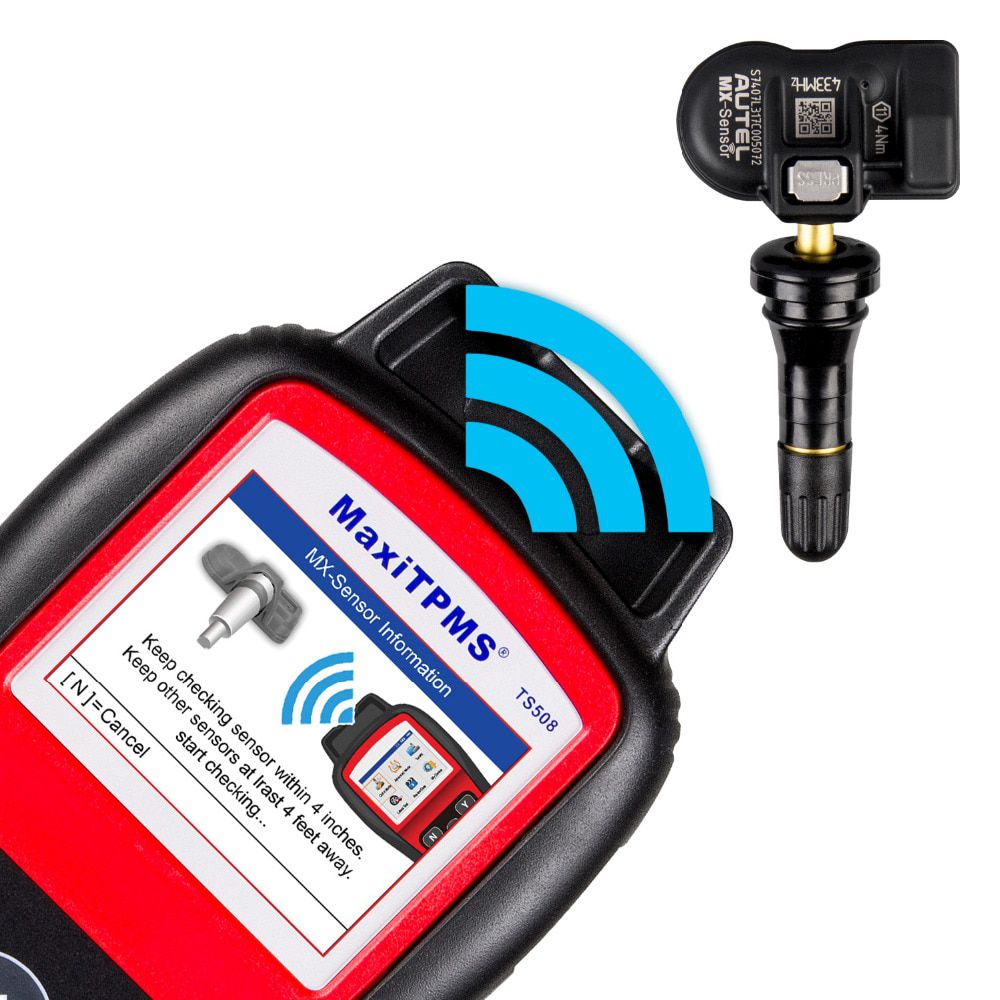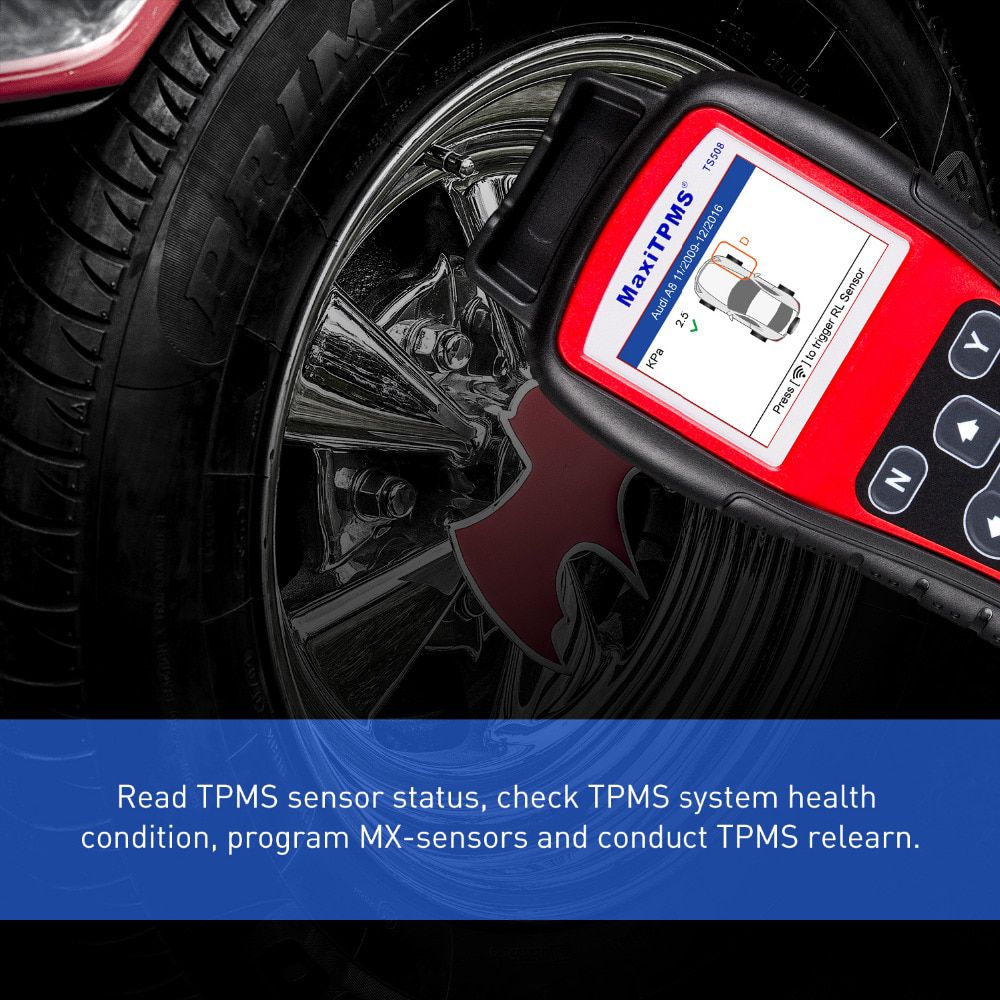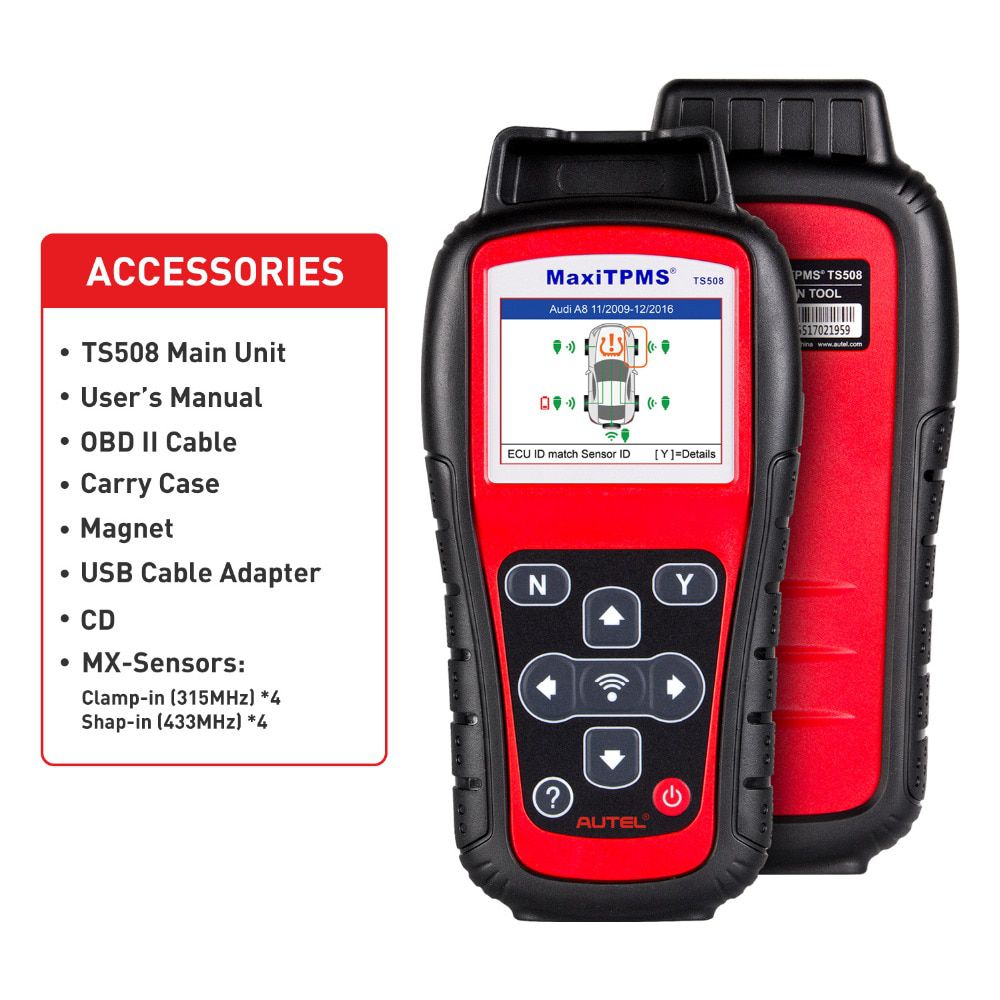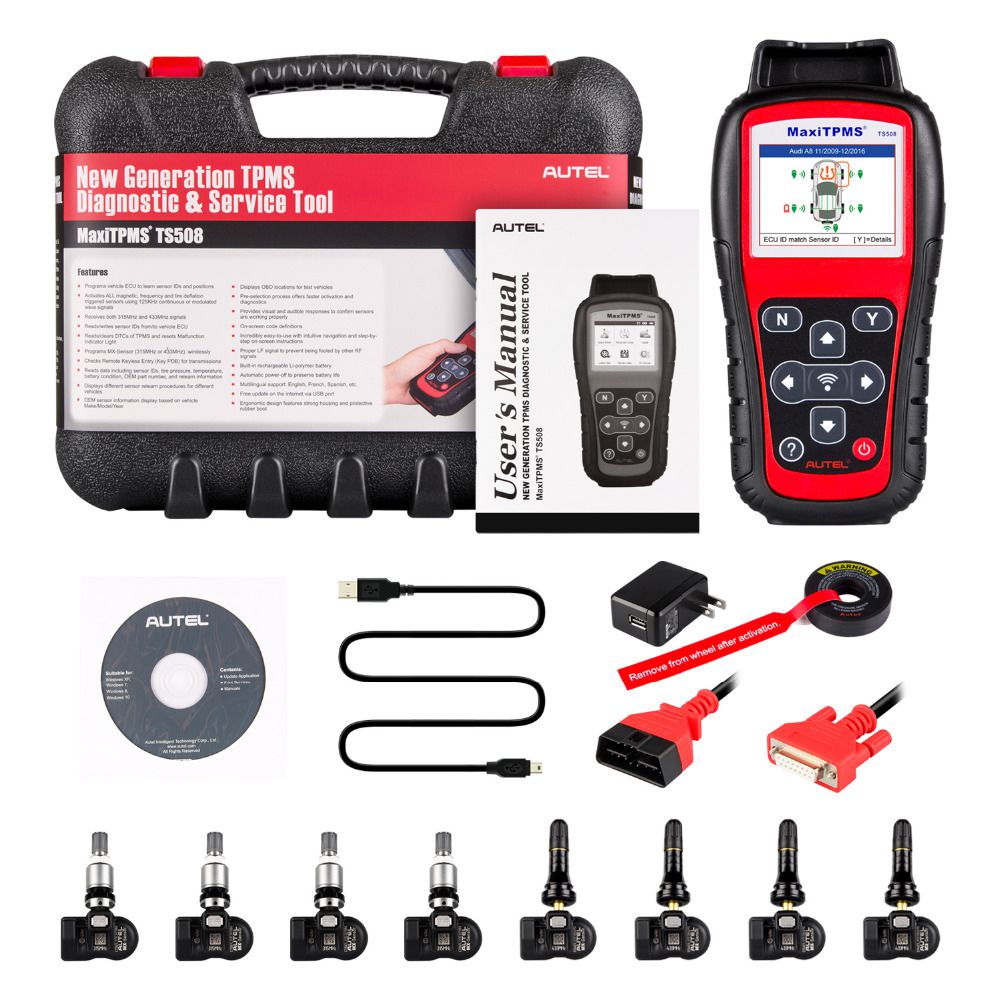 Package Included:
1 x MaxiTPMS TS508 TPMS Tool
1 x OBD II Cable
1 x USB Cable
1 x Magnet
1 x AC Adapter
1 x CD
1 x Carry case
1 x User manual
4 x 315MHz MX-Sensors
4 x 433MHz MX-Sensors
1 x Free Software Updates-Lifetime