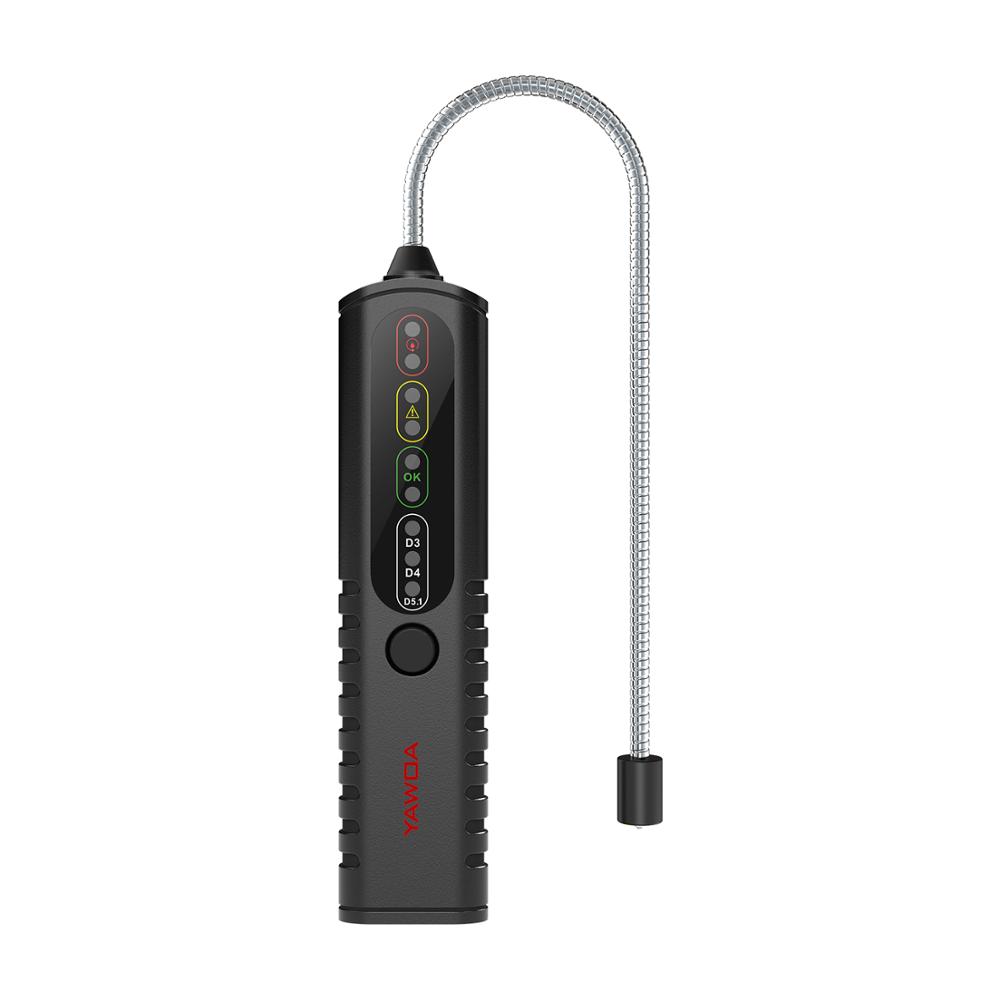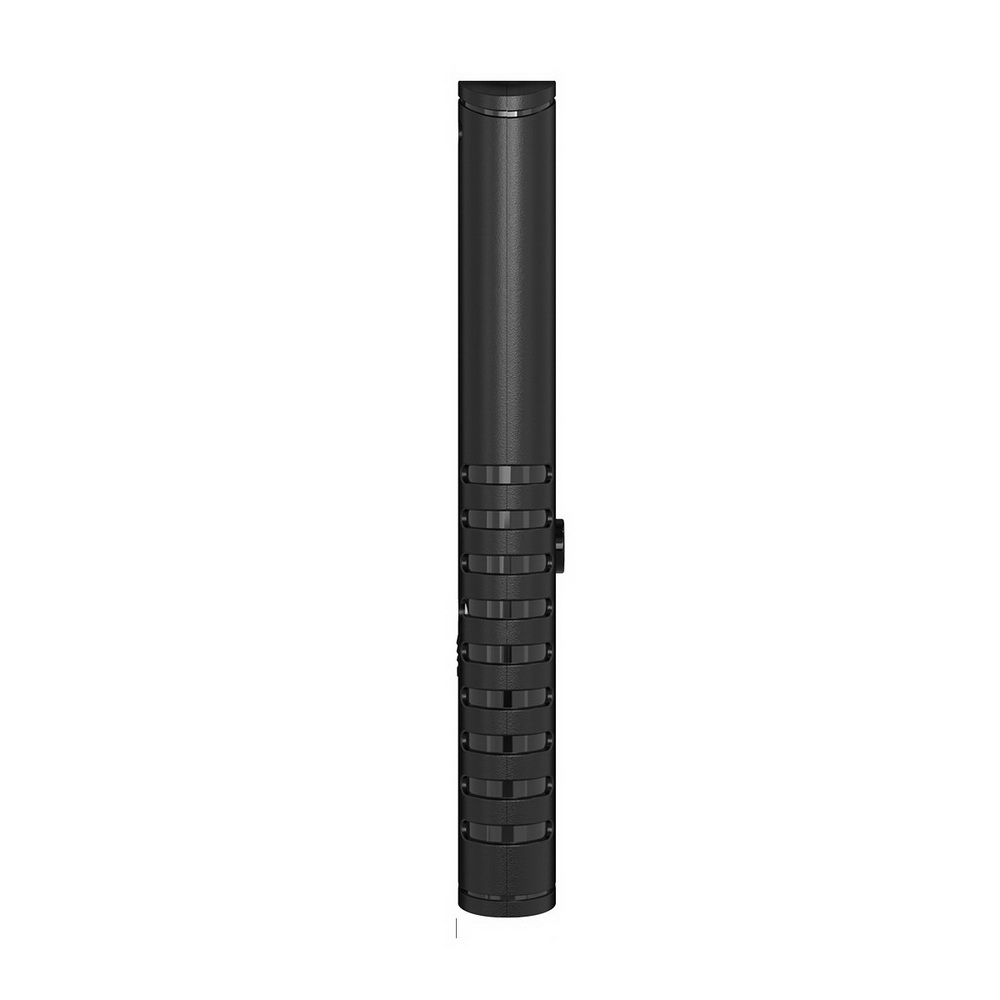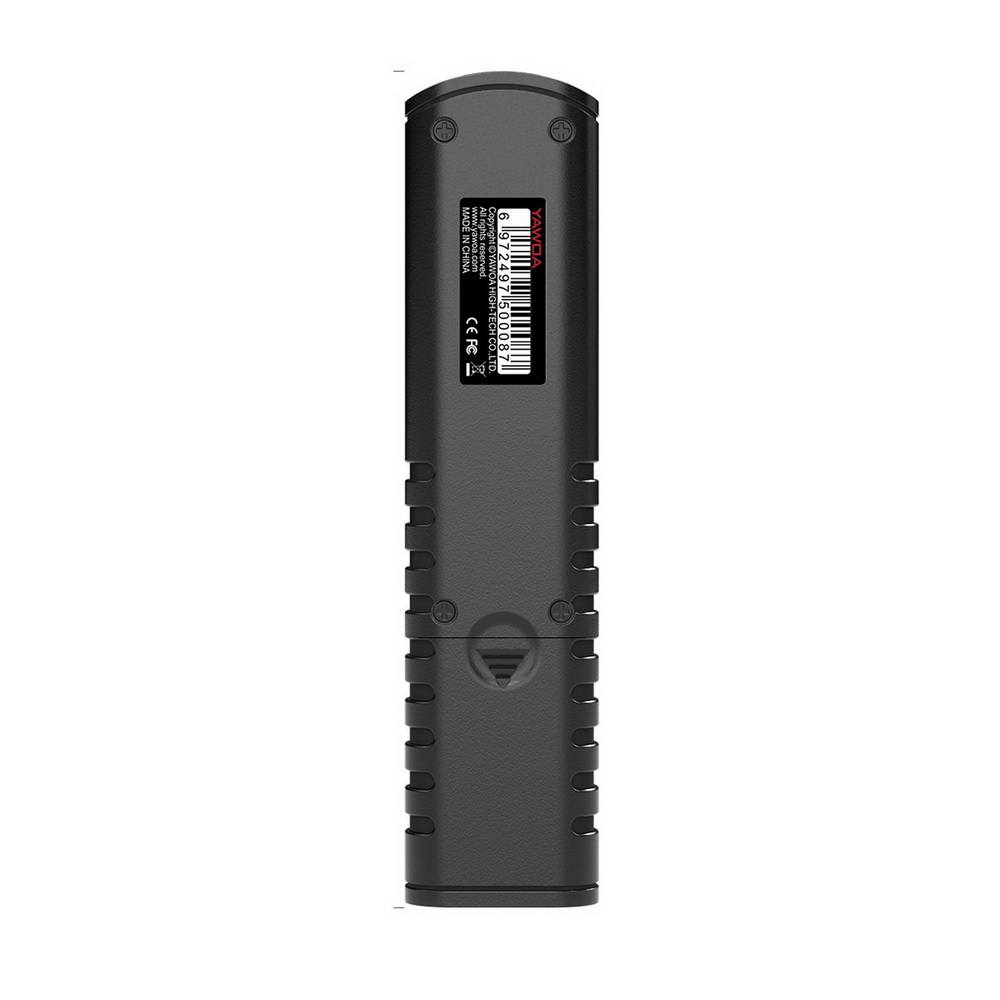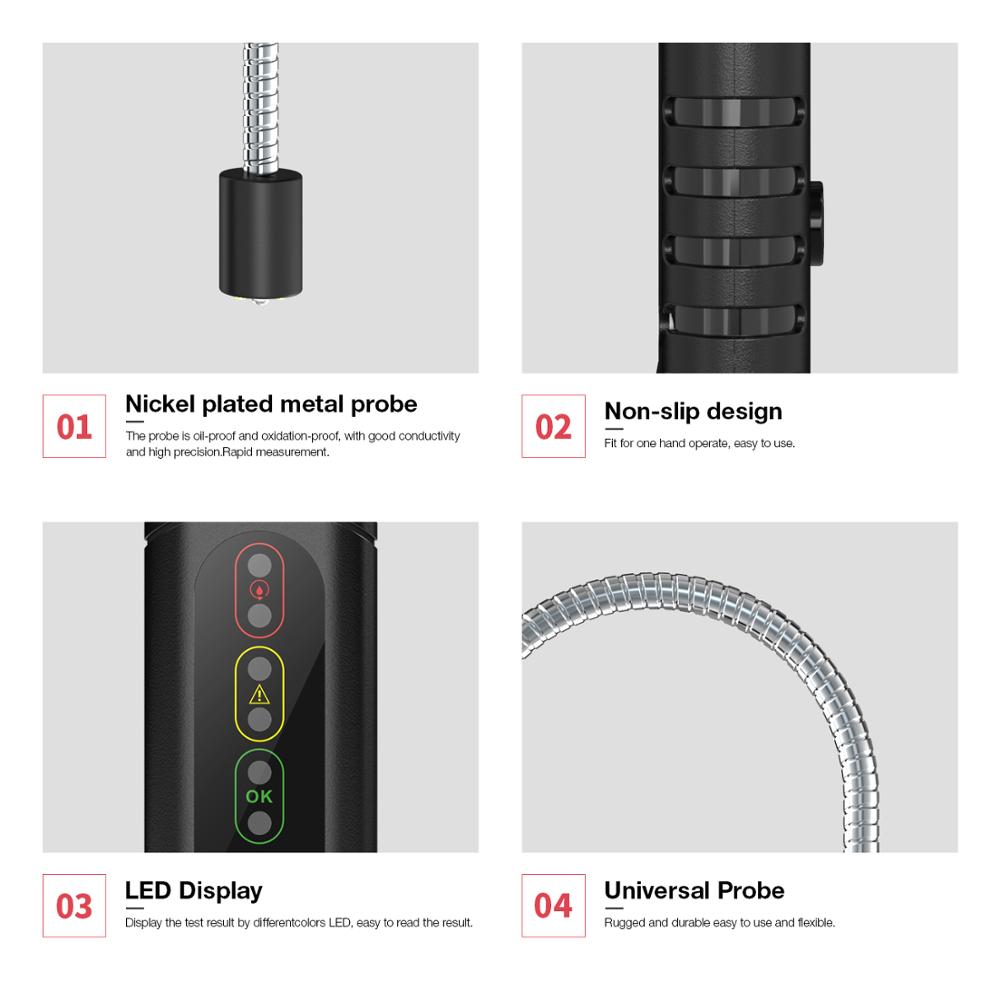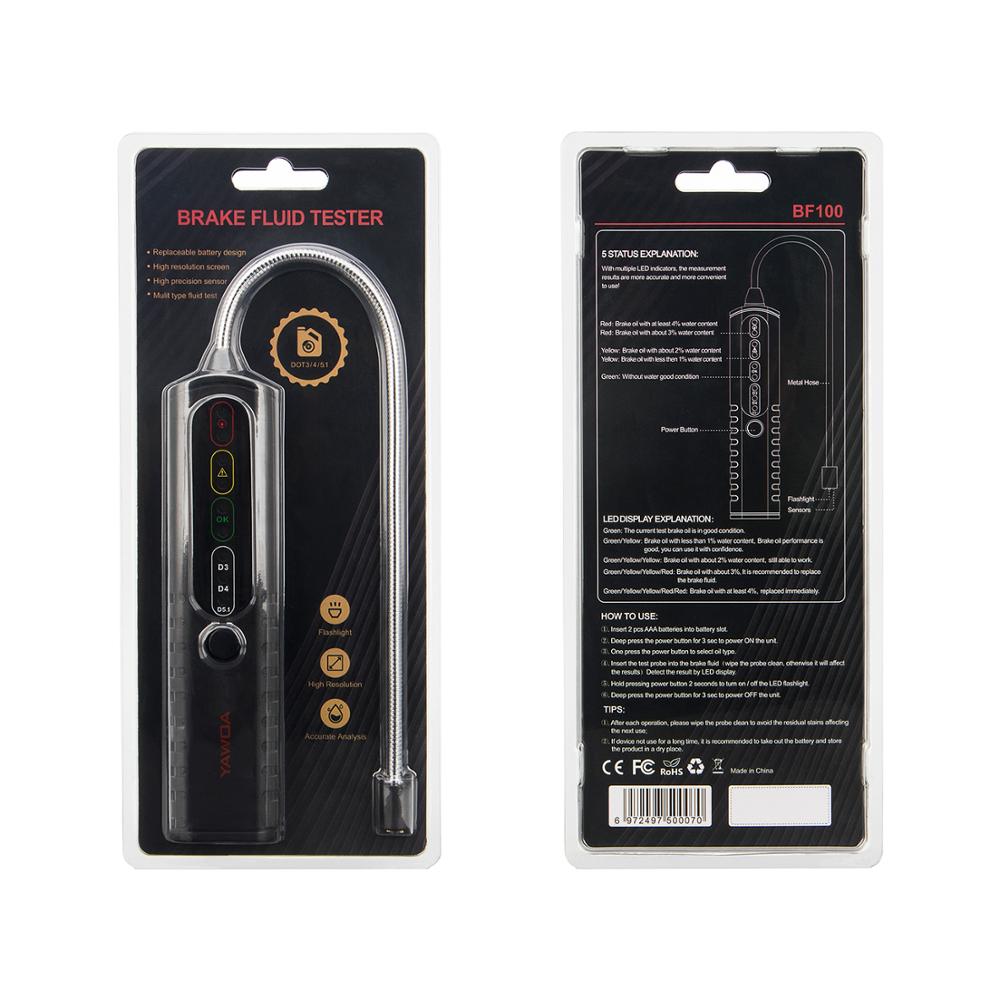 B100 Brake Fluid Tester LED Display for DOT3/DOT4/DOT5.1 brake fluid tester BF100 Accurate brake Oil Quality Check Pen
BF100 Brake FluidTester is Black Technology, Combine convenience and humanity to ensure your driving safety, Support DOT3, DOT4 and DOT5.1 Types
Shipping:

Airmail Post


Estimated delivery time:

7-45

working days.

See details?

Returns:

Return for refund within 30 days, buyer pays return shipping.

Read details ?

Support: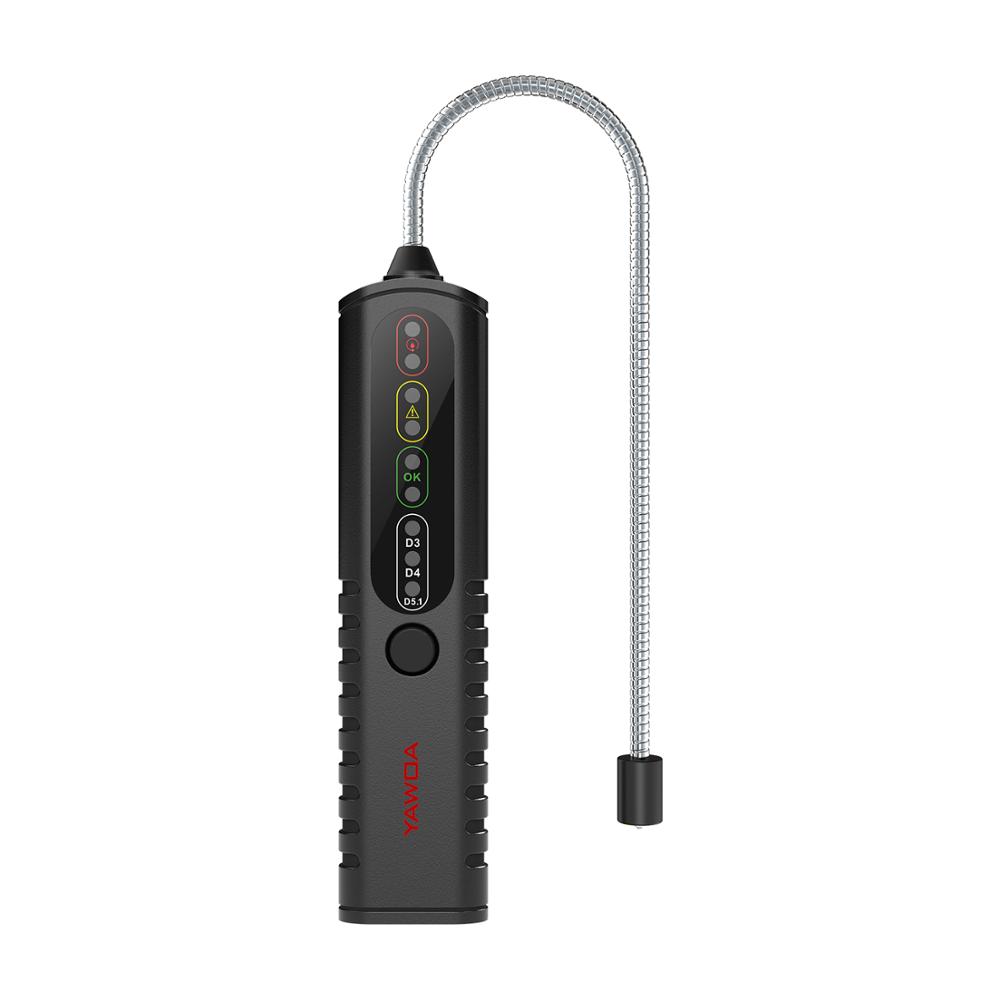 Related Accessories/Similar Items
Product Details

Product's Reviews (0)
BF100 Brake Fluid Tester for DOT 3 DOT4 DOT5.1
Packing List :
1pc * BF100 brake fluid tester (no battery, please buy battery by yourself)
How much do you know about brake fluid?
Every drivers know how important of the brake fluid when driving, It is directly related to the safety of the vehicle and personal safety, so in the automotive industry. that's why so many people called the brake fluid as"safety guard".
The general brake oil replacement cycle is 2 years. Brake oil itself has strong water absorption characteristics, it will
ABS
orb the moisture in the surrounding air, for exa
MPL
e car wash, humidair, etc., which will directly cause the brake oil quality drop and might cal use accidents:
1. Rear-end Accident
2. Brake Failure
3. Vehicle out of Control
4. Traffic Accident .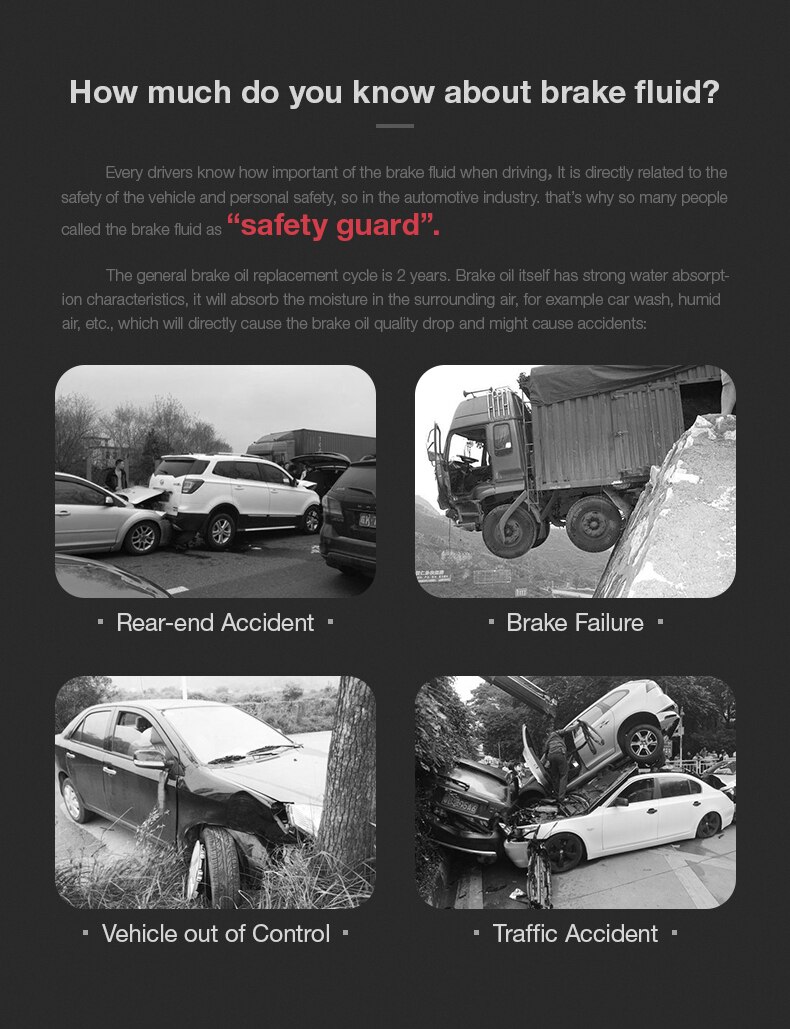 Why Choose BF100 Brake Fluid Tester ?
1. BF100 support DOT3, DOT4, DOT5.1
2. BF100 is with high precision sensor
3. BF100 is with highligh LED Display
4. BF100 supports mulit type Fluid test
5. BF100 is with replaceable battery design
6. BF100 supports detect water content
7. BF100 supports high precision measurement
8. BF100 is with highly sensitive probe
9. BF100 is with super easy operation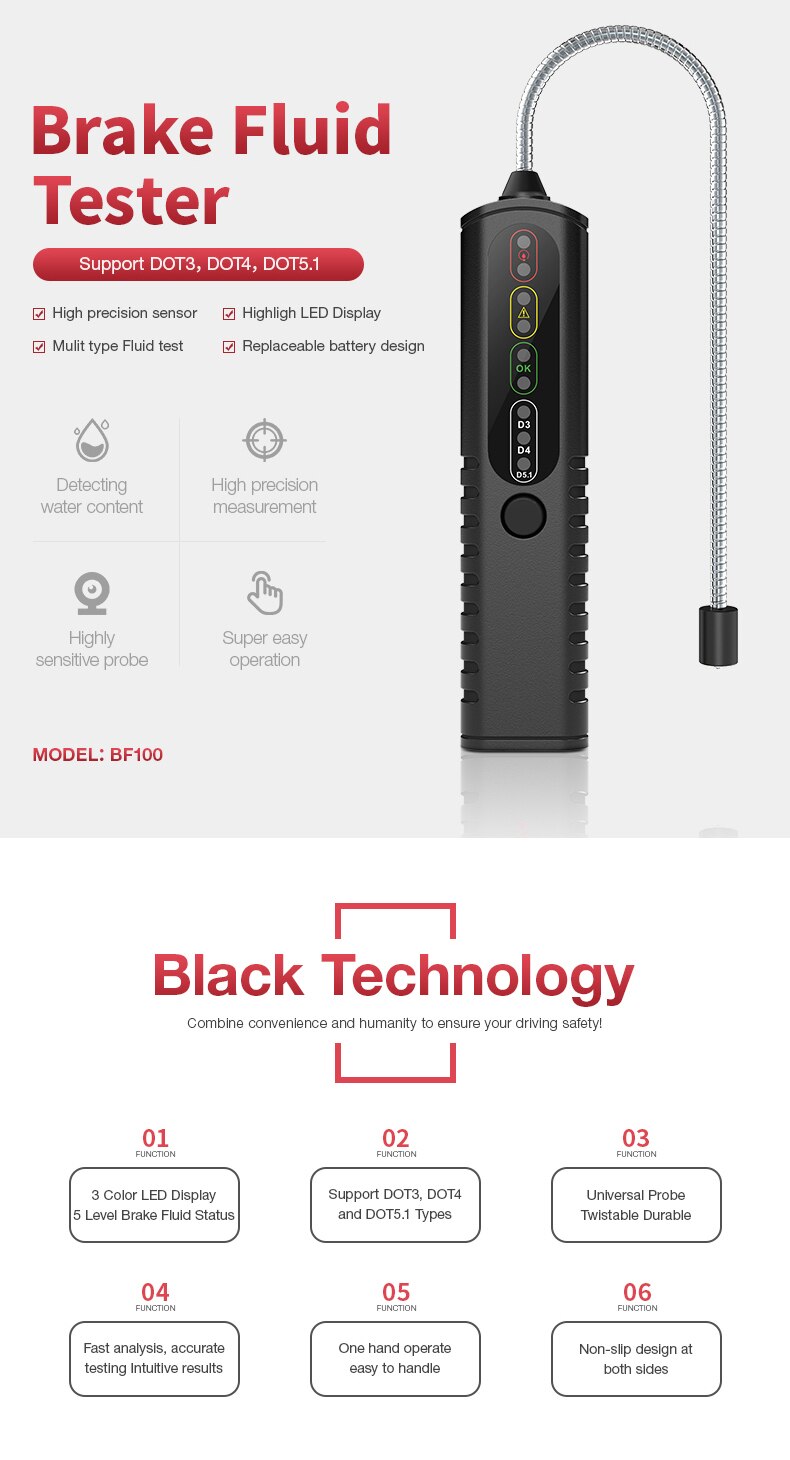 The Function of BF100 Brake Fluid Tester :
BF100 Brake FluidTester is Black Technology, Combine convenience and humanity to ensure your driving safety!
Function 1: 3 Color LED Display, 5 Level Brake Fluid Status
Function 2: Support DOT3, DOT4 and DOT5.1 Types .
Function 3: Unlversal Probe , Twistable Durable
Function 4: Fast analysis, accurate, testing Intultive results
Function 5: One hand operate , easy to handle
Function 6: Non-slip design at both sides
BF100 Brake Fluid Tester description:
1) 5 STATUS EXPLANATION : With multiple LED indicators, the measurement results are more accurate and more convenient to use!
Red: Brake oil with at least 4% water content
Red: Brake oil with about 3% water content
Yellow: Brake oil with about 2% water content
Yellow: Brake oil with less than 1% water content
Green: Without water good condition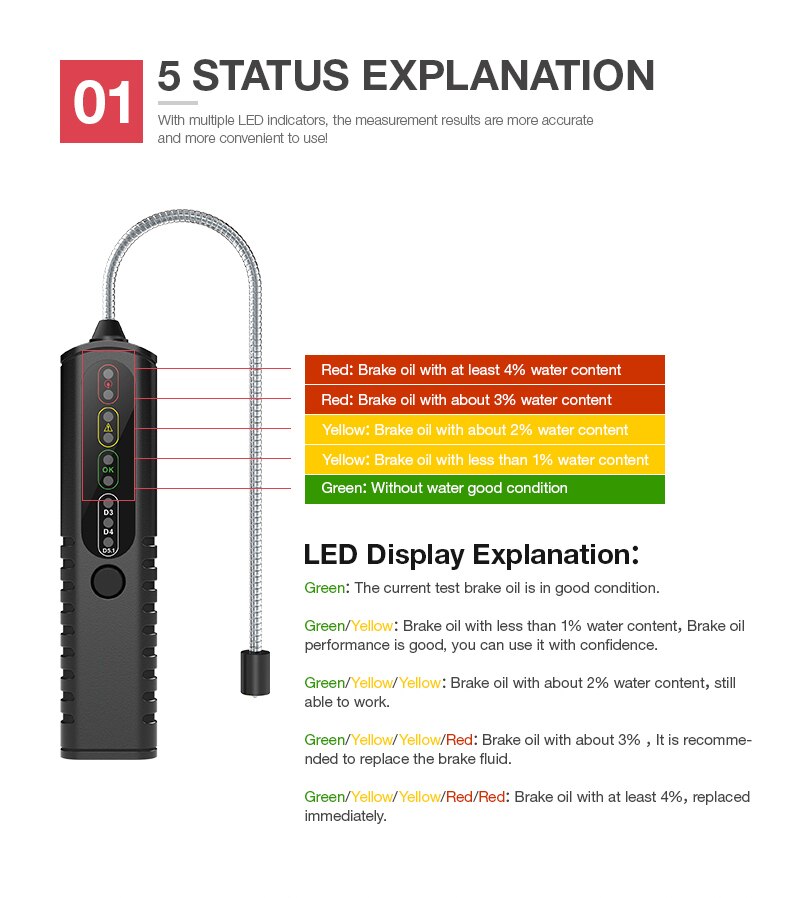 LED Display Explanation:
Green: The current test brake oil is in good condition.
Green/ Yellow: Brake oil with less than 1% water content, Brake oil performance is good, you can use it with confidence.
Green/Yellow/Yellow: Brake oil with about 2% water content, still able to work.
Green/ Yellow/ Yellow/Red: Brake oil with about 3% , It is recommended to replace the brake fluid.
Green/ Yellow/ Yellow/Red/Red: Brake oil with at least 4%, replacedimmediately.
2)HIGH PRECISION PROBE: Nickel plated material, strong corrosion resistance!
Quick Response
Highly Sensitive Sensor
Lighting Function
CorrosionResistance
Tips: Please wipe the probe cleanly after each test to improve the service life!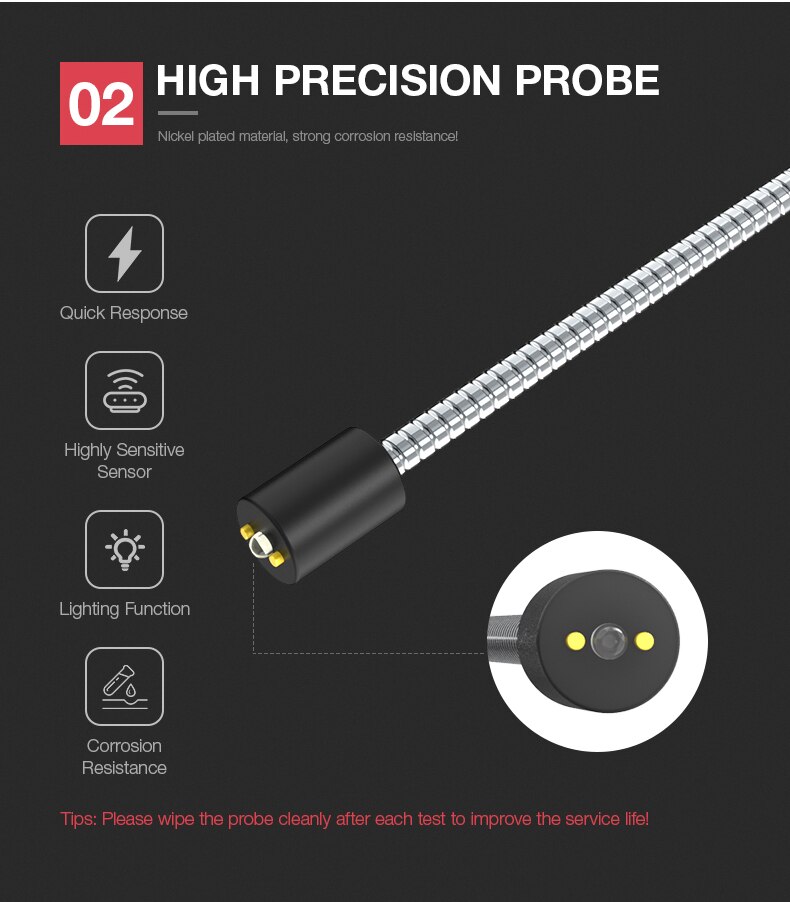 3)WIDE RANGE TES: Support DOT3、DOT4、DOT5.1 different brake fluld.
DOT3 is the most common type of brake fluid used by daily drivers.
DOT4 has a higher boiling point and has found its place in racing vehicles and police cars
DOT5.1 : It is important never to mistake DOT 5.1 (glycol-based) with DOT 5 which is sllicone-based and should never be
Mixed with any other DOT fluid.
Standards: Minimum Boiling Points by Brake Fluid Type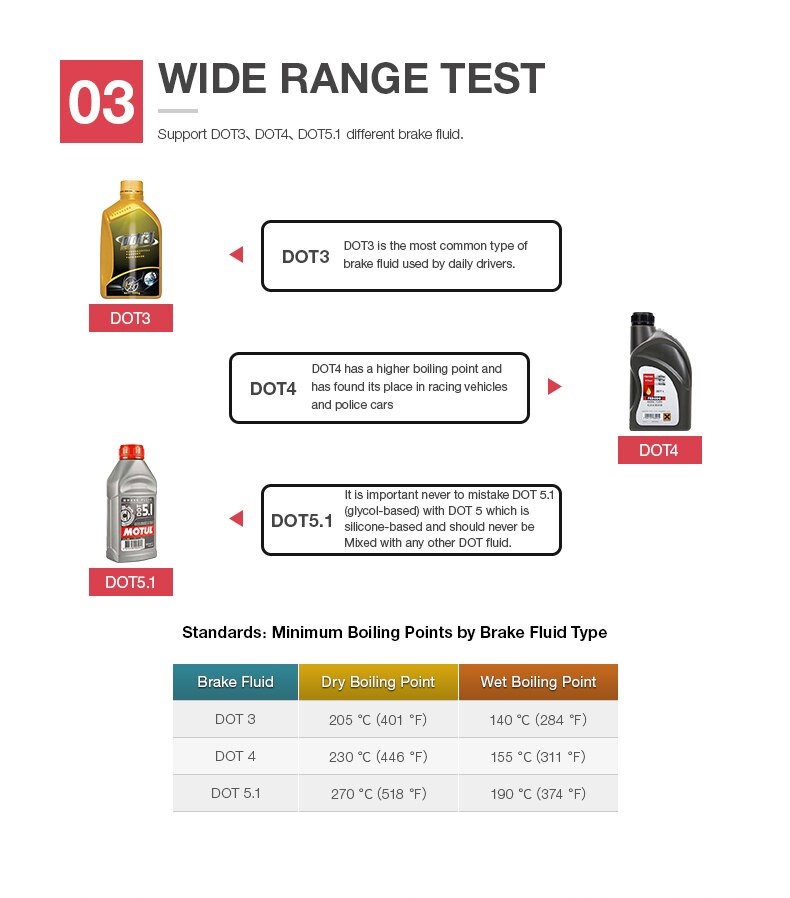 4)SI
MPL
E BUT TON : Single button with multi-functions!
A: Long press 3 sec for Power On/ Off
B: Long press 2 sec Turn the flashlight On/Off
C: One press for oil type select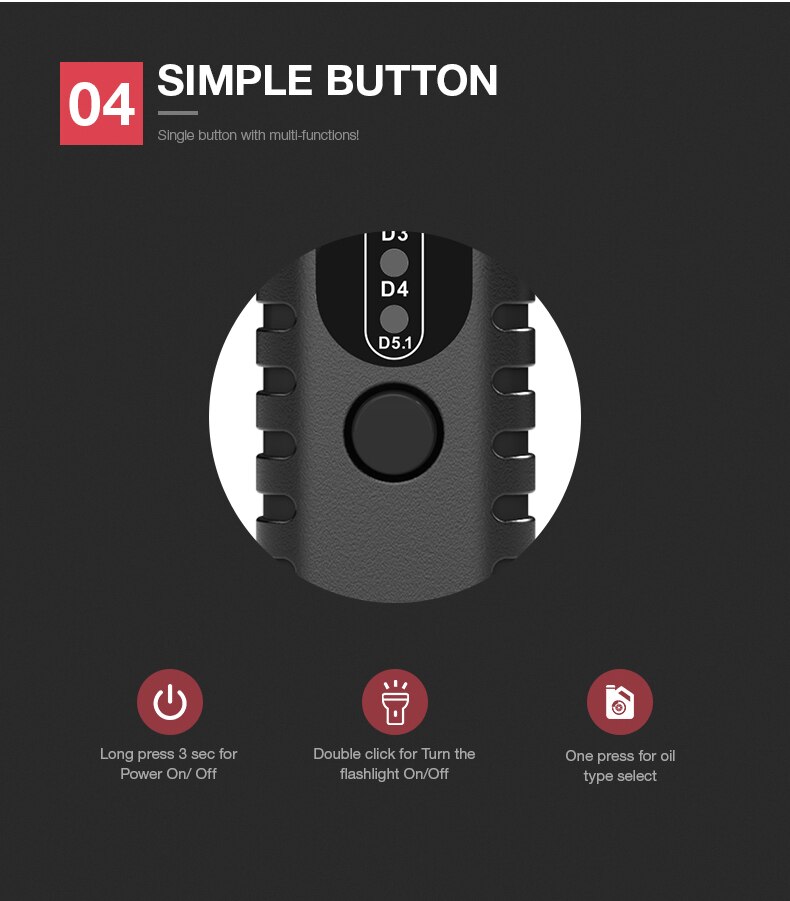 The Advantage of BF100 Brake Fluid Tester :
1. Nickel plated metal probe
The probe is oil-proof and oxidation-proof, with good conductity and high precision.
Rapid measurement
2. Non-slip design
Fit for one hand operate, easy to use.
3. LED Display
Display the test result by different colors L ED, easy to read the result.
4. Universal Probe
Rugged and durable easy to use and flexible.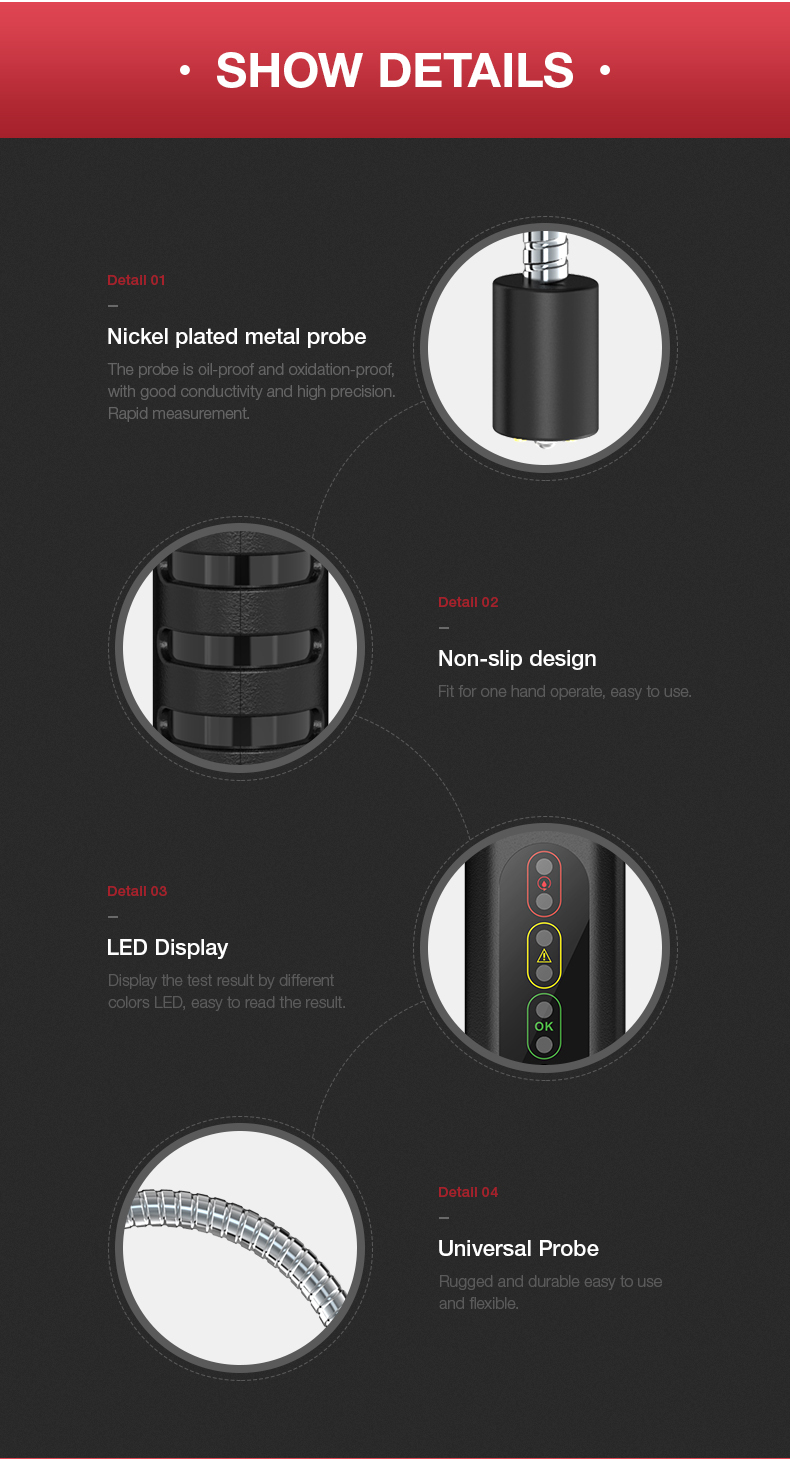 How to Operate BF100 Brake Fluid Tester ?
( More one test, less worry; more cautious, less accidental! )
1. HOW TO USE:
Step 1: Put 2 pcs AAA batteries into main unit.
Step 2: Deep press the power button for 3 sec to power ON the unit.
Step 3: One press the power button to select the current oil type.
Step 4: Insert the test probe into the brake fluid (wipe the probe clean, otherwise it will affect the results) Detect the result by LED display.
Step 5: Hold pressing power button 2 seconds to turn on / off the LED flashlight.
Step 6: Deep press the power button for 3 sec to power OFF the unit.
2.TIPS:
Tip 1: After each test, please wipe the probe clean to avoid the residual stains affecting the next use
Tip 2: If device not use for a long time, it is recommended to take out the battery and store the product in a dry place.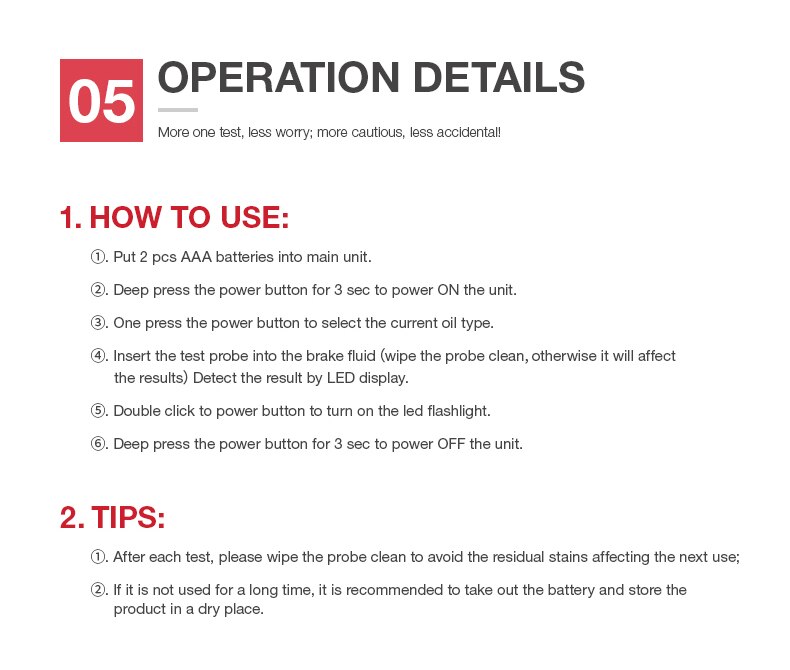 The Parameters of BF100 Brake Fluid Tester :
Product Name : Brake oil detector
Model : BF100
Material : Industrial grade ABS material
Display : Three-color LED light display
Color : Black
Battery : Battery No.7 (2 sessions)
Test Range : DOT3、DOT4、DOT5、DOT5.1
Temperature : 0-60°C
Product Size : 6.73inch *1.56inch *0.87inch
Weight : 71g
Be Applicable : All vehicles