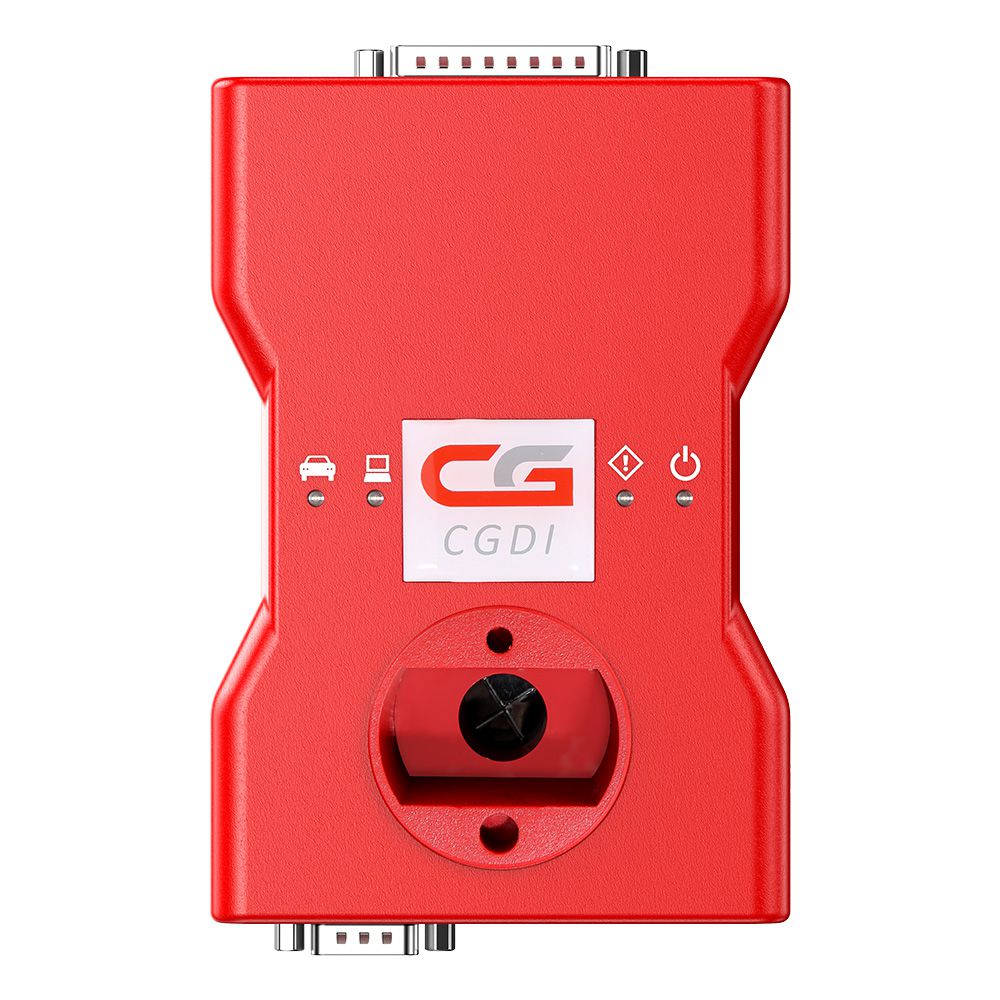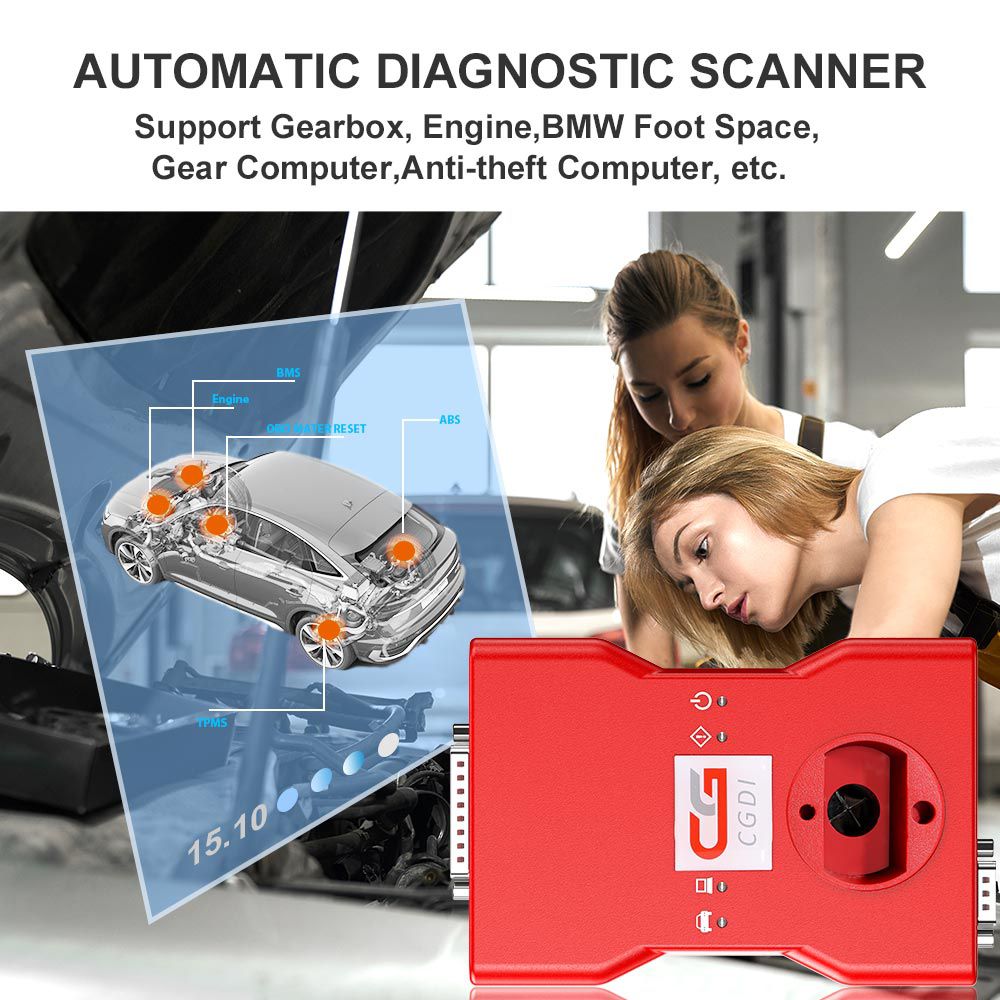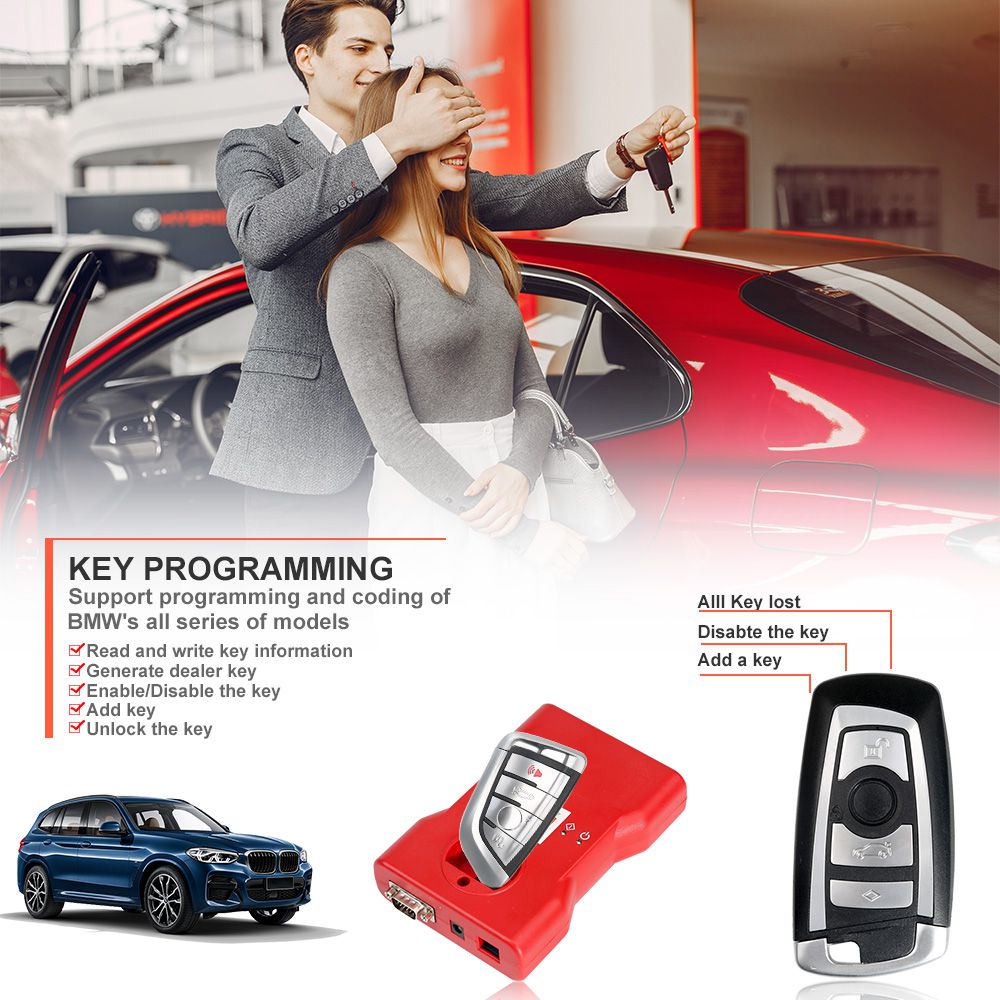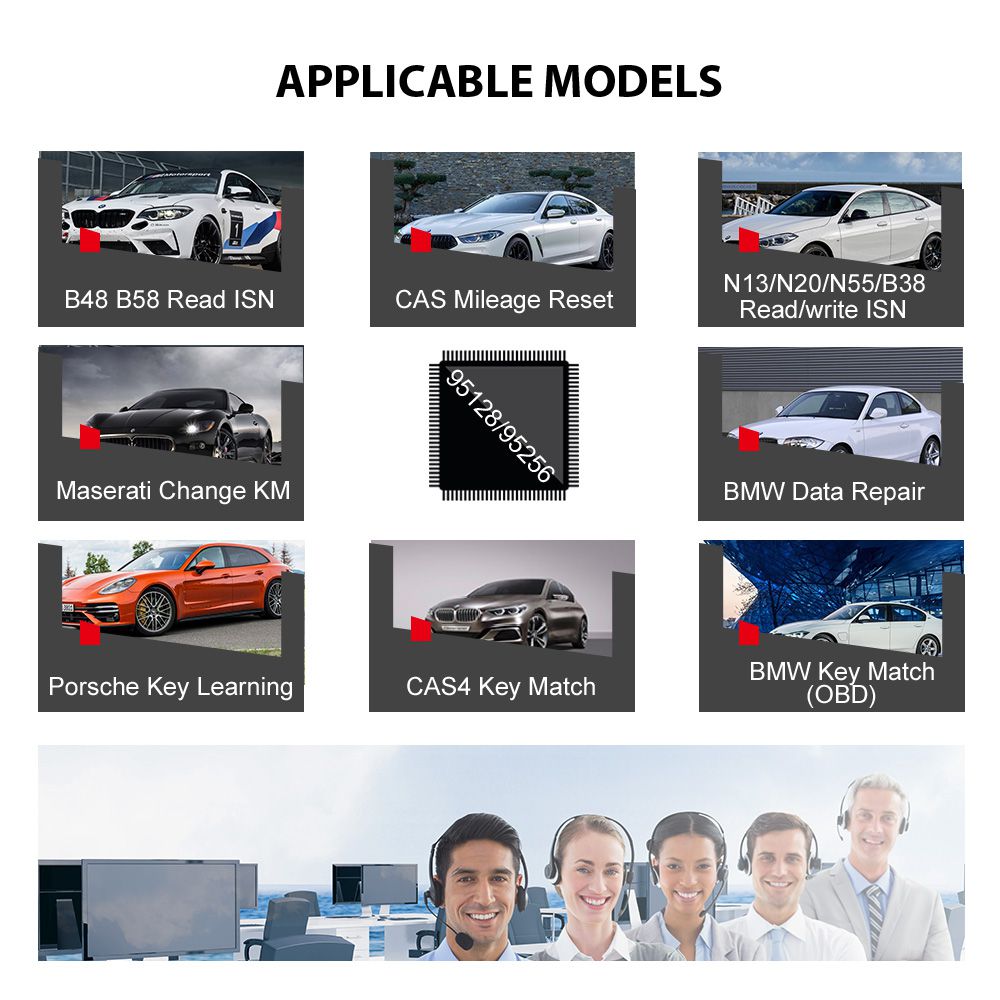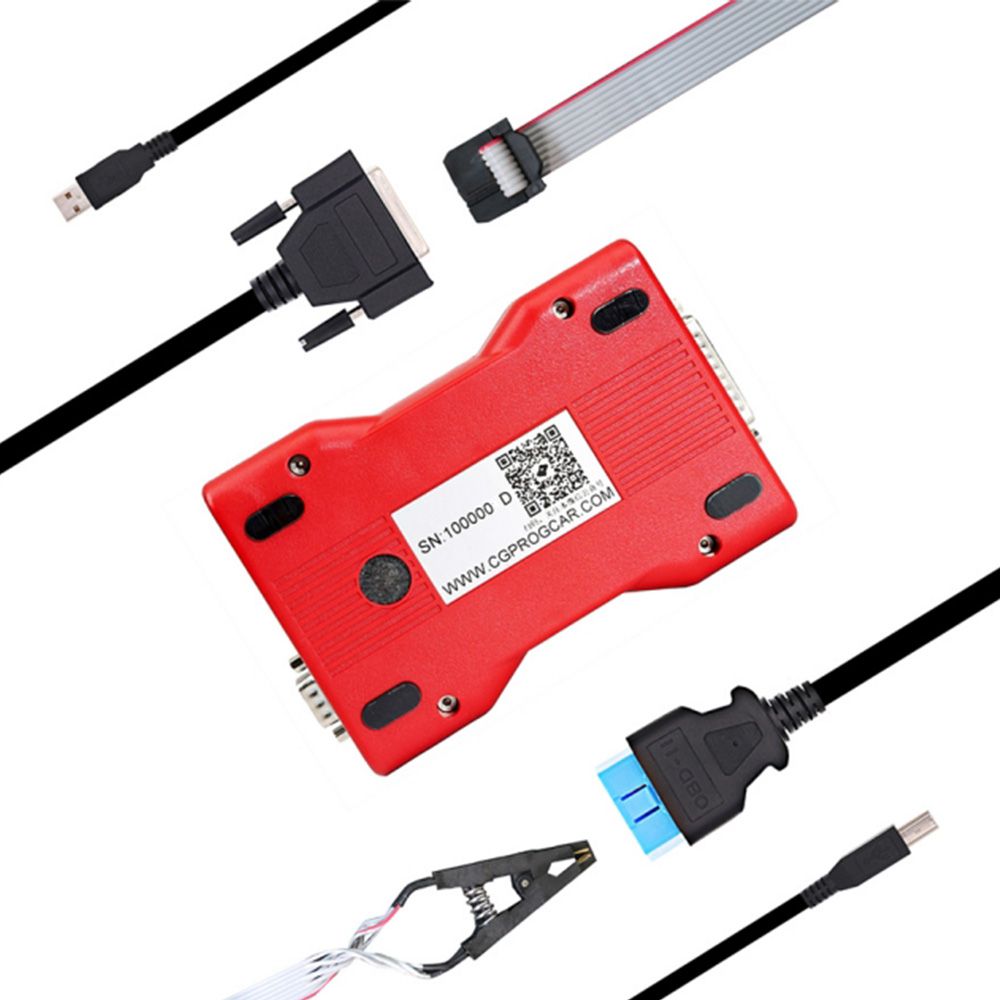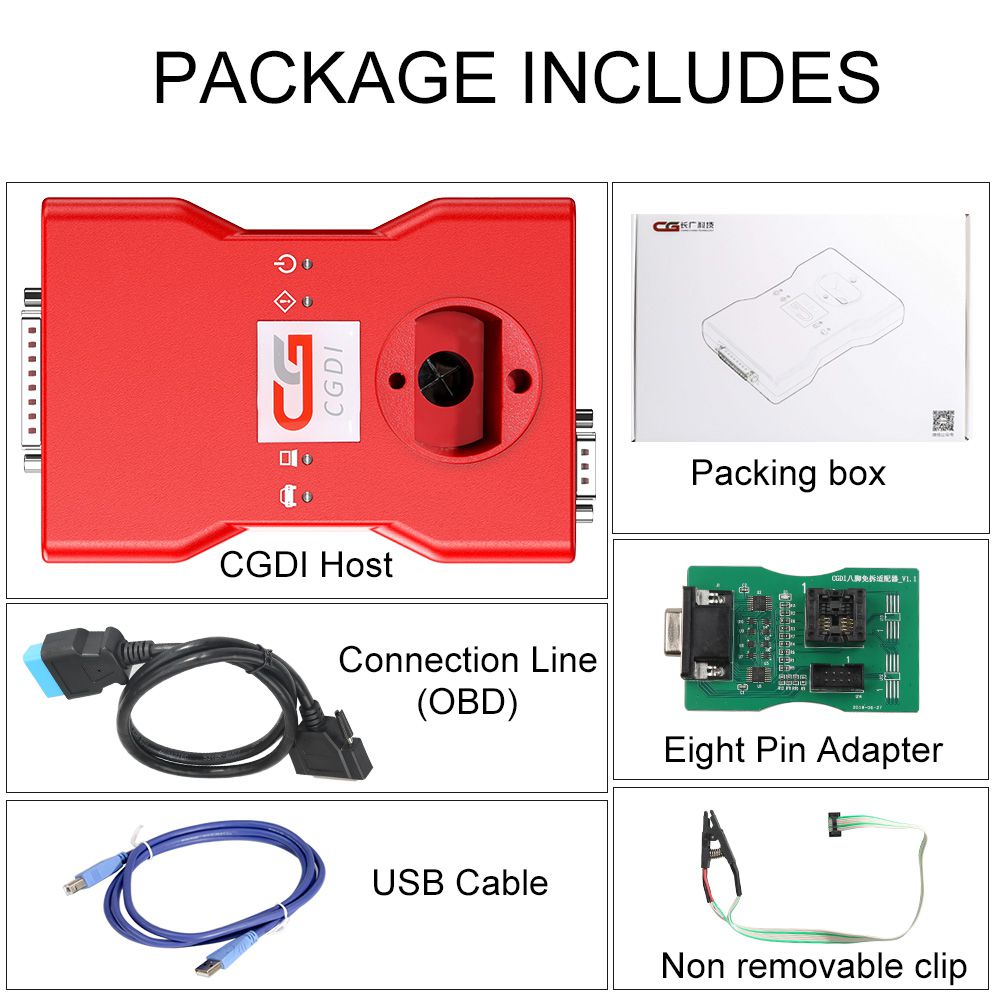 CGDI BMW Key Programmer Full Version Total 24 Authorizations Get Free Reading 8 Foot Adapter and BMW OBD Cable
This is CGDI BMW Full Version with total 24 authorizations including B48 B58 read ISN, MSD80/81/85/87, MSV80/MSV90 read ISN and N13 / N20 / N55 /B38 read ISN.What's more you can get the Reading 8 Foot Chip Free Clip Adapter.
Shipping:

Express Shipping Service


Estimated delivery time:

3-15

working days.

See details ?

Returns:

Return for refund within 30 days, buyer pays return shipping.

Read details ?

Support: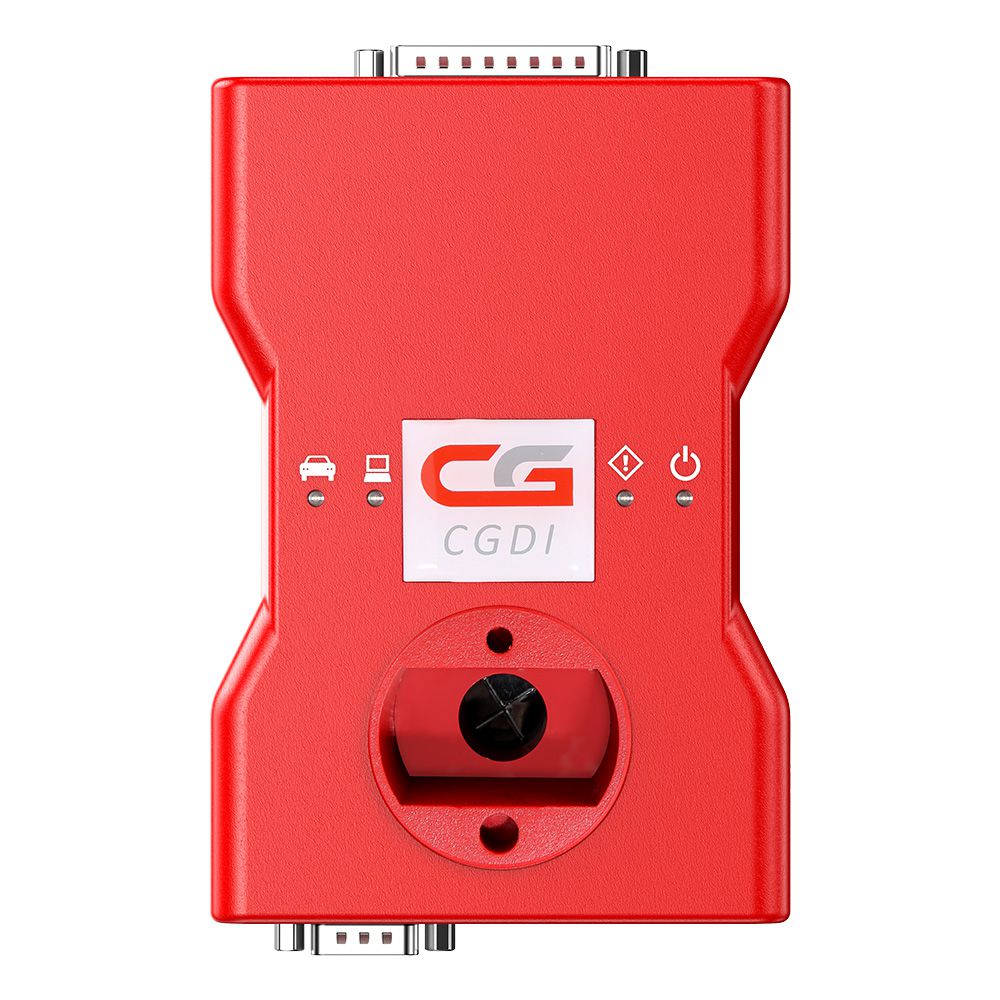 Product Details

Product's Reviews (0)
CGDI BMW Key Programmer Full Version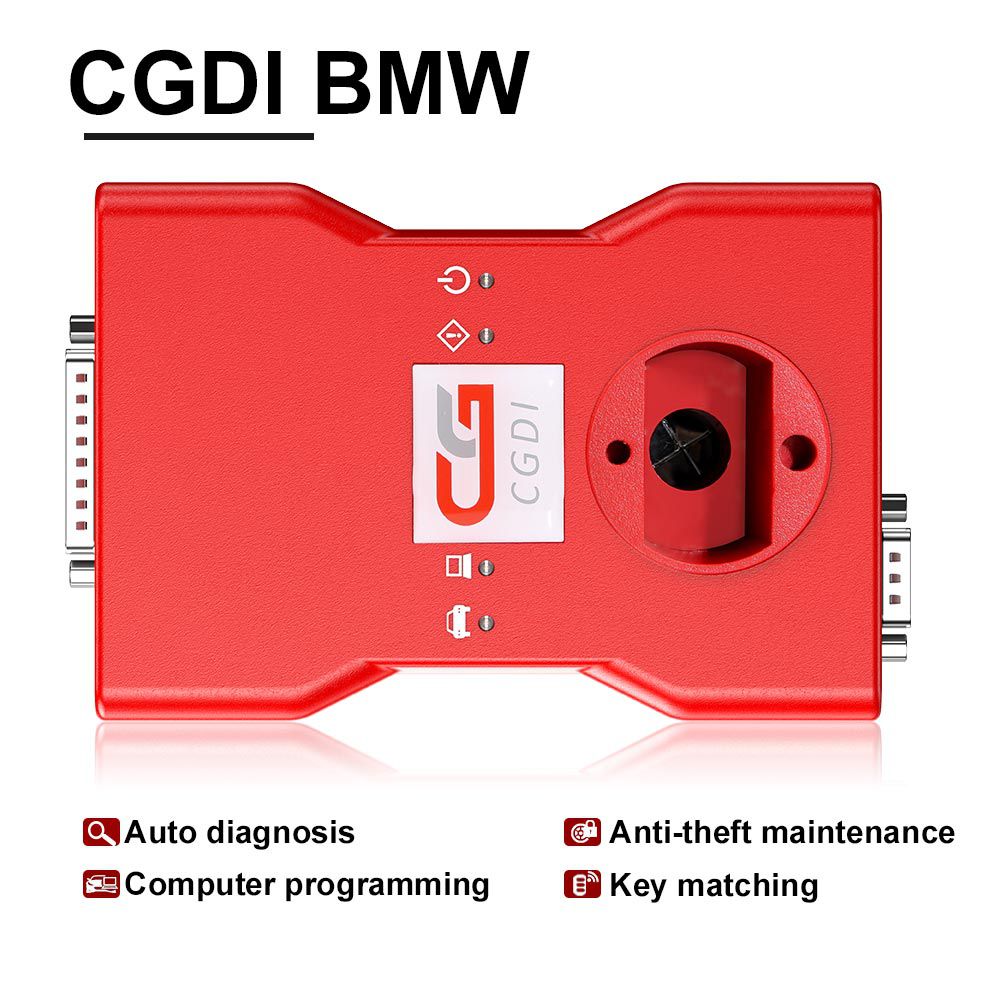 CGDI BMW Full Version Highlights:1. High technical tool which mainly support Auto diagnose, programming and security maintenance 3 in 1.2. Support All 24 Authorizations Free:
CAS1-3+ Key Match, CAS4 Key Match, Normal Mode Read ISN, Bootstrapper upgrades, FEM/BDC Key Match, CAS3 Key Match, BMW F Series Program, BMW Enable/Disable Key, BMW F Series Coding, EGS Empty and Clone, CAS Mileage Reset, Porsche 987/911 key learning, 95128/95256 Read and Write, BMW E Series Program, BMW E Series Codification, Maserati Meter Mileage Adjustment, BMW EWS Key Match, BMW Data modification and verification,
BMW
Diagnosis, ICOM Function, B48 B58 read ISN, CAS4 Key Match(OBD), MSD80/81/85/87/ MSV80 /MSV90 read ISN and N13 / N20 / N55 /B38 Read/Write ISN.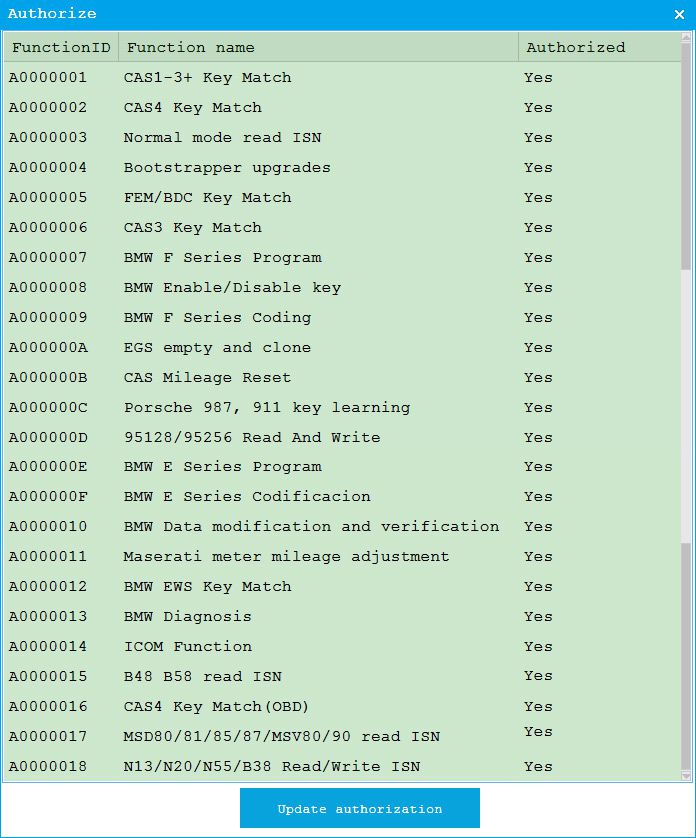 3. BMW CAS3/CAS3+Data Repair--support change replace and split CAS computer, BMW MSV80/MSV80.0/MSD80/MSD80.0/MSD85/engine change computer, ISN code reading and writing.

4. Free Update Online & Lifetime Free License
When you receive the device, please download software
Here.
Device won't get expired, just renew license online for free when there is no day left.
5.
Language:
Chinese, English, Spanish, French
(Polish, Turkish, Italian need to pay $130)
6. With Free Reading 8 Foot Chip Free Clip Adapter in package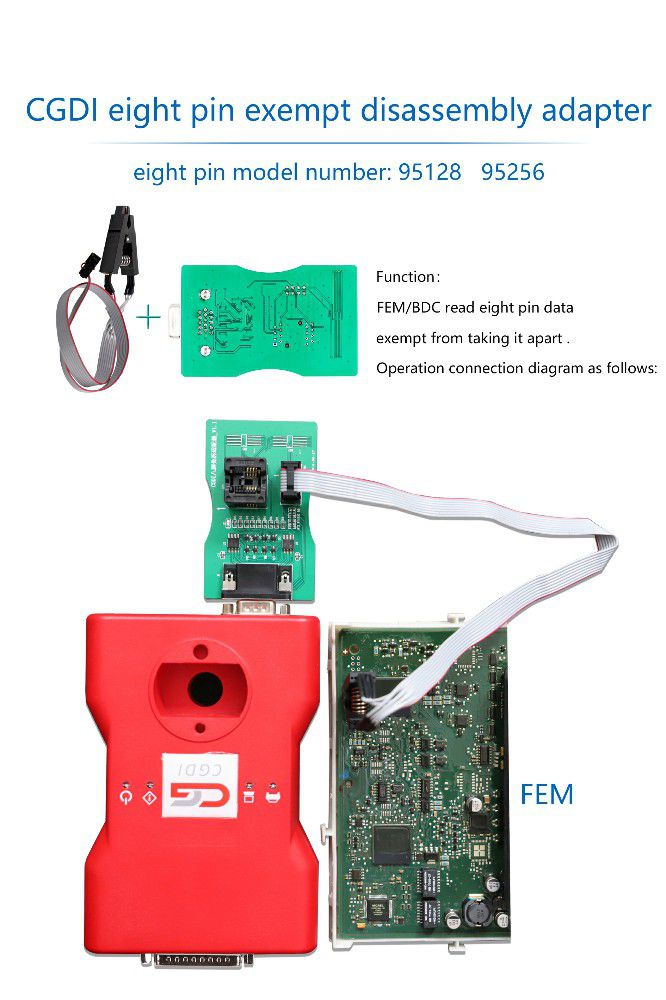 Notice:
Please don't disassemble CGDI device yourself, or it will get damaged.
There is an encrypted battery inside machine, once device open, it will get power failure automatically and need to return for repairing.
CGDI BMW Support Module list:
1. BMW CAS1/CAS2/CAS3/CAS3+/key increasing matching, key all
lost
matching, CAS computer replace, CAS3+/P4X above version can directly downgrade by OBD in 5 minus
2. BMW CAS4/CAS4+/Support key matching,support key all
lost
matching.
3. Support BMW key inspection,can check key what status in.
4. Support BMW
engine
computer DME replacement.
5. Support BMW MSV80/MSD80/MSD85/series OBD read ISN code (no need to split computer when matching key) Exciusively support in Domestic
6. Support BMW Key unlock.
| | | | | | | |
| --- | --- | --- | --- | --- | --- | --- |
| Model | Add New Key | All Key lost | Read ISN code | Replace engine computer DME | BMW Key unkock | Working time |
| CAS1 | support | support | | | support | 1 minute |
| CAS2 | support | support | support | | support | 1 minute |
| CAS3 | support | support | support | | support | 1 minute |
| CAS3+ | support | support | support | | support | 1 minute |
| CAS4 | support | support | support | | | 30 seconds |
| CAS+ | support | support | support | | | 30 seconds |
Regarding BMW Key Matching Function:
1. Read Key Information: Read out the anti-theft information and key information of the vehicle, such as VIN, Anti-theft version, Remote control frequency, Key number, key ID, key type, and key position status.
2. Generate Dealer Key: After selecting the blank key bit, click this function to match the new key.
3. Synchronous ELV: When the steering wheel lock fails; when the key is matched, the car cannot start.
4. Synchronize DME: When the key is matched, the car cannot be started. Please execute this function to synchronize the DME and CAS system.
5. Restore Key Bit: When this key bit is used, it can be initialized.
6. Unlock Key: restore the key to a brand new state, which can be used again.
7. Disable Key: When the owner's key is lost, the relevant key bit can be shielded so that it no longer works on the vehicle.
8. Enable Key: enable the disabled key bit to make the key work on the vehicle again.
9. Mileage Reset: The device can read the mileage information of the anti-theft module, and execute this function to make the mileage become 0.
10. Exit shipping Mode: When the vehicle is diagnosed with this fault code, please execute this function to eliminate the fault code and return the vehicle to normal.
11. Recovery Code: After the car is matched with a new key, there is a failure of no coding file, this function can be used to restore the original coding file.
12. Replace FEM/BDC/CAS4: When the car module is faulty, use this function to help the vehicle replace the module.
13. Backup FAFP: Applicable to BMW FEM/BDC modules, backup original FAFP files.
14. Restore FAFP: Applicable to BMW FEM/BDC module, write the required FAFP file.
15. Reset Starter Lock: After replacing the BMW FEM/BDC module, the vehicle does not start, please execute this function.
16. Remote Key Repair: When the EEPROM chip on the BMW FEM/BDC module is damaged or the data is lost, causing the key to fail, you can use this function to repair the original car key.

CGDI BMW Support Key Matching List: (Keep Updating)

BMW 1 Series: E81, E82, E87, E88, F20, F21, F52, F40
BMW 2 Series: F22, F23, F44, F45, F46
BMW 3 Series: E36, E46, E90, E91, E92, E93, F30, F31, F34, F35
BMW 4 Series: F32, F33, F36
BMW 5 Series: E34, E39, E60, E61, F07, F10, F11, F18
BMW 6 Series: E63, E64, F06, F12, F13
BMW 7 Series: E38, E65, E66, F01, F02, F03, F04
BMW 8 Series: E31
BMW X1: E84, F48, F49
BMW X2: F39
BMW X3: E83, F25
BMW X4: F26
BMW X5: E53, E70, F15
BMW X6: E71, E72, F16
BMW M2: F87
BMW M3: E90, E92, E93, F80
BMW M4: F82, F83
BMW M5: E60, F10, F90
BMW M6: E63, E64, F06, F12, F13
BMW M8: F91, F92
BMW X3 M: F97
BMW X4 M: F98
BMW X5 M: E70, F85, F95
BMW X6 M: F94
BMW Z3: E36, E37
BMW Z4: E85, E86, E89
BMW Z8: E52
BMW MINI: R50, R52, R53, R54, R55, R56, R57, R58, R60, R61, F54, F55, F56, F60
Porsche: 911, Boxster987
CGDI BMW Support Reading and Writing BMW DME ISN via OBD List: (Keep updating)
B48、B58
MEVD172Y F10 MOTOR Engine electronics MEVD172 6 Cylinder
MEVD1724 F25 MOTOR Motor Electronics N20
MEVD1725 F20 MOTOR Motor Electronics N13
N63TU_R0 F01 MOTOR Engine electronics MEVD172 8 Cylinder N63TU Master
N63TU_L0 F01 MOTOR2 Engine electronics MEVD172 8 Cylinder N63 TU Slave
S63TU_R0 F10 MOTOR Engine electronics MEVD172 8 Cylinder S63TU Master
S63TU_L0 F10 MOTOR2 Engine electronics MEVD172 8 Cylinder S63 TU Slave
ME17N45 E87 MOTOR Motor Electronics N45
MEV17N46 E87 MOTOR Motor Electronics N46
MED17_2 R56 MOTOR Motor Electronics
MED17_2N R56 MOTOR Motor Electronics
MV1722 R56 MOTOR Motor Electronics N16
MVD1722 R56 MOTOR Motor Electronics N18H
MEVD174K E84 MOTOR Engine electronics ME VD17.2.4 4 Cylinder N20
MEVD17KW E70 MOTOR Motor Electronics N55
MEVD174K E84 MOTOR Motorelektronik ME VD17.2.9 4 Zylinder N20
MEVD176K E89 MOTOR Engine Electronics ME VD17.2.6 6 Zylinder N55 Bosch High pressure pump
MEV17_2 R56 MOTOR Motor Electronics
MSV70 E63 MOTOR Motor Electronics N52
MEV9N46L E87 MOTOR Motor Electronics N46
ME9N62 E65 MOTOR Motor Electronics N62
MEV9N46 E46 MOTOR Motor Electronics N46
N62_TUE E65 MOTOR Motor Electronics N62
N62_TUE2 E65 MOTOR Motor Electronics N62
MEV9N46L E87 MOTOR Motor Electronics N46
ME9N62 E60 MOTOR Motor Electronics N62
MEV9N46L E90 MOTOR Motor Electronics N45
ME9N62 E60 MOTOR Motor Electronics N62
MS450DS0 E60 MOTOR Motor Electronics M54
MS450DS0 E65 MOTOR Motor Electronics M54
ME9N62_2 Mor MOTOR Motor Electronics
ME9N62_2 E65 MOTOR Motor Electronics N62
ME9E65_6 E65 MOTOR Motor Electronics N62
ME9E65_6 E60 MOTOR Motor Electronics N62
ME9N45 E87 MOTOR Motor Electronics N45
ME9N45 E46 MOTOR Motor Electronics N45
N73_R0 E65 MOTOR Motor Electronics N73 Master
N73_L0 E65 MOTOR2 Motor Electronics N73 Slave
MSS60 E90 MOTOR Motor Electronics S65

CGDI BMW Support Reading and Writing DME ISN via Wiring Harness List: (Keep updating)
N13(MEVD17.2.5)
N20(MEVD17.2.4/MEVD17.2.9/MEVD17.2.P)
N55(MEVD17.2/MEVD17.2.6/MEVD17.2.G)
N63/S63(MEVD17.2.8/MEVD17.2.H)
B38(MEVD17.2.3/MEVD17.2.K)
EDC17C06/EDC17C56/EDC17CP02
EDC17C50/EDC17CP49
EDC17CP09
EDC17CP45
MSD80、MSD81、MSD85、MSD87、MSV80、MSV90

Newest CGDI BMW Update Infomation:

CGDI BMW V3.2.2.0 NEW (2021.08.30) Download Here
1. Added Italian version
2. BMW EGS Change: Added 6HP(E) - Bench:
(1)Read EGS ISN, EGS status, Clear EGS ISN, Modify VIN, ECU reset
3. Fix some bugs and optimize software performance

CGDI BMW Customers Feedbacks:

cas4 F10 – ok (new key)
cas4+ F10 – ok (new key) isn from org key or dump DME
fem/bdc F31 – ok – reset mileage, change isn, change vin, make keys with oryginal key and with dump from DDE
cas3+ E60- ok , downgrade and make key with isn from org key
CGDI PROG bmw f20 2014 mileage reset OK
Read ISN DME MSD80 OK 5WK93628
program bdc key via obd for bmw x6 ok!
add key to bmw x5 successfully
program key to 2016 BMW 5-series ok
program key for BMW 523Li OK
Program BMW FEM all key lost done!
program FEM for F30 328 2013 ok
programing orignal key for BMW 325 ok
CGDI Prog BMW MSV80 Package includes:

1pc x CGDI Prog BMW MSV80 Main unit
1pc x Adapter
1pc x USB line
1pc x Reading 8 Foot Chip Free Clip Adapter