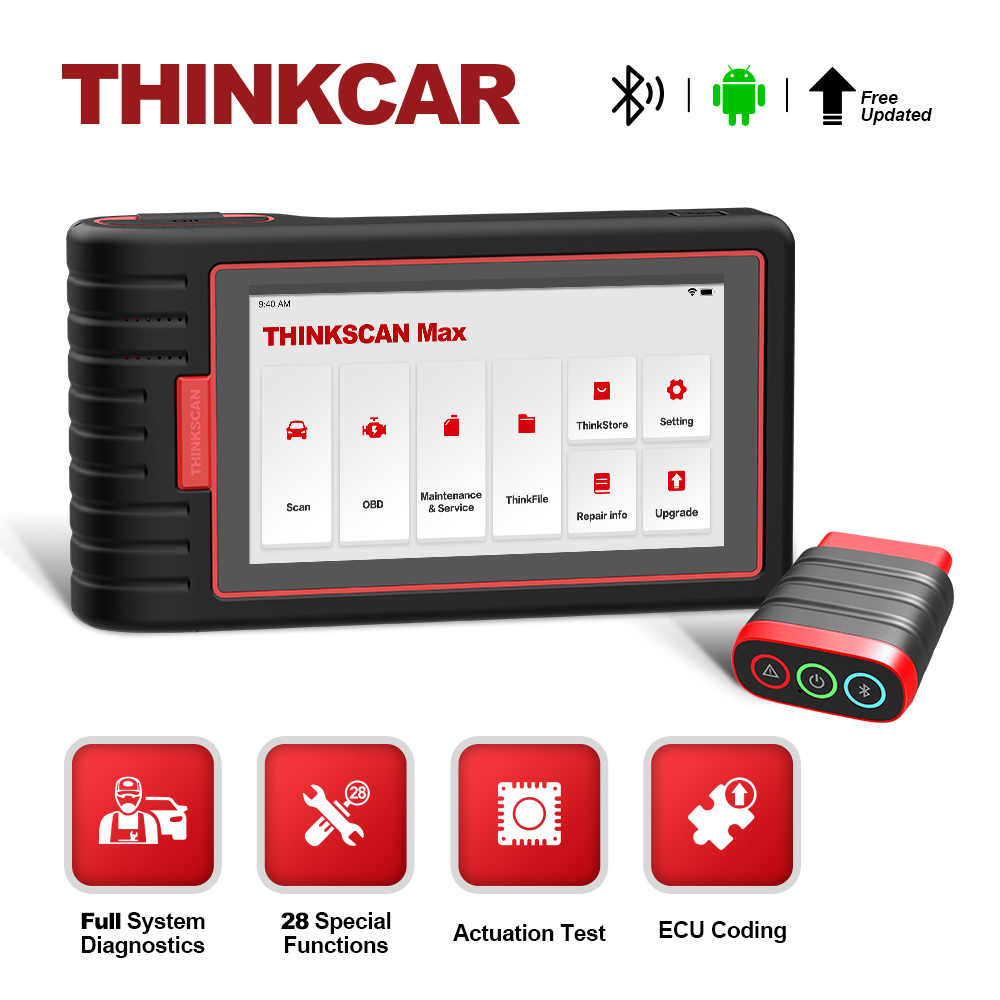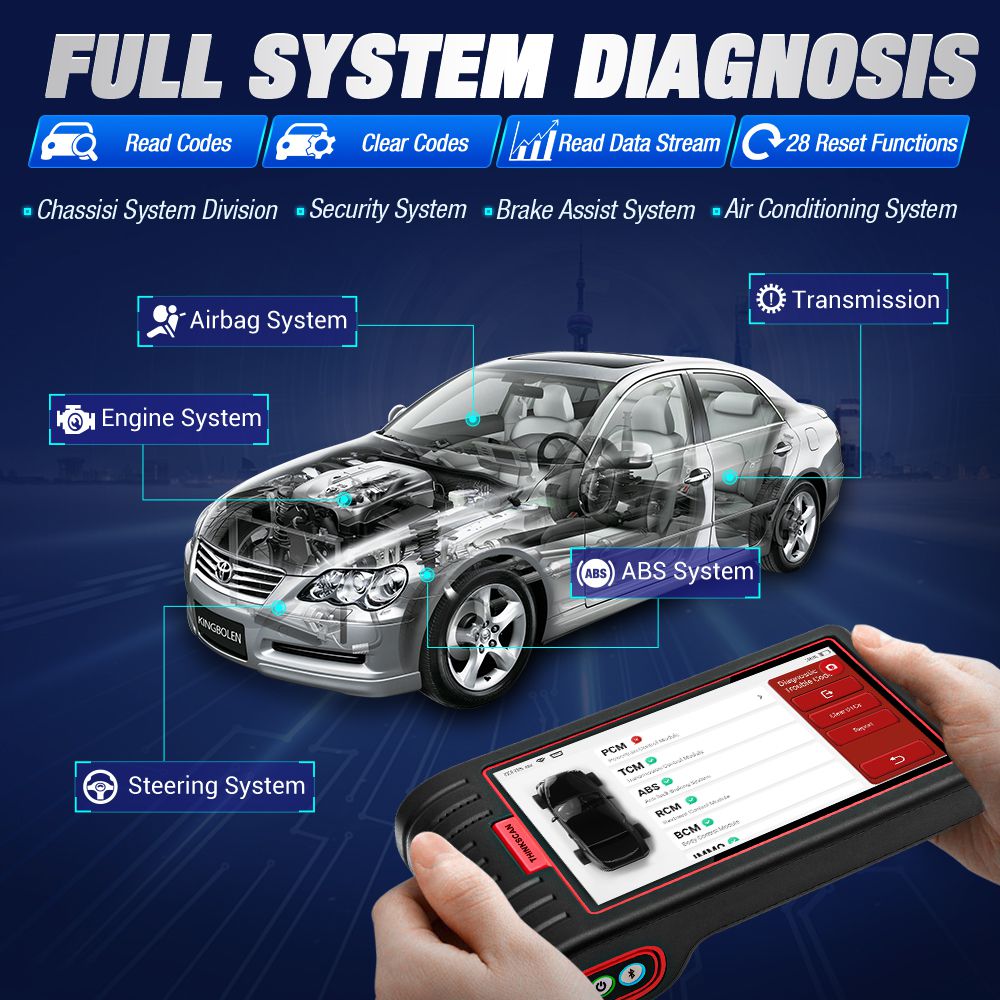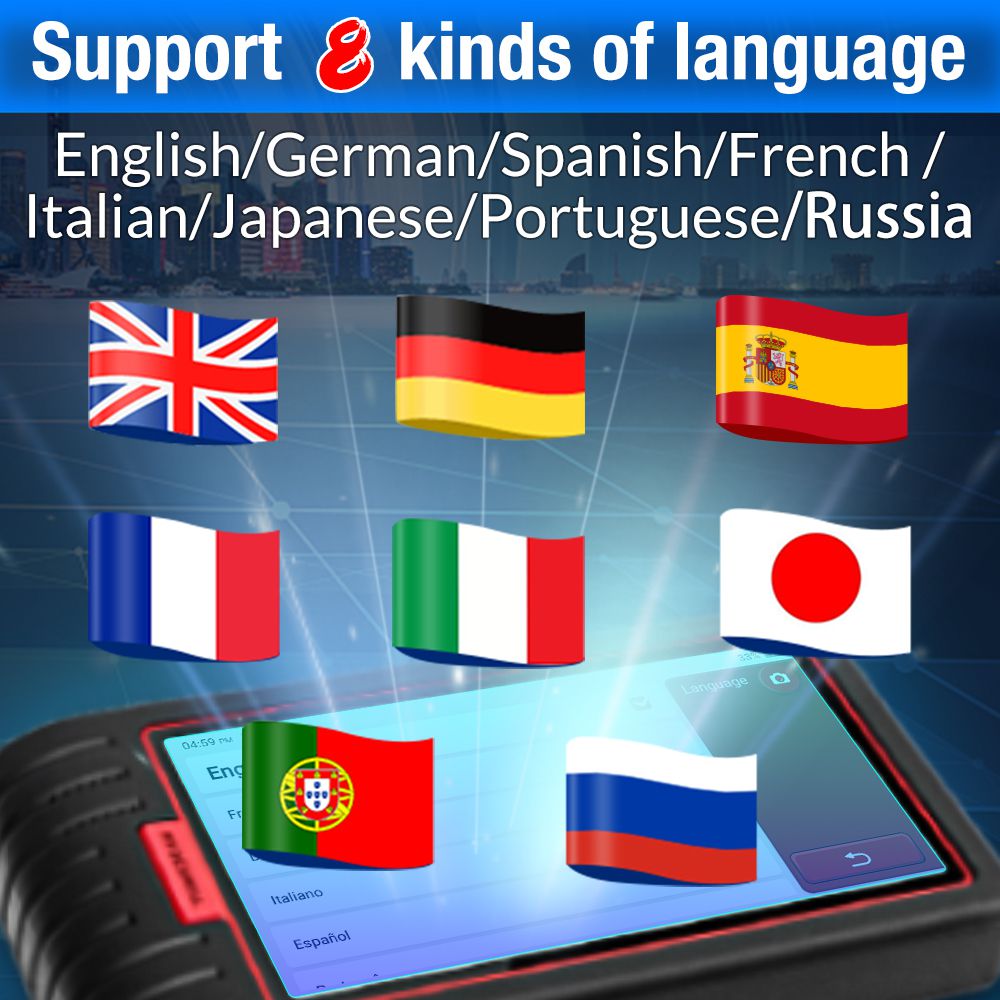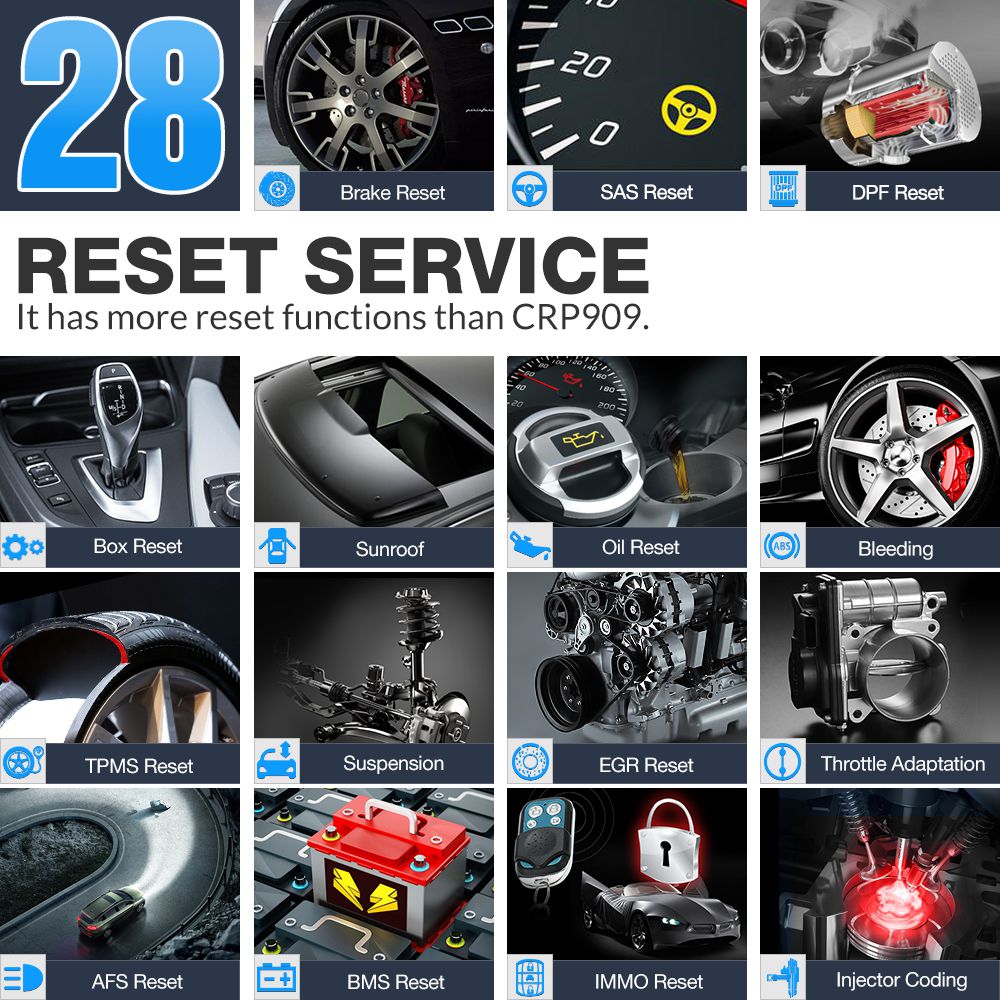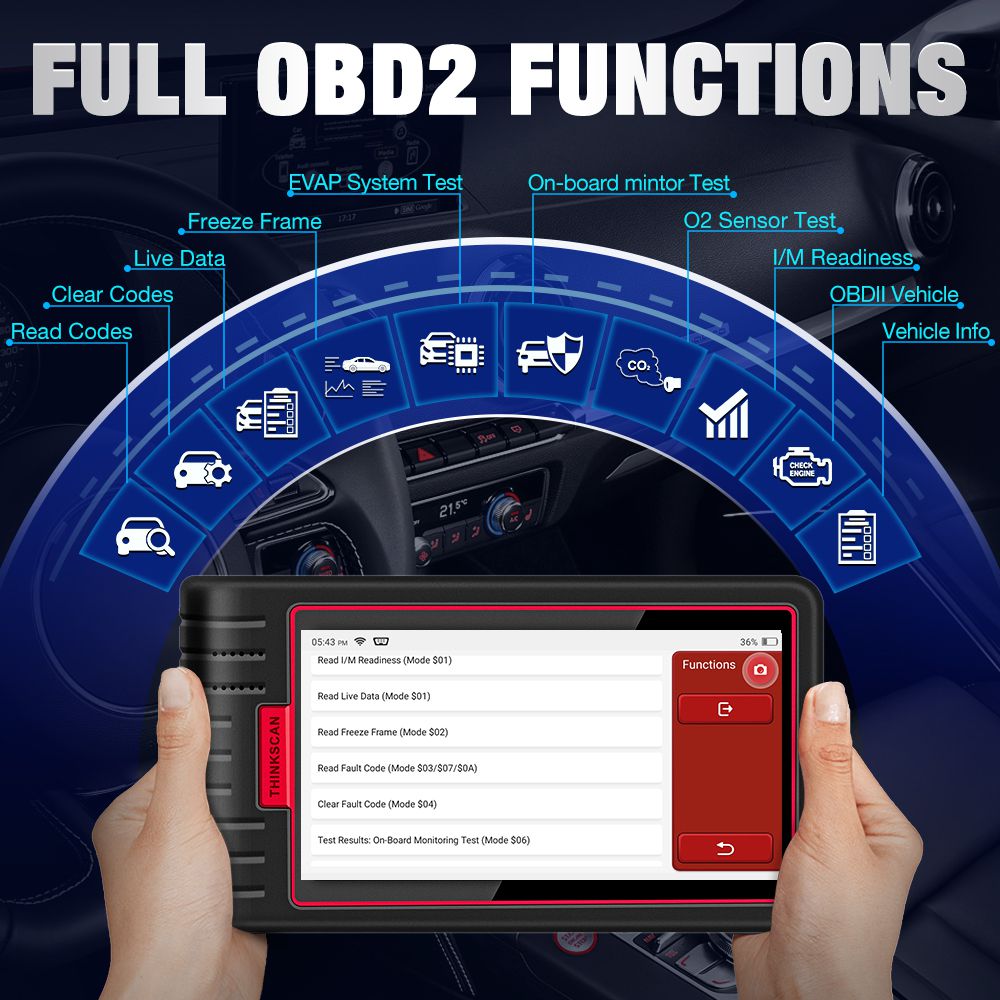 ThinkCar ThinkScan Max Full Systems OBD2 Diagnostic Scanner 28 Reset Service Bi-Directional Test Scanner CRP909E
ThinkCar ThinkScan Max Full Systems OBD2 Diagnostic Scanner 28 Reset Service Bi-Directional Test Scanner CRP909E
Shipping:

Express Shipping Service


Estimated delivery time:

3-15

working days.

See details ?

Returns:

Return for refund within 30 days, buyer pays return shipping.

Read details ?

Support: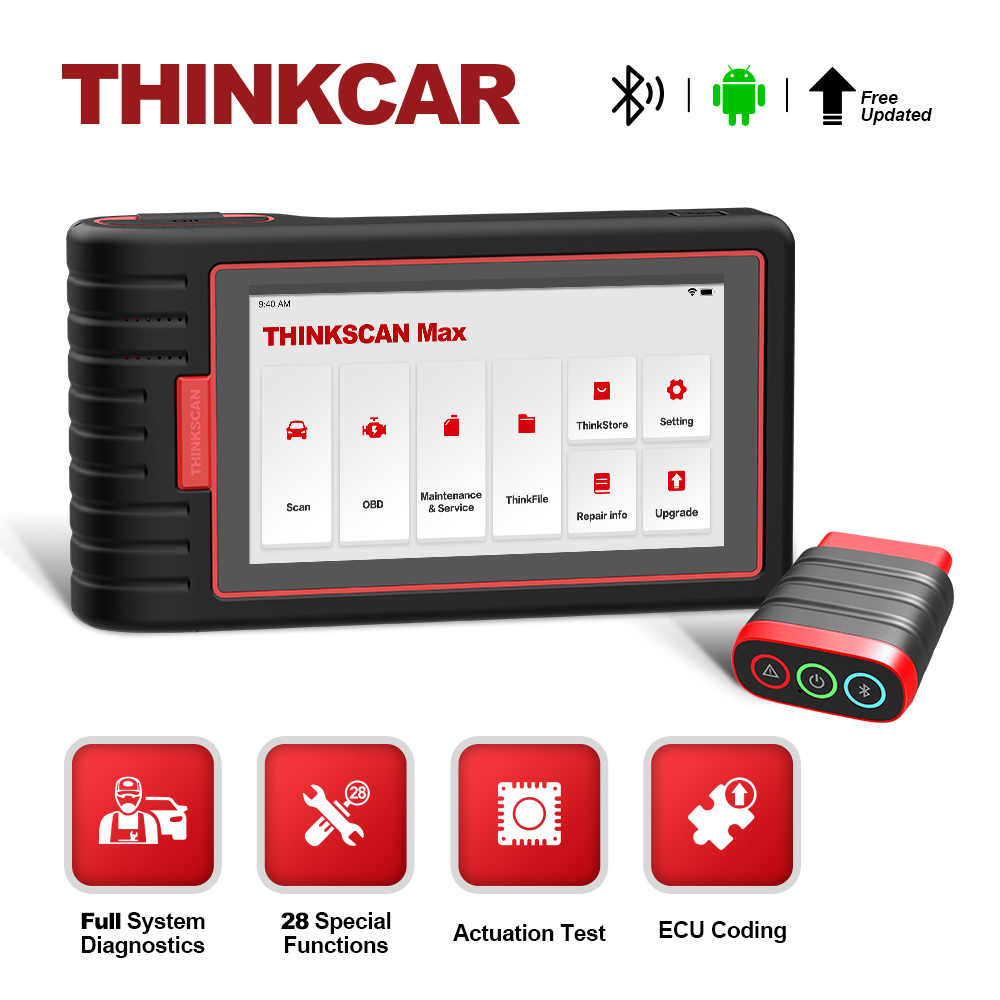 Product Details

Product's Reviews (0)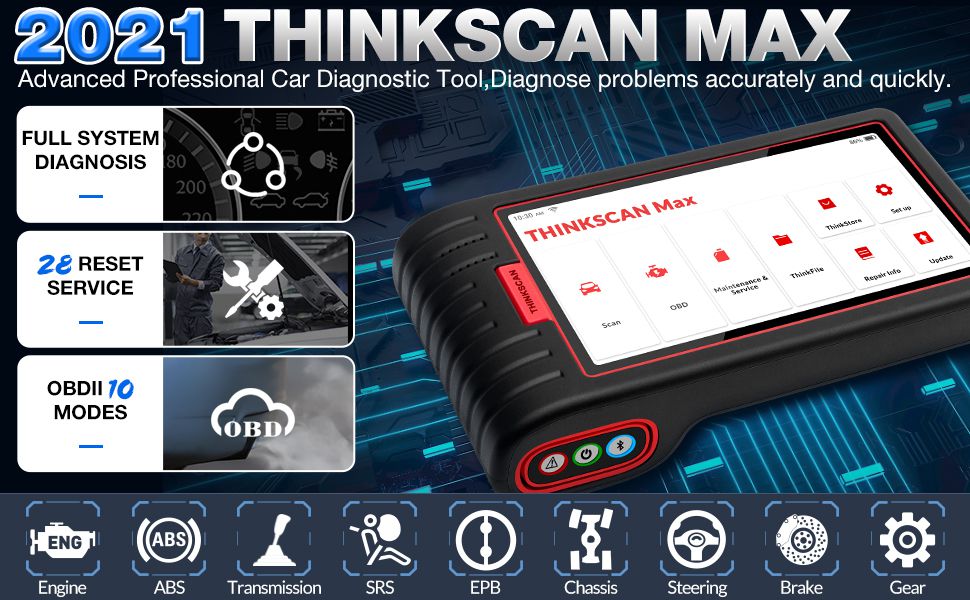 Thinkcar Thinkscan Max OBD2 Scanner
Good News:
Reset software is free update online for lifetime!
Why Choose ThinkCar ThinkScan MAX ?
1.Full System Diagnostic for 123+ Car Makes: There are many other full system diagnostic scanners in the market, but most of which only supports 50-60 car makes. However, thinktool mini code reader scan tool will be able to perform full system diagnosis on 94 car makes, offering repairshops more choice and chance no matter what kinds of vehicles you encounter. 2.28 Maintenance Reset Functions: Besides diagnostic function, thinktool mini can also be a maintenance reset tool, then you don't need to buy another service tool. The 28 commonly-used function includes: Oil Reset, Sunroof reset,EPB service, ABS bleeding, Injector Coding,Suspension reset, Gearbox reset,AFS Headlamp Reset,Throttle Adaptation,Gear Learning, EGR Reset, BMS, SAS,DPF, IMMO, Basic TPMS Reset service. ... Most important: All Reset software is free for lifetime. 3.Actuation Test,Bi-Directional Test and ECU Coding Supports (Note: Need to buy this function in thinkstore) : Actuation Test Supports ,this function is used to test whether the execution components in the electronic controlsystem can work normally. Bi-Directional Test and ECU Coding also support , but need buy them in ThinkStore first ! 4.Wireless Connection, Bluetooth Diagnosis: Many traditional diagnostic scan tools are equipped with diagnostic cables and you have to connect the car scanner with the OBDII port via cable during the diagnosis, which limits the diagnostic distance within 1m. While thinktool mini offers wireless connector, making it convenient and efficient during the work. 5.One-Key Update: Reset software is free update online for lifetime. Basic function of Car is free; Full Car software is $49.95 a year. Basic function: Read/Erase fauty code, Read Data stream, Read version info. 6.Screenshot & Screen Recorder: You can capture and save the diagnositc process with this feature rather then use the telephone to take pictures.
ThinkCar ThinkScan Max Language :
English , German , Spanish , French , Italian , Japanese , Portuguese, Russian!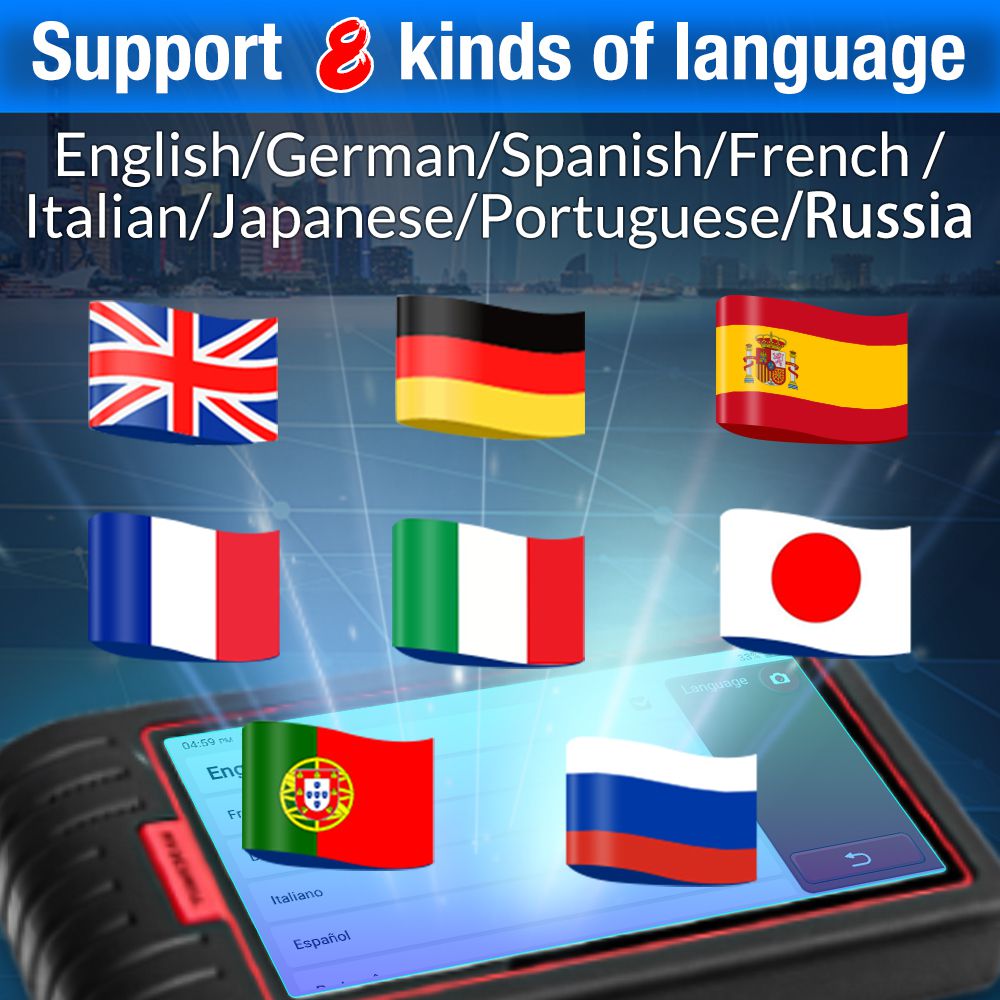 THINKSCAN Max, one of the diagnostic products launched by THINKCAR TECH INC, isthe highest-level OBD product of the THIiNK series for DIY users.Equipped with Androidoperating system, it features powerful functions and can be updated online. Moreover, fullcommunication protocols make it cover a wider range of vehicle models. Through the simple Bluetooth communication between diagnostic dongle and the hostcomputer, it achieves full car model and full system vehicle trouble diagnosis,whichinclude Reading DTCs, Clearing DTCs,Reading Data Stream, Actuation Test and SpecialFunctions.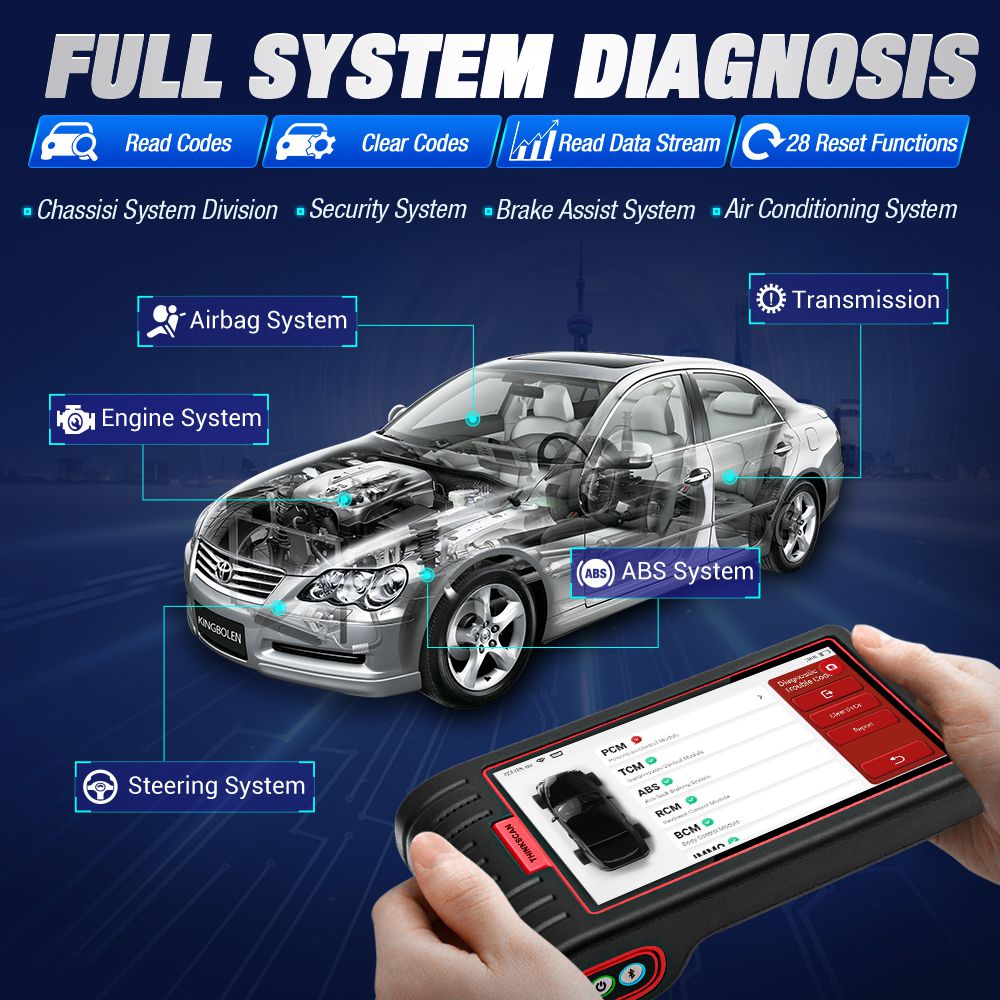 ThinkCar ThinkScan Max supports Full system of the cars :
engines/Auto Transmission/Airbags/IMMObilizer/Key Coding/ABS/Cruise Control/Instruments/ Self Leveling Suspension systems/Seats/Doors/Gateway/Steering Angle/Air Suspension/Body Systems/Electronic Power Steering & Motor Assisted/Power Steering/Tyre Pressure/Rain Sensors/4WD System/Stabilizer/Intelligent Parking Assist/Door Motors/Audio Systems/Air Conditioning/Tiptronic/Anti Theft/Soft Top/Headlamp Leveling/Central Locking/Automatic Clutch/ DPF Reset/Electric Windows/Plip Programming/Heated Rear Window/Xenon Headlights/Wash Wipe/Fuel Burning Heater/Transfer Box/Seat Memory/Oil Life Service Reset/Sliding Doors/Electronic Throttle/Navigation System/Rollover Sensor/Cruise Control/ Multi Function Steering Wheel/Aux Heating/Electronic Parking Brake/Clutch Electronics etc.( Great for car repair shops and mechanics to improve business)
Thinkscan Max Supported 28 Kinds of Reset Service
Note : There is only 16 reset Function in Machine , other Reset Function will add later, it can be found in some car software. 1、Oil Reset : allows you to perform reset for a new calculation of Engine Oil Life system once changed the oil. 2、EPB Reset : is important in the maintenance of electronic braking system's safety and efficiency. 3、BMS Reset: allows the scan tool to evaluate the battery charge state, monitor the close-circuit current, register the battery replacement, and activate the rest state of the vehicle. 4、DPF Reset: specially works for Diesel Particulate Filter system with DPF regeneration, DPF component replacement teach-in and DPF teach-in after replacing the engine control unit. 5、SAS Reset: helps clear the fault steering angle sensor memories and plays an important role in the steering angle sensor calibration. 6、TPMS Reset : makes sense in displaying sensor IDs from the vehicle's ECU, inputting TPMS sensor replacement IDs and testing sensors. 7、IMMO reset: it is mainly used to disable the lost vehicle keys and program a new replacement key fob. 8、ABS Bleeding: ABS brake bleeding to get a firm brake pad after air exhaustion. 9、Throttle reset: The throttle body is a tube containing a pivoting flat valve (butterfly) that is used to control the amount of air entering an engine. In an electronically fuel injected car, a throttle position sensor and air flow sensor communicate with the computer, which supplies the corresponding amount of fuel needed at the injectors. It must need re-learning throttle sensor position after clearing or repair 10、Injector Coding: Leaking injectors and some dead injectors can be missed even when an injector is disabled. Other problems with the ignition system and mechanical components also may not show an rpm loss when an injector is turned off. 11、Gear Learning: After the engine ECU, crankshaft position sensor, or crankshaft flywheel is replaced, or the DTC 'tooth not learned' is present, tooth learning must be performed. 12、Suspension Matching: Adjust the vehicle height sensor for level calibration. 13、Sunroof Initialization: Set the sunroof lock off, close in rain, memory function of sliding 1 tilting sunroof, outside temperature threshold, etc. 14、Battery Matching: By clearing the original breakdown information about the lack of battery power,rematch the battery. 15、A/F Reset: Applied to set or lean Air/Fuel ratio parameters. 16、Steering Angle Reset: helps clear the fault steering angle sensor memories and plays an important role in the steering angle sensor calibration. ...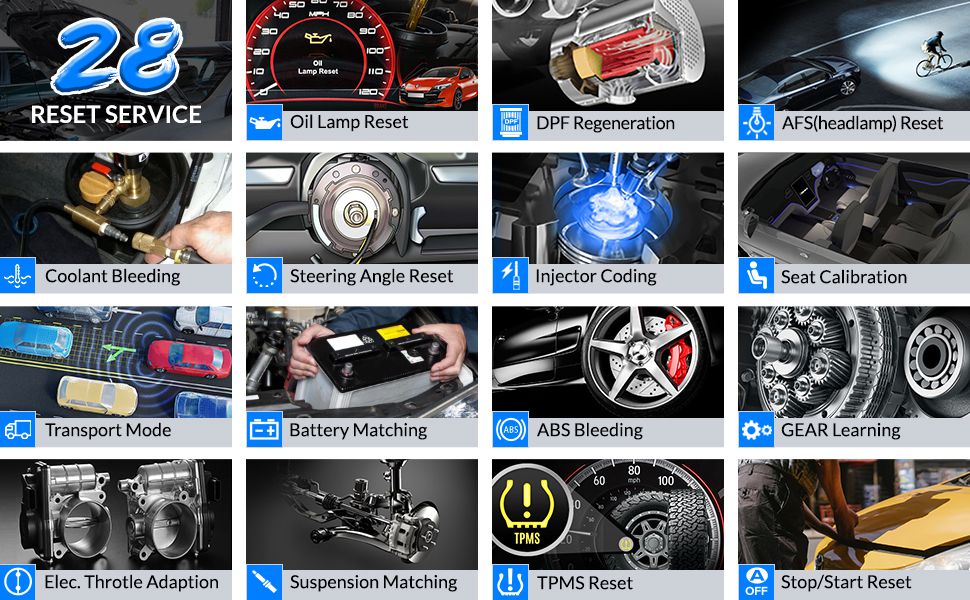 ThinkCar ThinkScan Max Full OBD Function :
Reading Codes: Show the detailed description of the Diagnostic Trouble Code (DTCs) Erasing Codes & Reset: Turns off Check Engine Light (MIL), clears codes and resets monitors. Data Stream: Reads and displays live ECU/PCM data stream, plotting functions graphically and stores freeze frame data. I/M Readiness Status: Shows whether the various emissions-related systems on the vehicle are operating properly and are ready for inspection and maintenance testing. Read Live Data Stream: Show the information of continuous data stream from a vehicle in live graphic (waveform) display. View Freeze Frame Data: Check the certain vehicle conditions which are recorded by the on-board computer at the time the emission-related fault occurs. O2 Sensor Test: Allows retrieval and viewing of O2 sensor monitor test results for the most recently performed tests from the vehicle's on-board computer. On-Board Monitor Test: Retrieves and displays test results for emission-related powertrain components and systems. Read Vehicle Information: Display the information such as VIN (Vehicle Identification Number), CID (Calibration ID) and CVN (Calibration verification number), etc. Component Test: Certain vehicle components can be actuated by commands sent from the scanner to test their operability.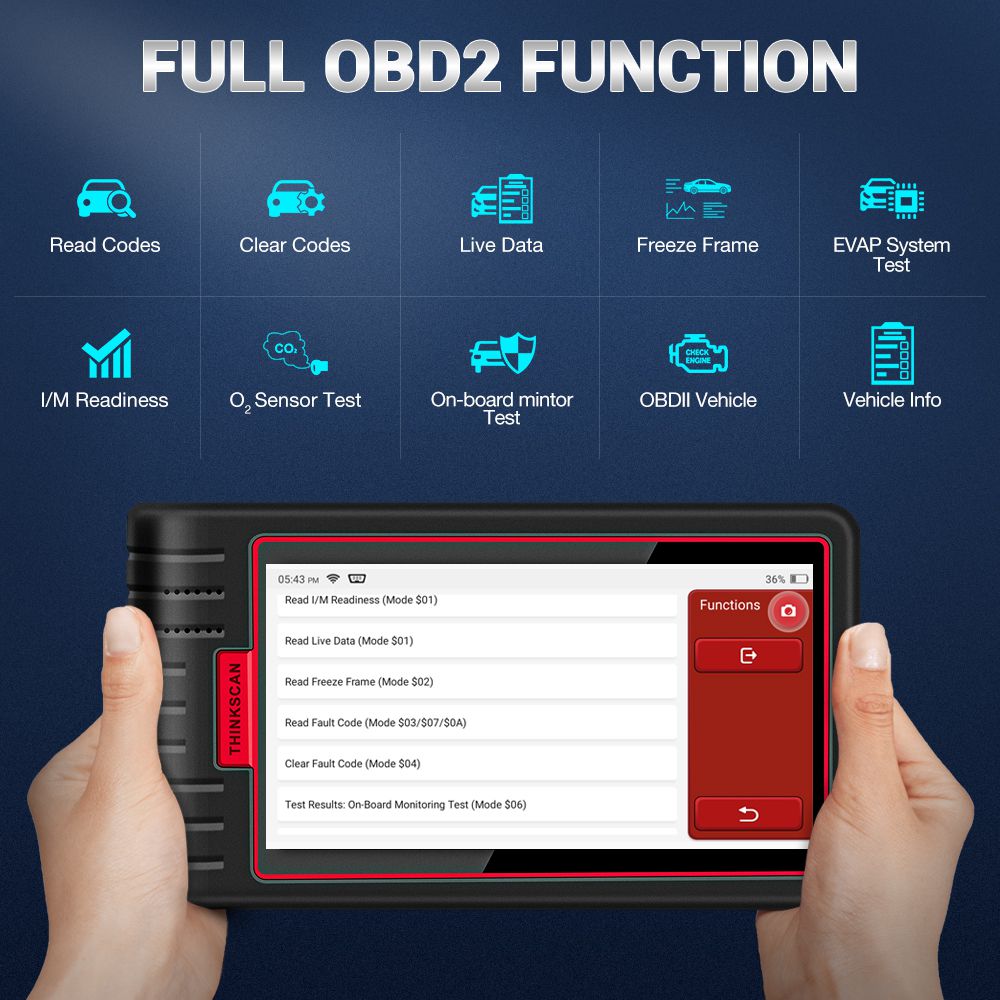 The Other Function of ThinkCar ThinkScan Max :
AUTOVIN SCAN: click "diagnose" and "autosearch" after connecting to the vehicle. Then the thinktool mini automotive diagnosti tool will begin to scan the VIN automatically. One-Key Wifi Update: no need to update on computer. Just click update after connecting wifi, then all softwares will start to update. (you will enjoy lifetime update through one-key wifi update, which is rare in diagnostic market as other diagnostic tools only offer one year free update.) One-Key Screenshot: use the feature to capture and save the diagnostic process for you rather than take pictures by telephone. One-Key Screen Recorder: you will hardly find this feature on other scanners. This is one of the biggest advantage of thinktool Mini, which will be a big surprise to those who like recording video of the whole diagnostic process. With this feature, you don't need to hand up a telphone during the diagnosis.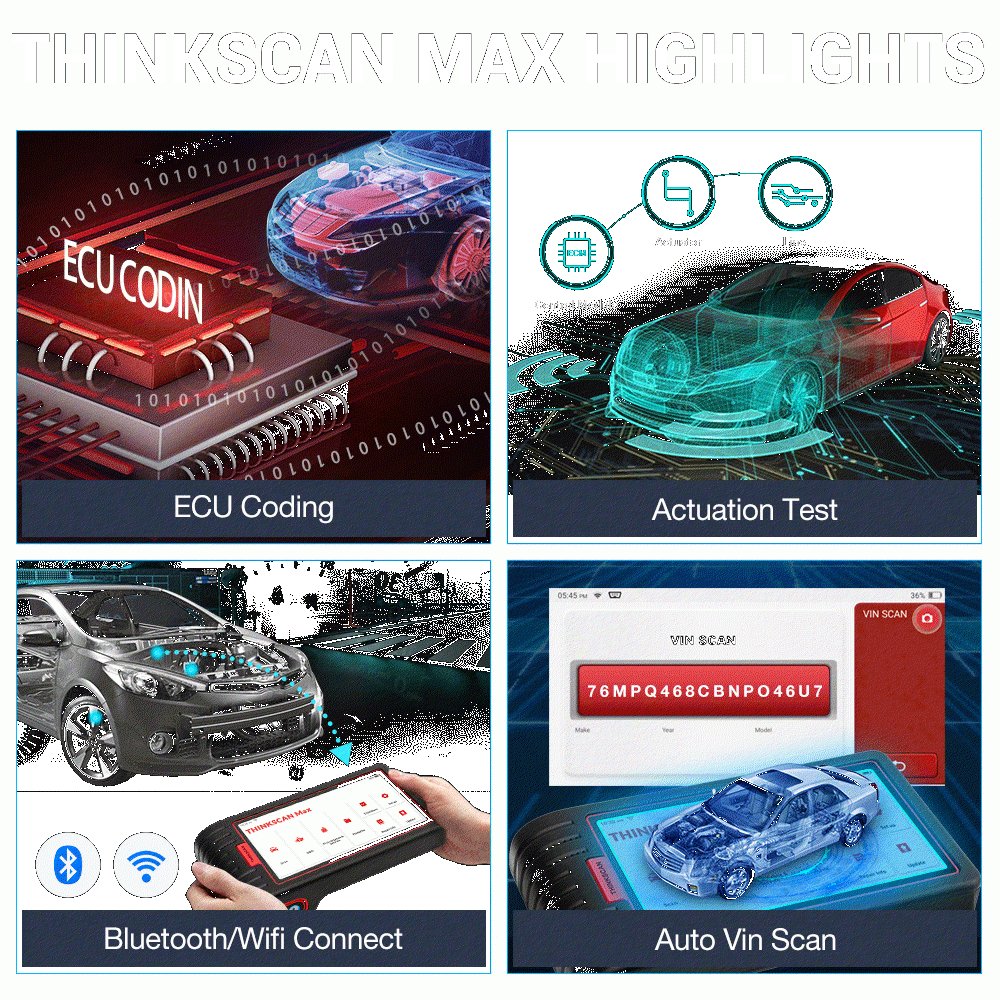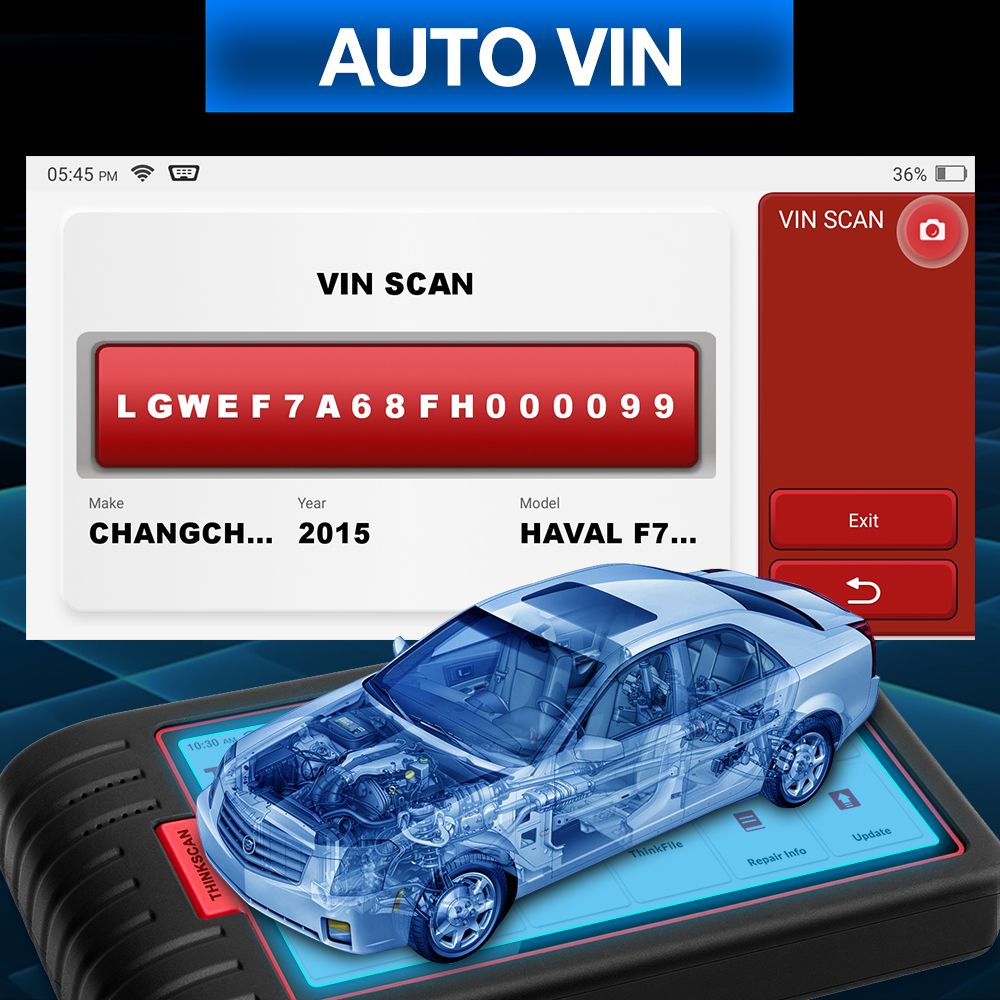 ThinkCar ThinkScan Max Supports about 124 Car software list :
For ASTONMARTIN, For Audi, For AUSTFORD, For AUSTHOLDEN, For BAIC, For BENZ, For BMW, For BXFIAT, For BXGM, For CHANGAN, For CHANGCHENG, For CHANGHE, For CHRYSLER, For CITROEN, For DAEWOO, For DAIHATSU, For DFXK, For DR, For FERRARI, For FIAT,FLYER, For FUTIAN, For GAZ, For GM, For HAFEI, For HMAZDA, For HONDA, For HUACHEN, For HYUNDAI, For IKCO, For INDIANMAHINDRA, For INDIANMARUTI, For INDIANTATA, For JMC, For IVECO, For IZH, For JACTY, For JIAO, For JINLONG, For JOYLONG, For ISUZU, For KIA, For LANDROVER, For LIFAN, For LIUWEI_TY, For LUXGEN, For MAHINDRA, For MALAYSIA PERODUA, For MALAYSIA PROTON, For MARUTI, For MASERATI, For MAXUS, For MAZDA, For MITSUBISHI, For MVM, For NISSAN, For OPEL, For PAZ, For PERODUA, For PEUGEOT, For PORSCHE, For PROTON, For QIRUI_TY, For QOROS, For RENAULT, For ROVER, For SAAB, For SAICMG, For SAIPA, For SEAT, For SEAZ, For SGM, For SKODA, For SMART, For SPARK_TY, For SPRINTER, For SSANGYONG, For SUBARU, For SUZUKI, For TATA, For TOYOTA, For TRUMPCHI, For UAZ, For USAFORD, For VAZ, For VOLVO, For VW, For XIALI, For XINKAI, For ZAZ, For ZHONGSHUN, For ZHONGTAI, For ZHONGXING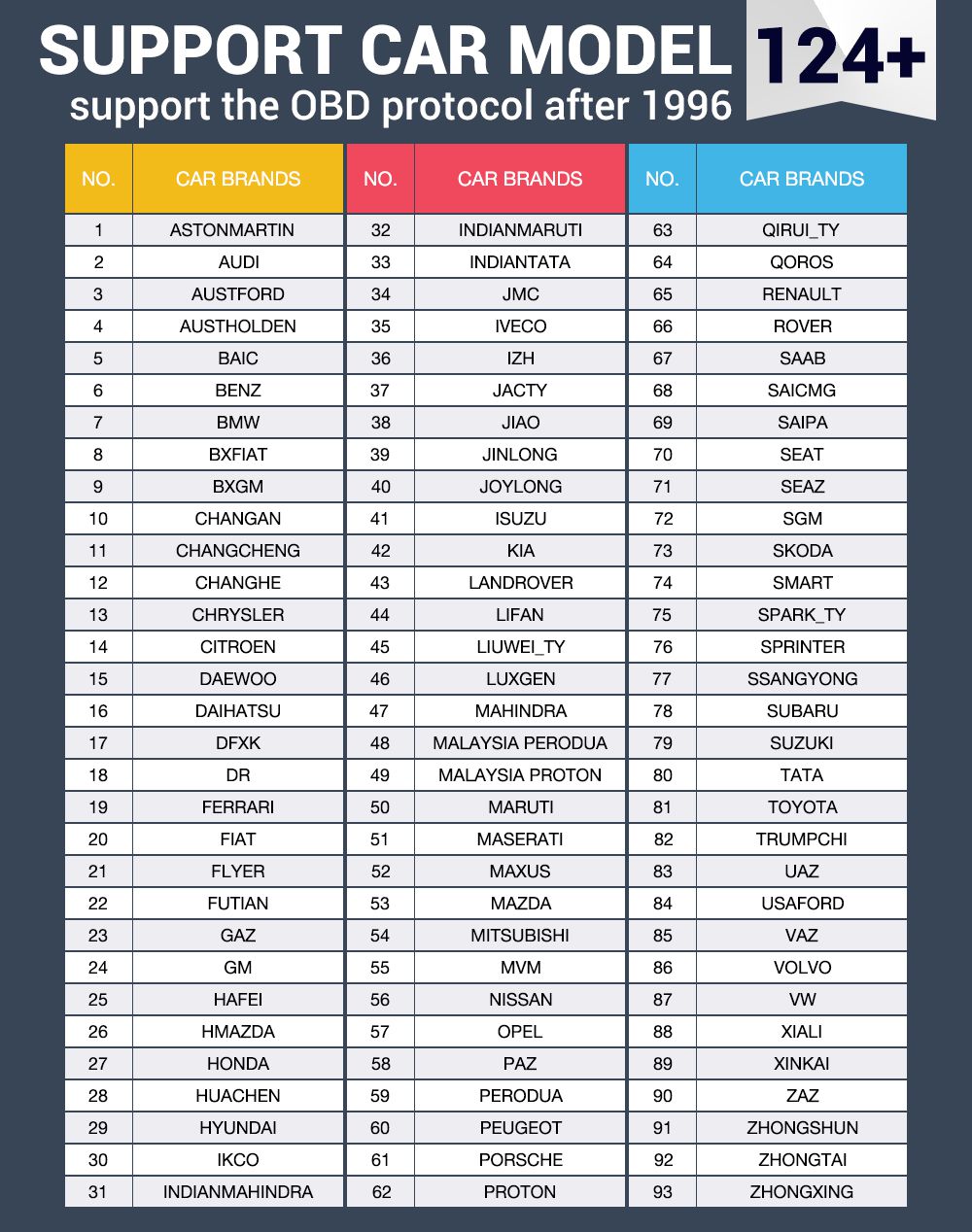 How to Register ThinkCar ThinkScan Max ?
Step 1 : Choose Time Zone Step 2 : Agree the agreement term Step 3 : New Registration , Create APP Account .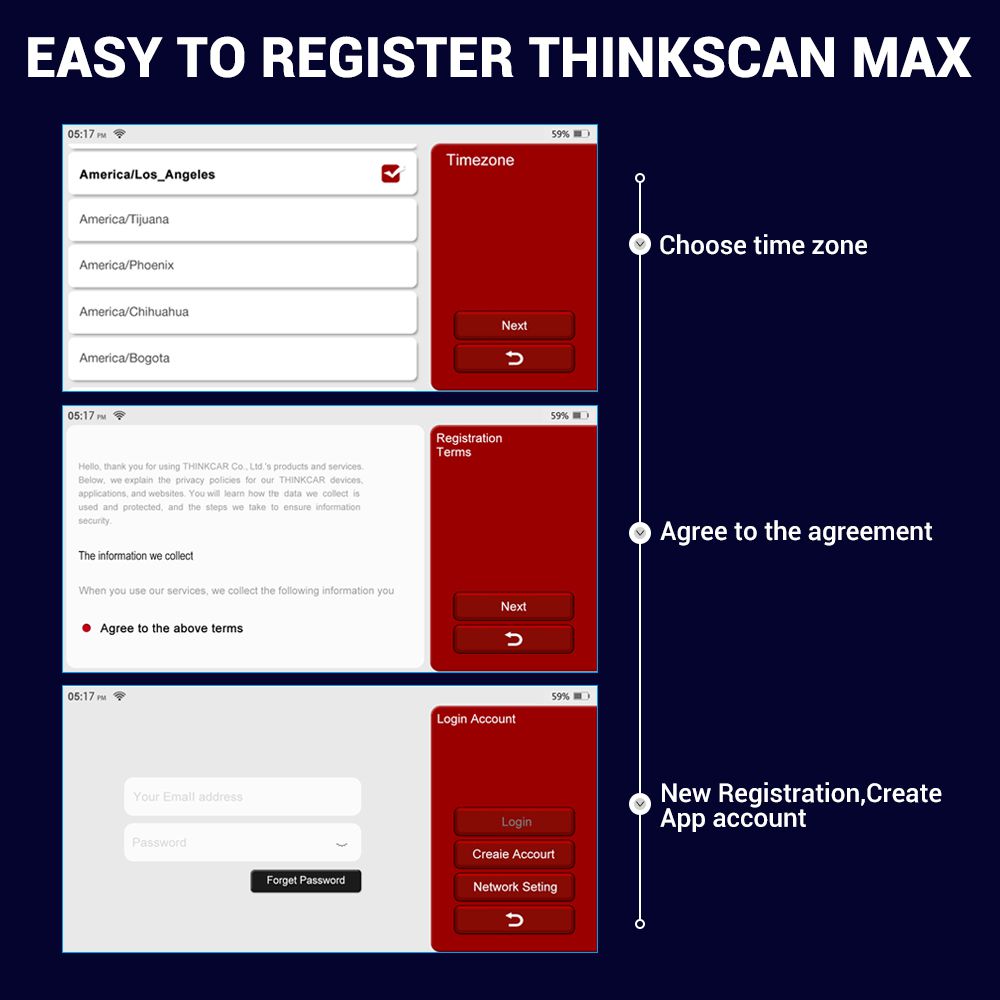 ThinkCar ThinkScan Max hardware configuration :
Battery Capacity:3100mAh/7.6V Screen Size: 5.99 inches Resolution: 720*1440 pixel Working Voltage: 5V Working Current: ≤2.5A Working Environment: 14 °F ~122°F(-10°℃ ~50°C) Storage Environment: -4 °F ~140°F(-20°℃~60°C)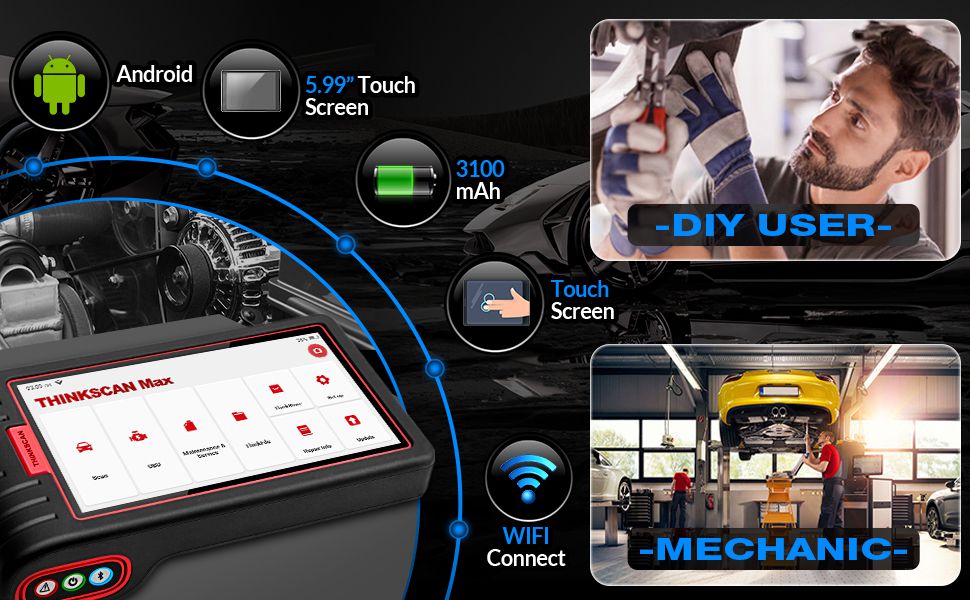 ThinkCar ThinkScan Max Packing List: