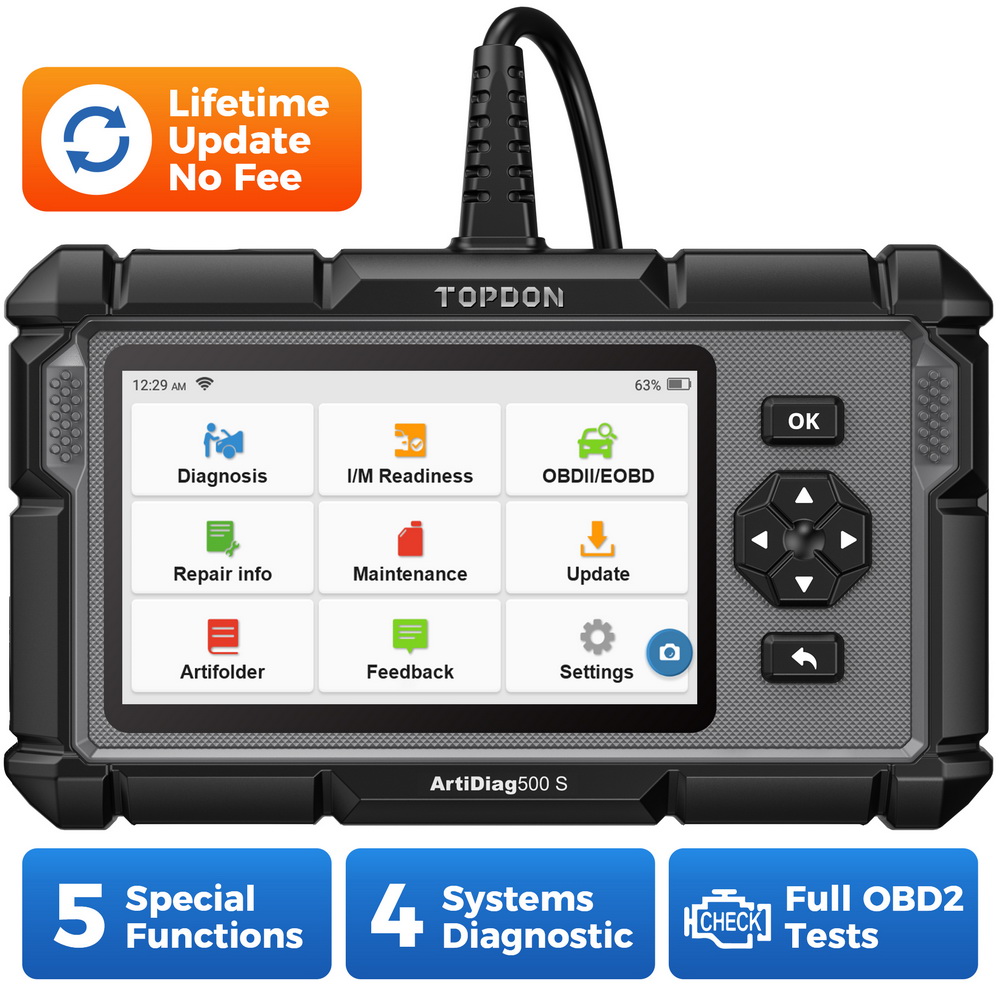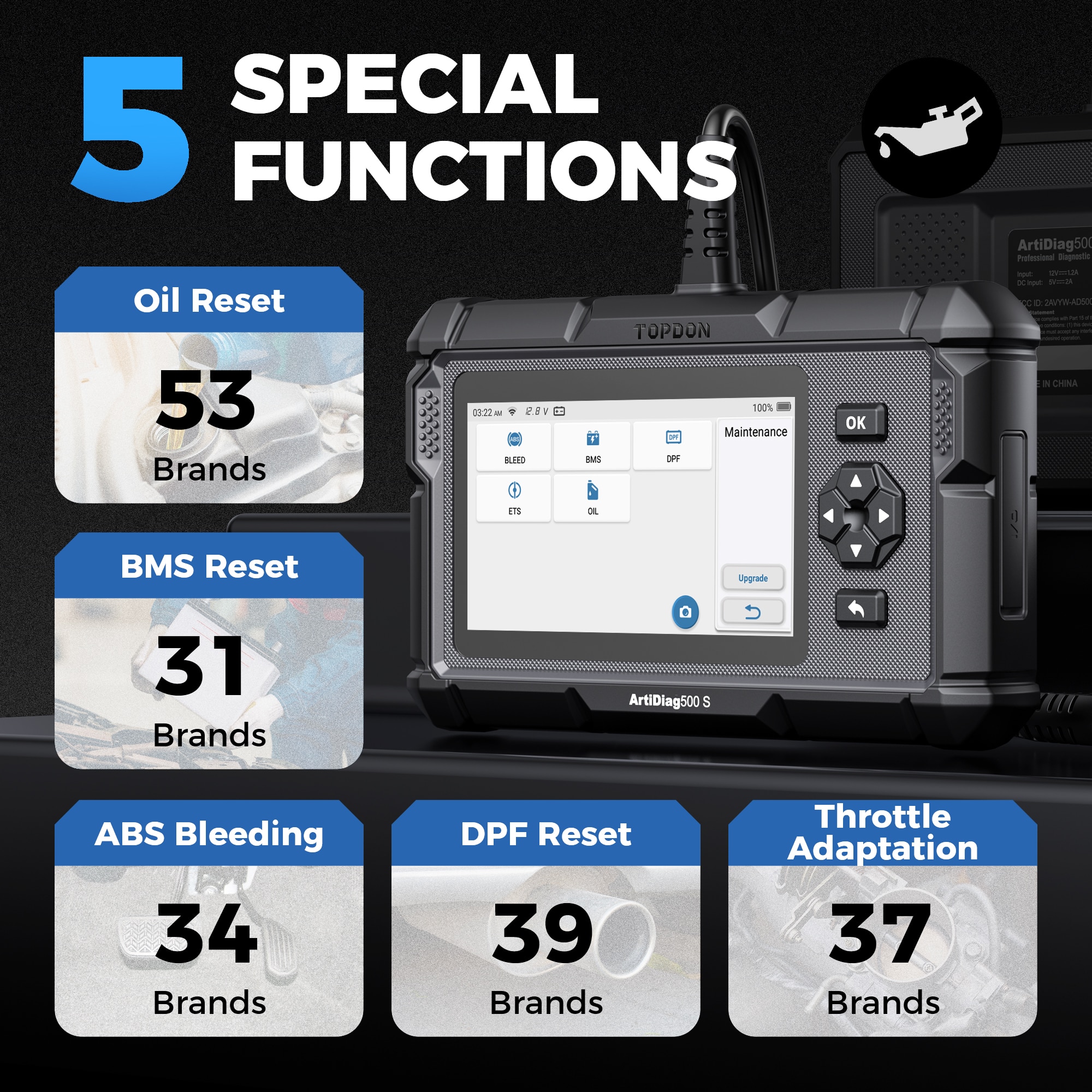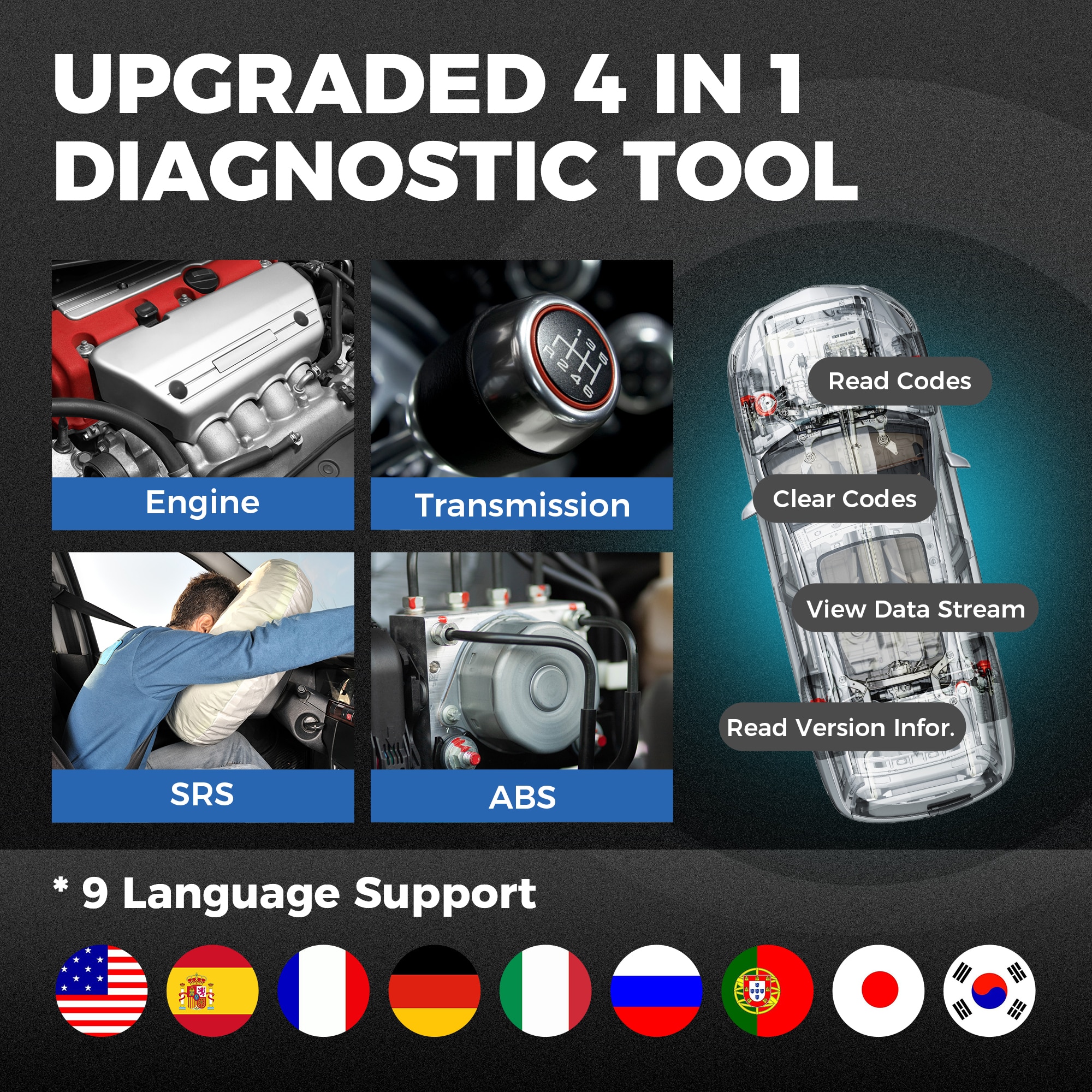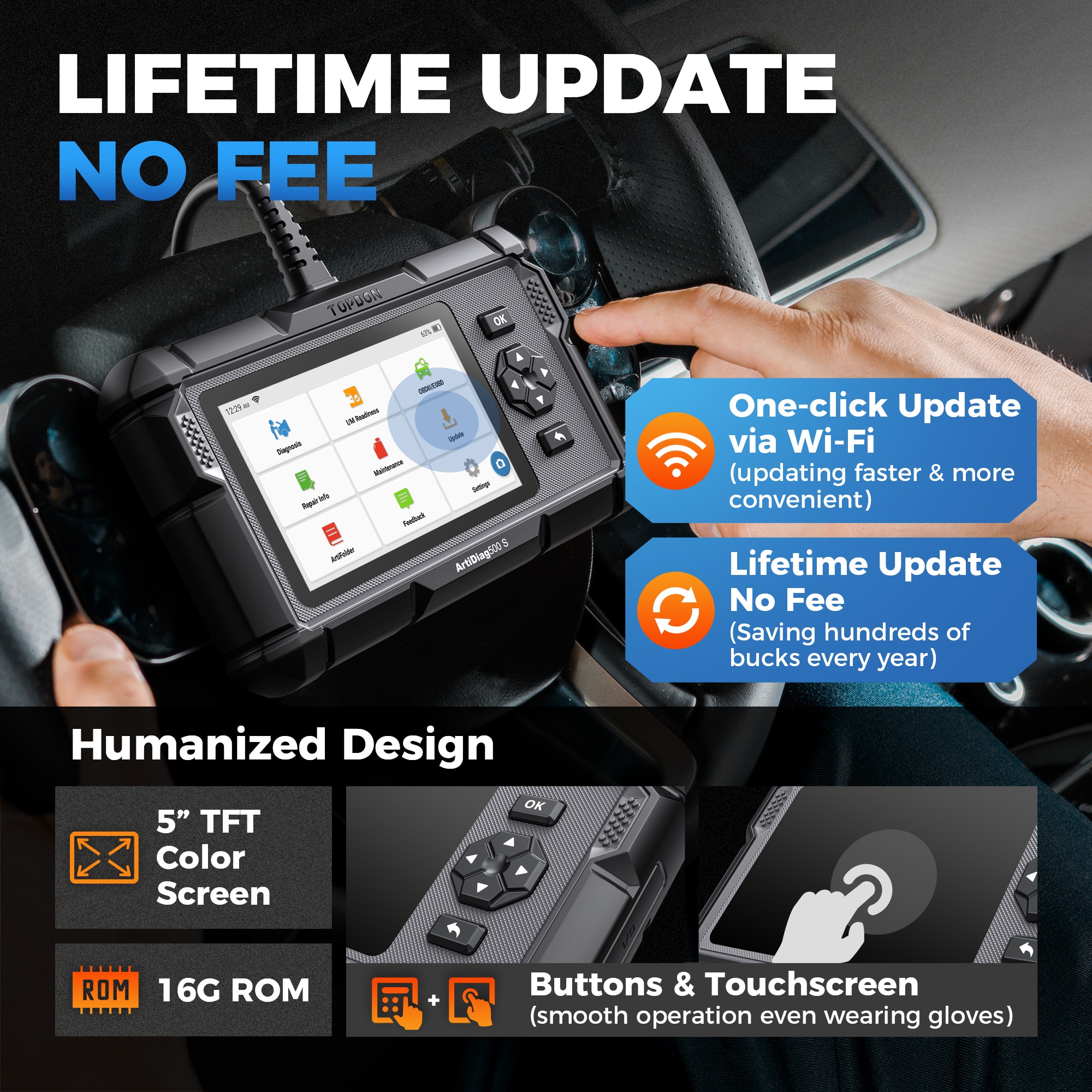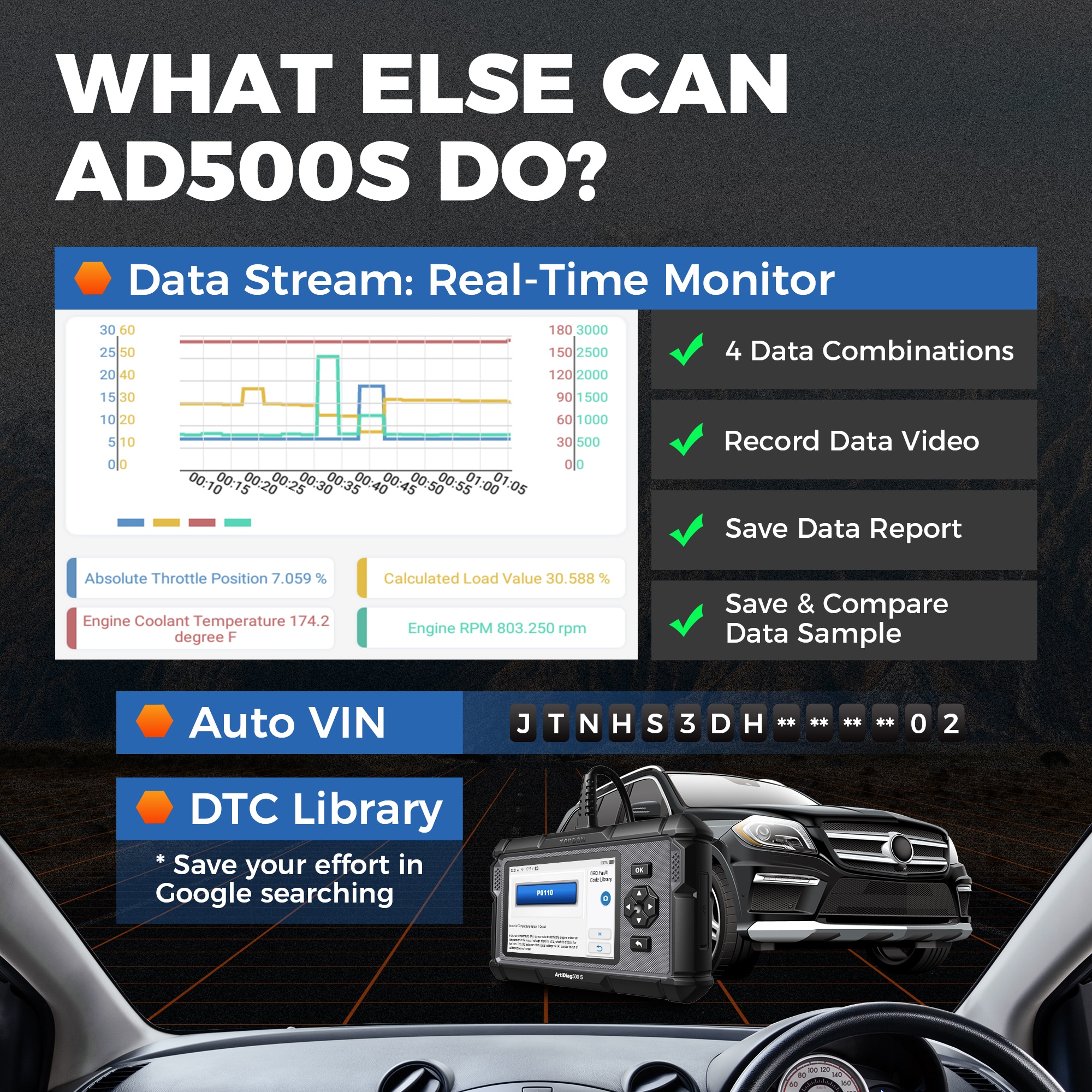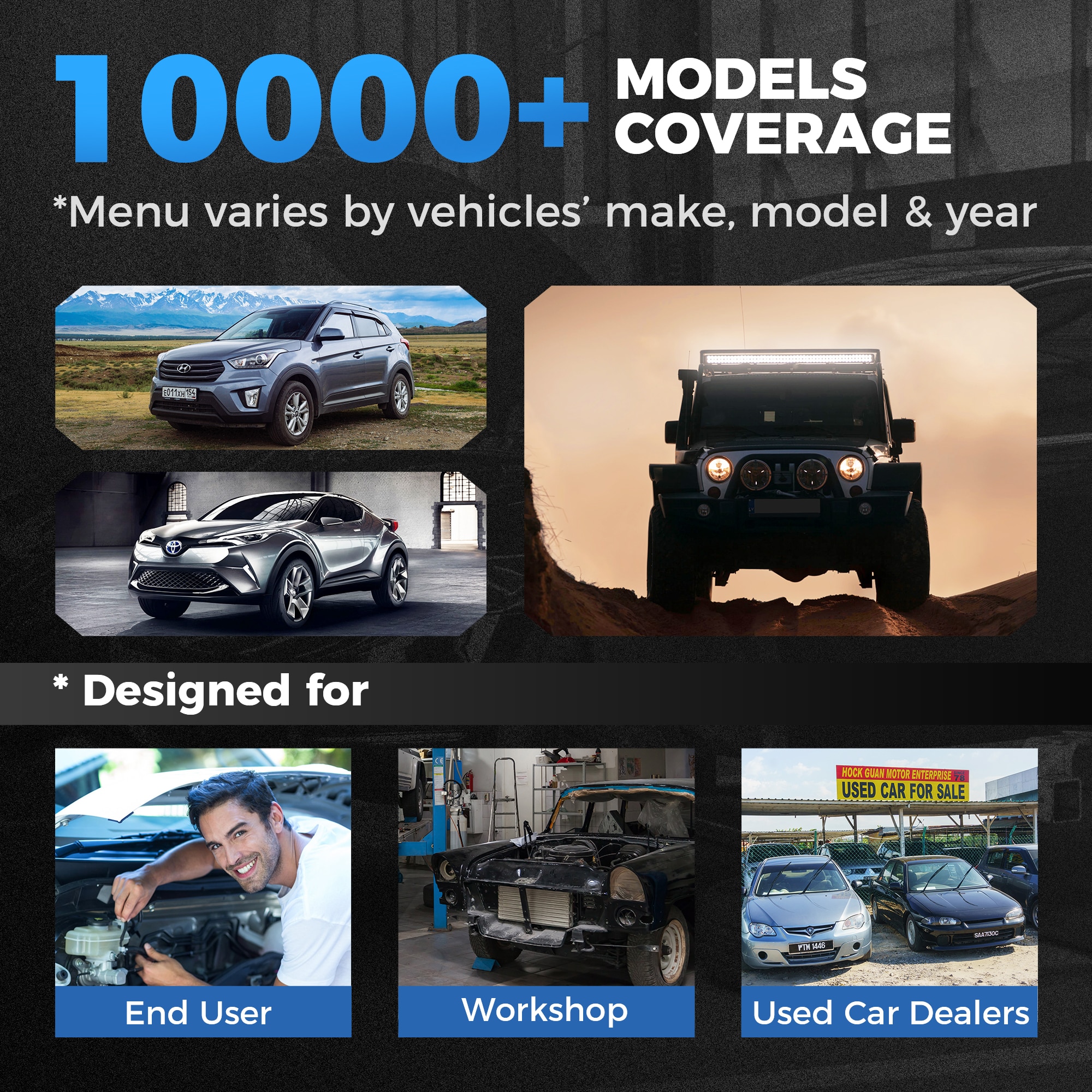 Topdon ArtiDiag500S OBD2 Diagnostic Scanner All Systems ABS Airbag DPF Oil Reset Automotive Diagnoses Tool
Topdon ArtiDiag500S OBD2 Diagnostic Scanner All Systems ABS Airbag DPF Oil Reset Automotive Diagnoses Tool Supports all 10 OBD2 test modesfor vehicles that match 1996 OBDII/EOBD/JOBD/KOBD/CAN standards
Shipping:

Express Shipping Service


Estimated delivery time:

3-15

working days.

See details ?

Returns:

Return for refund within 30 days, buyer pays return shipping.

Read details ?

Support: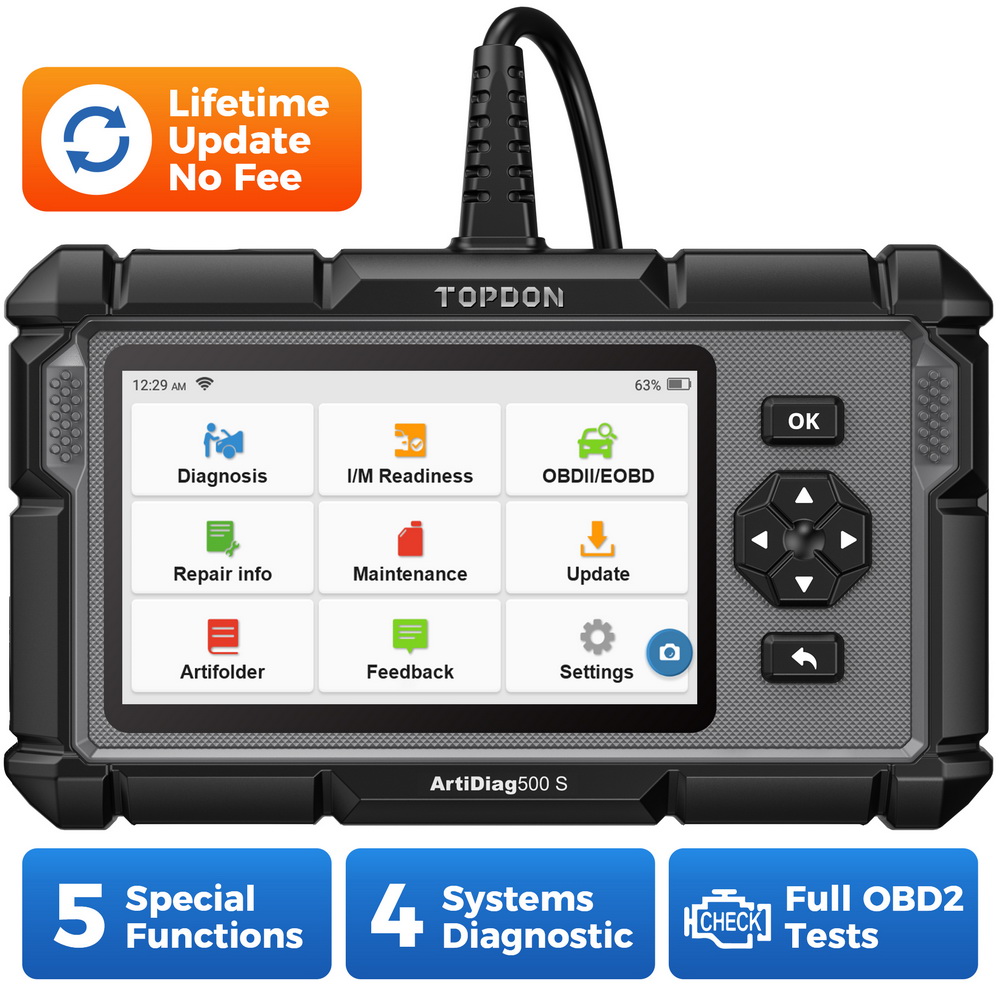 Product Details

Product's Reviews (17)
TOPDON AD500S: Waaayyy More Functionality than a Basic OBD2 Scanner
It is with great enthusiasm that TOPDON is releasingthe new-generationautomotive scannerArtiDiag500S,a realization to merge powerful 4 essential system diagnosticswith immediate accessto 5 service functions into one inspiring solution, yet without the heavy cost. It will be a welcome addition to your toolkit:
1.Designed as anideal car scanner for any personal use or any mechanic working out of their garage.
2.Extensive vehicle coverage for90+ US, Asian and European commercial vehicle makes and models.
**Reach us to check this diagnostic tool's compatibility.
3.Deep diveinto
engine
/
ABS
/
SRS
/Transmission systems for a health check; use this car system diagnostic tool to read codes, access plenty of live datafor any fault notifications.
4.Performs 5 service functions for Oil/BMS/
ABS
/DPFResets and Throttle Adaptation; covering your daily maintenanceneeds for a fleet of worldwide vehicles.
6.Displays live data in plain textandmerged graphs for easy data review and analysis.
7.Configures display options; records and playbacks results with one touch.
8.Prints out recorded data anytimewith easy connection to a Windows PC.
9.
Android
6.0 makes the operation simple and frustration free; fast boot-up and gives answerswithout delay.
10.Easy and intuitive button navigation combines with a 5"large touchscreen; makes finding what you need simple and fast.
11.Wi-Fi updates are available in new software releasesat NO extra costs for lifetime.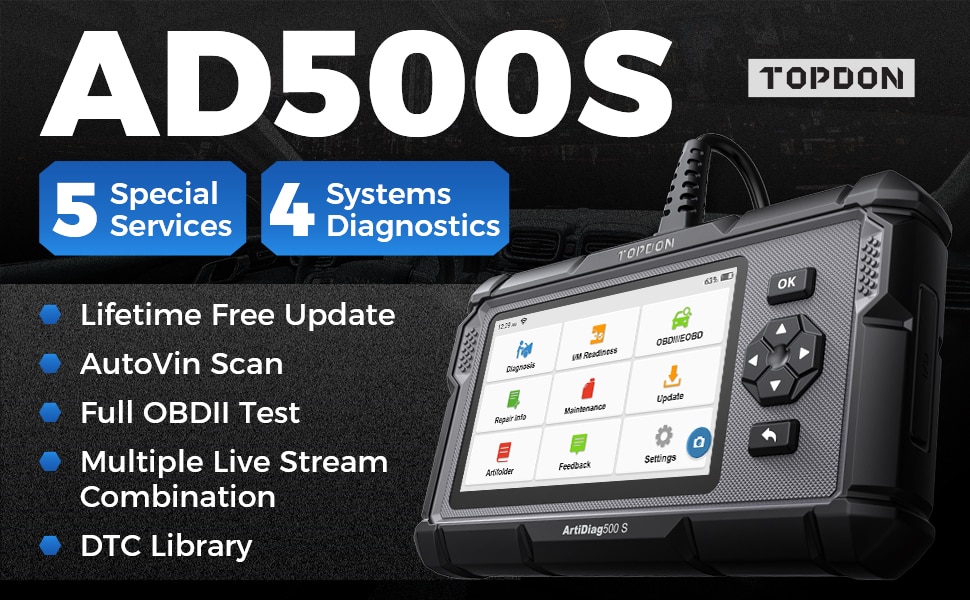 4 Systems Diagnostics: Protection. Performance. Peace of Mind.
Apart from having all the OBD2 features, this TOPDON car scanner can switch off the engine indicator light, display current readings, and translate the fault codes. Save your visits to auto repair stores and increase the lifespan of the
engine
:
- Quickly read& erase current, permanent, and pending codesin the Engine system;
- Show real-time change of critical data, related with fuel, emissionsand manufacturer-specific parameters;
- Turn off the Check Engine Light.
2.For Antilock Braking System(
ABS
)
Diagnose what is causing the ABS lights to come on.It is important to prevent the wheels from unexpected locking and skidding. You can use thisscan toolto:
- Read& clear error codes in the ABSsystem, and turn off the ABS warning light.
- Monitor and playback the real-timedata of all brake componentsin graphics, including the speed of each wheel, ESP sensors data, Brake assist data, and CAN signals data.
3.For Airbag System (
SRS
)
Never put your life in danger because of the malfunction of the airbag system (SRS). This
SRS
scan tool makes sure this crucialsafety system will function normally when an accident happens:
- Access every electronic parameter in the airbag system (SRS), to diagnose trouble codes, and locate the faulty part.
- With built-in DTC definition library's help to solve the issue; clear codes; turn off the SRS warning light.
4.For Transmission
To make sure your transmission system collaboratively works with the Enginefor safe driving, you need this diagnosticscanner to:
- Pull & clear diagnostic codes from the transmission system.
- Display live data from the transmission system to detect whether the car's speed and load match its transmission's output.
**The function list is dependent on your car's make, model and year. Reach us for details.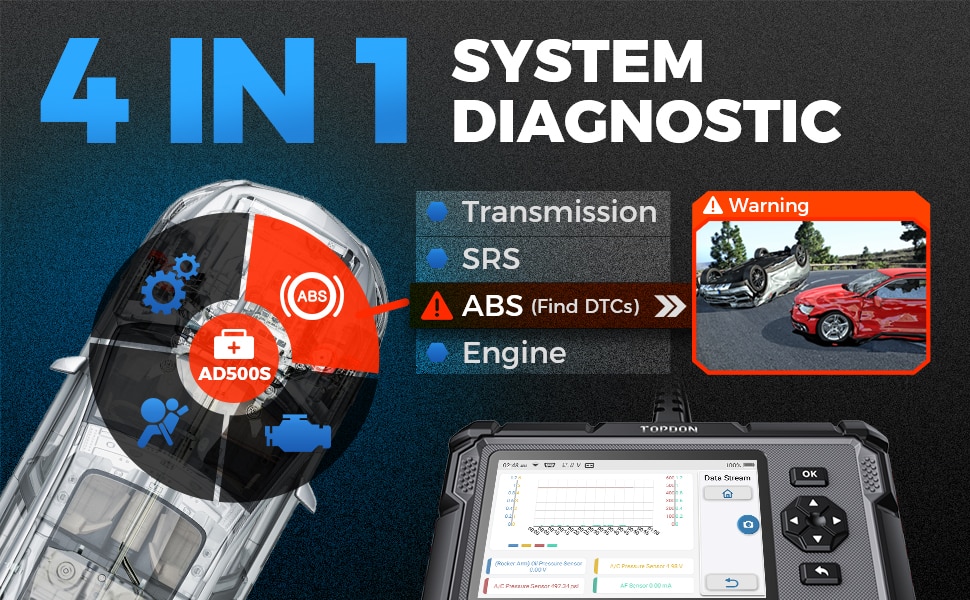 5 Reset ServiceFunctions: Crafted Specifically For Your Garage.
Noticing the maintenance light, or theengine oil indicator shows on in your
Honda
Civic after just getting an oil change? You'll need thisOBD2 scanner to reset the maintenance minder system.Its
Oil Reset
function can help reset the oil service light and program oil life change intervals.
2.ABS Bleeding (compatible with 34 car brands)
If you notice the brake pad is softer and less effective, this scan tool could help.Its ABS Bleeding function allows you to perform bi-directional tests to check the operating conditions of Anti-lock Braking System (ABS), and help remove the trapped air from the system.
3.DPF Regeneration (compatible with 39 car brands)
This diagnostic toolcan manage DPF regeneration to clear the blockage through continuous burning of the particulates captured in the filter.When a DPF regeneration cycle is completed, the DPF lightwill automatically gooff.
4.BMS Reset (compatible with 31 car brands)
The scan tool can evaluate the battery charge state, and register the new battery replacement.So your car system won'thold the old battery parameters and treat the new battery like an aged one.
5.Throttle Adaptation (compatible with 37 car brands)
Anyidea why youare experiencing an aggressive throttle response from the pedalafter cleaning the throttle? This scan toolcan make initial settings to throttle actuators andso you'll have smooth driving.
**The function list is dependent on your car's make, model and year. Reach us for details.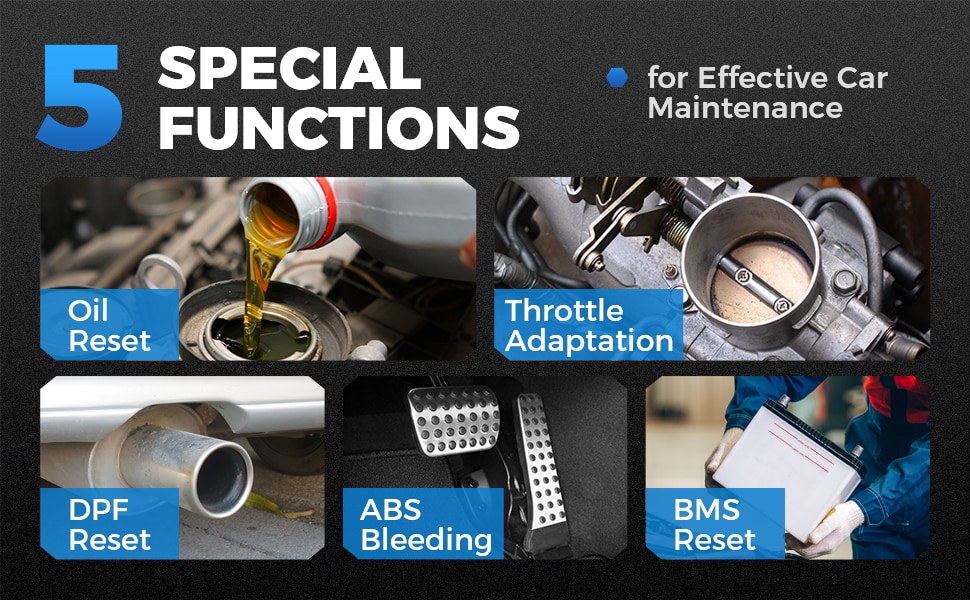 Easy Diagnostic Data Analysis
You can pull code with an explanationin detail, instead of looking it up in a book or searching online like using a basic OBD2 code reader.Thelive stream supports 4 PIDs customized and combined in a graph for easy data analysis. They also can be recorded and played back.
Back You Up with Feedback
The Online Feedback, a strong community, offers you access toonline assistance from our factory-trained experts. We will share knowledge to help you use thescan tool more effectively. And to keep a record of faults for future reference, you can upload the report right to your email, or print off the diagnosis informationby simply connecting thecar scanner to a Windows PC.
Update at No Extra Costs
Updating this diagnostic scanner is very simple, easily done online by connecting your scan tool wirelessly to the internetvia Wi-Fi. No monthly or yearly feesare required. Free your wallet from costly renewals which could be hundreds of bucks!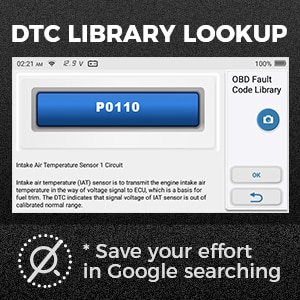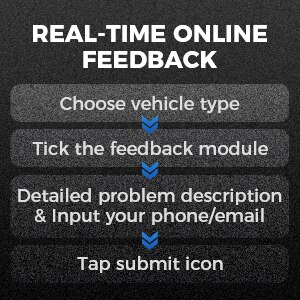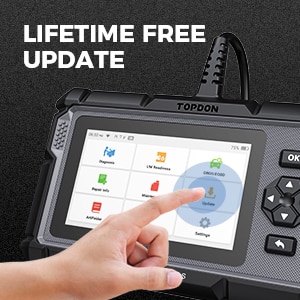 Large 5"Color Touchscreen
Thescan tool adopts a color LED-backlitscreen thatis bright and sharp enough to see in any light condition, and the menu is laid out logically to make your job easy. The 5"large screen size is beneficial, allowing more information to be visualized at once.
Frustration-FreeOperation
The diagnostic tool is easy to holdandthe screen is very responsive to touch. You can either use the selection buttons for busy tasks. They are rubberized,easy to scroll, making navigation smooth even when wearing mechanic gloves.
Quality Comes with Liability
The TOPDON AD500S comes enclosed in a carrying case that provides extra protection against bumps or accidents. 24/7 ongoing Email consultation service is part of the package deal: we are always at hand for any issues arising from this scan tool's use.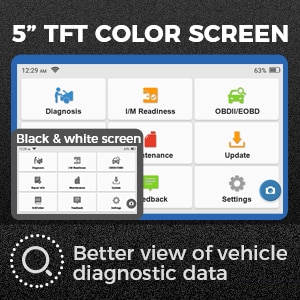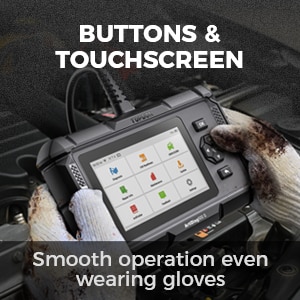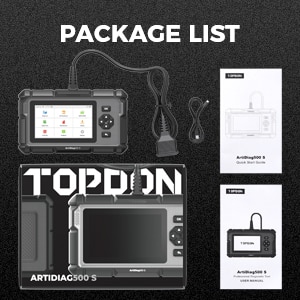 Brake the Language Barrier
The TOPDON AD500Sis multilingual. This scan tool supportsmenus and data displayed in 8 languages: English, French, German, Spanish,Portuguese, Russian, Japanese,and Italian. You can easily switch the default English into your preference after installing the selected language pack.
Widely Support Worldwide Cars
As a feature-packedOBD2 code reader, AD500S is compatible with most OBD2 compliantvehicles after 1996 regardless of the origin. As a 4 systems diagnostic tool, AD500S covers 90+ car manufacturers and 1000+ models including new models from Europe, Asia and US.
**Check and determine if this scan tool is compatible with your vehicle before purchase.
Right Scan Tool for Right Job
If you work in a busy repair shop, then you need this quality diagnostic scanner with reset services to help you deal with a fleet of vehicles.If you are a cost-conscious car enthusiast, you'll find it rivals dealership-level diagnostic toolspreventing faults with your engine and safety systems. Either way,TOPDON AD500S is a great choice.