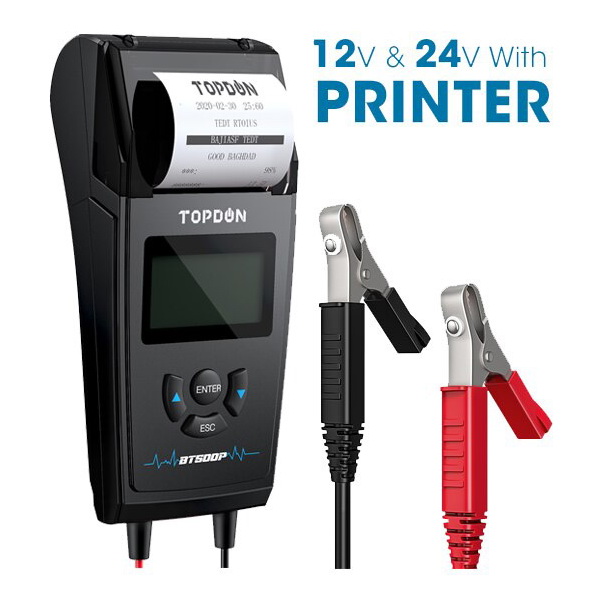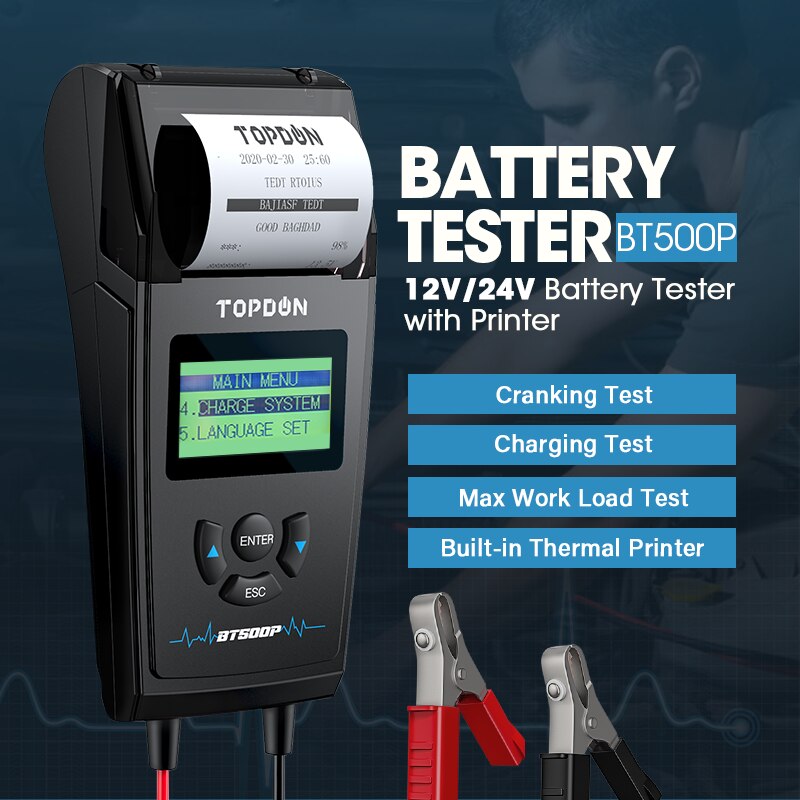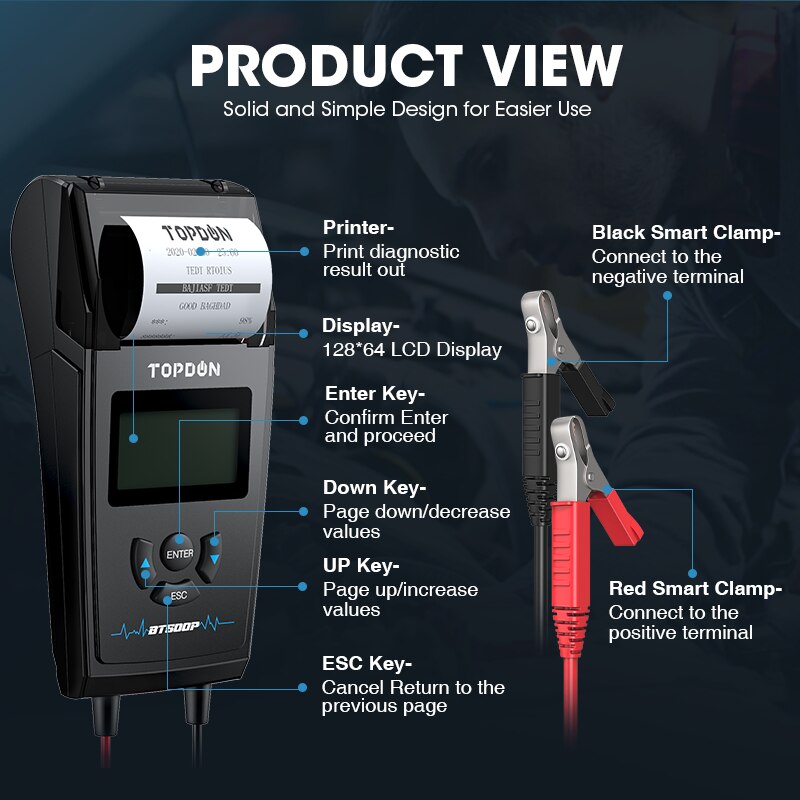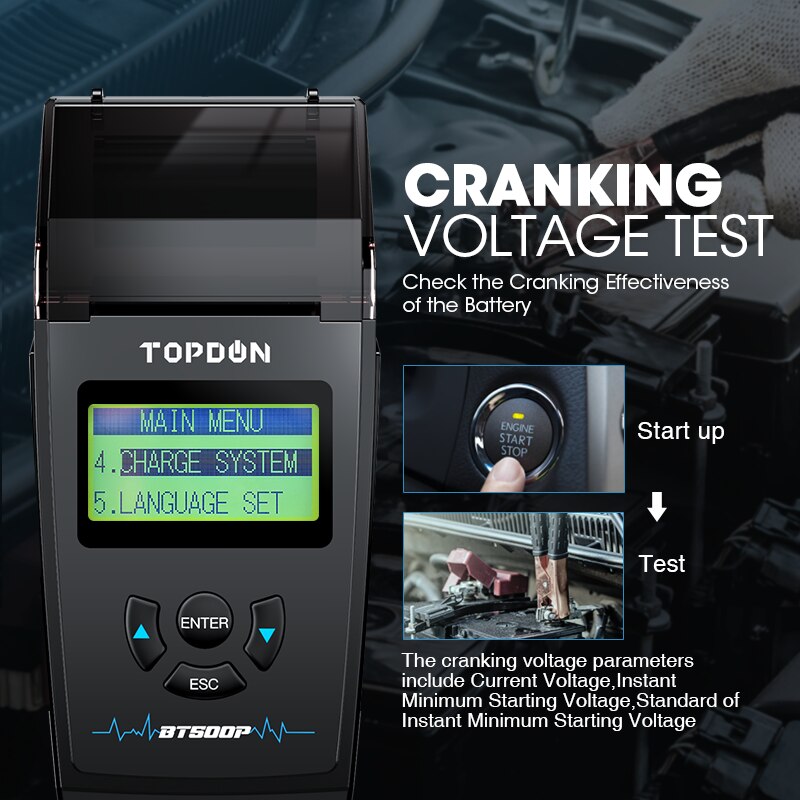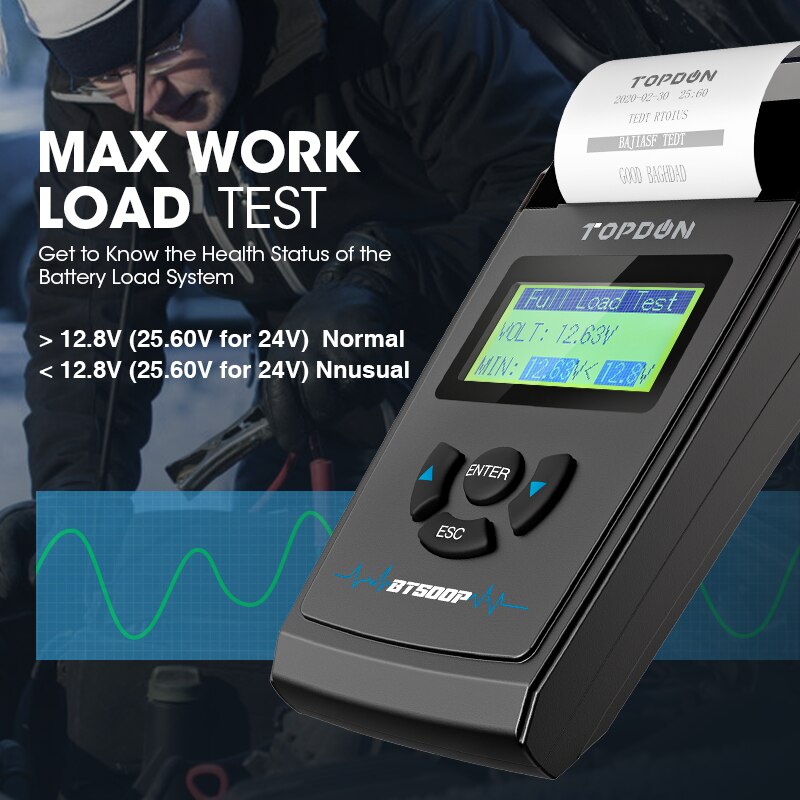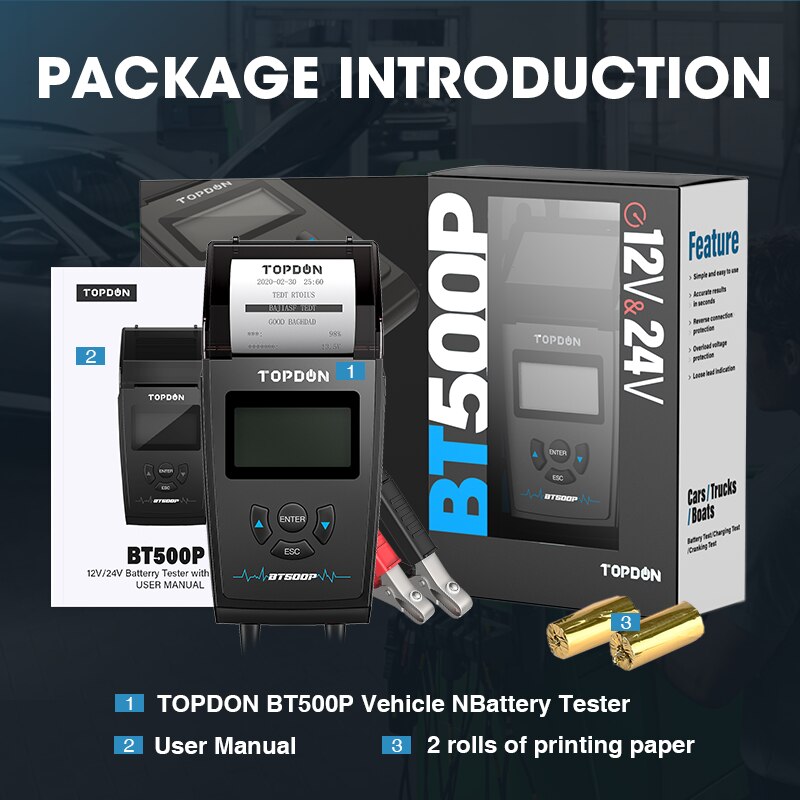 TOPDON BT500P 12V 24V Car Battery Tester with Printer Battery Load Test for Motorcycle Auto Charging Cranking Battery Analyzer
TOPDON BT500P 12V 24V Car Battery Tester with Printer Battery Load Test for Motorcycle Auto Charging Cranking Battery Analyzer
Price:

US$159.00

/

piece
Discount Price:
Shipping:

Express Shipping Service


Estimated delivery time:

3-15

working days.

See details ?

Returns:

Return for refund within 30 days, buyer pays return shipping.

Read details ?

Support: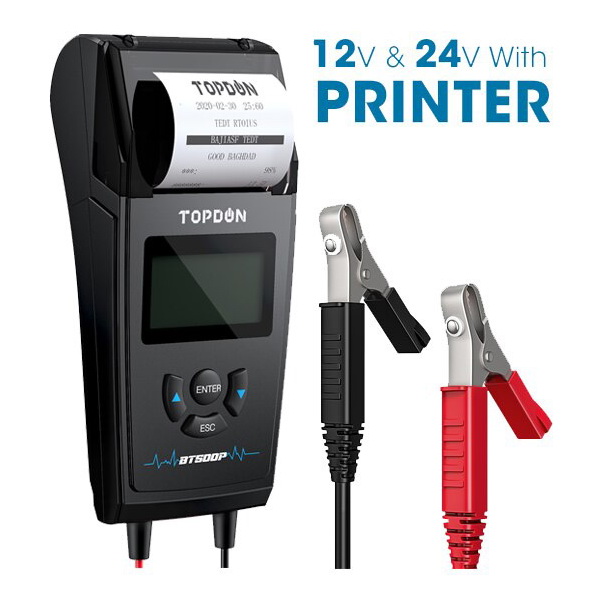 Product Details

Product's Reviews (12)
as a TOPDON new-released automotive battery tester, combines the most advanced conductance testing technology to give users an accurate test results of battery condition, starting and charging system, with reverse polarity protection and built-in thermal printer, etc., to be a quick, safe and easy battery test solution for technicians, professionals, and DIYers.
SPECIFICATIONS:
Display: 128*64 LCD display Working Temperature: -20°C~65°C (-4°F~140°F) Storage Temperature: -20°C~70°C (-4°F~158°F) Dimensions: 310mm*93mm*55mm Weight: 500g
【Multiple Languages】
English, Russian, Spanish, French, Italian, German
WARRANTY:
12-month warranty for any possible quality problems.
TIPS:
Feel free to get technical support via email/Q&A, or hotline on our official site, Facebook or Twitter, or any questions.
FEATURES:
Charging test Cranking test Quick test Load test Resistance test Voltage test Ripple analysis Data storage SOC state of charge SOH state of health
CAR BATTERY TESTER with BUILT-IN PRINTER
TOPDON BT500P can check the overall health of your battery, gage the cranking capability, check its aging status, and run a complete system charging diagnosis. With built-in thermal printer, you can get a diagnostic receipt and share it in seconds. This advanced automotive battery tester is designed for both professionals and DIYers.
12V & 24V BATTERY LOAD TESTER
Does it work on your car? TOPDON BT500P automotive battery tester works on 12 volt & 24 volt lead-acid batteries including regular flooded, AGM flat plate, AGM spiral, GEL and EFB batteries with the test range (100-1700 CCA). Compatible with cars, Motorcycles, trucks, RVs, ATVs, SUVs, boats, yachts, mowers and even golf carts.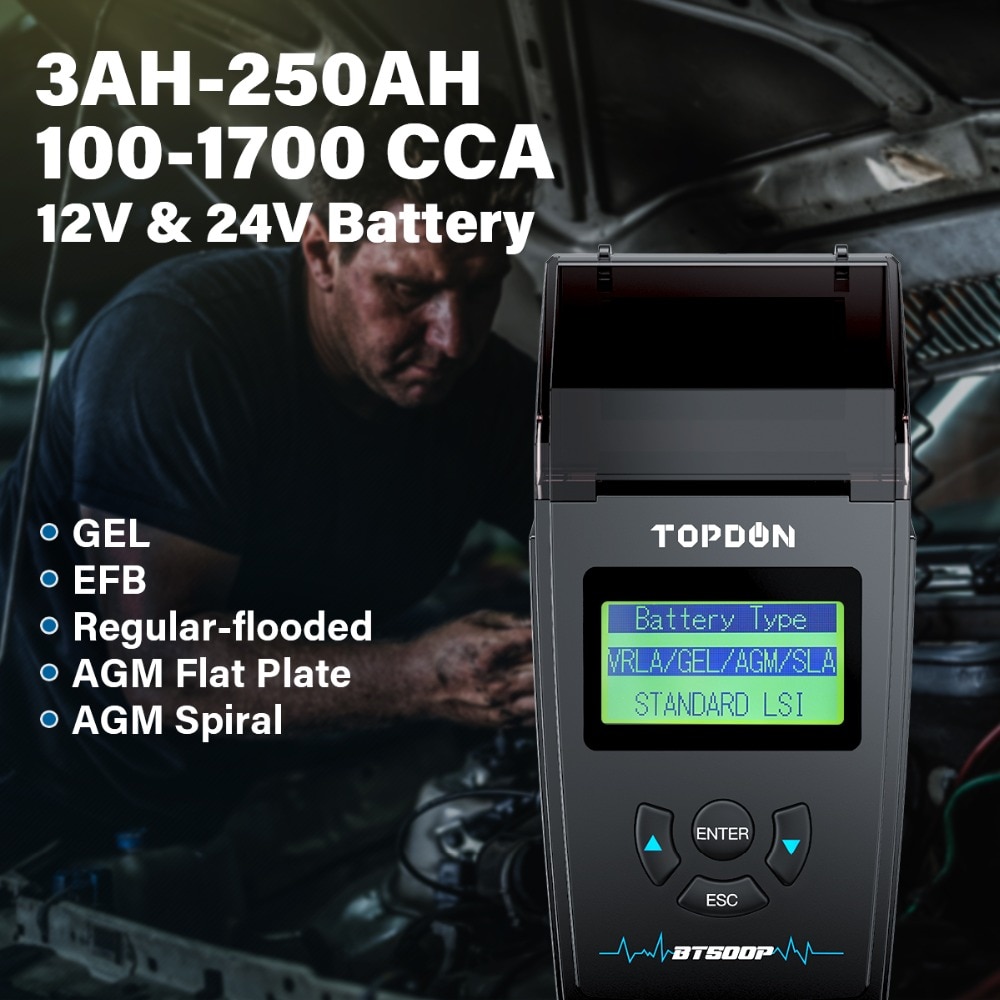 QUICK & ACCURATE
Unsure of battery type and CCA value? We've figured it out beforehand. With "Quick Test" mode, battery test becomes simple. Just input AH value and you get the results in seconds. Suitable for AH marked and CCA unmarked. Also, it gives you accurate results just in seconds to avoid a lemon.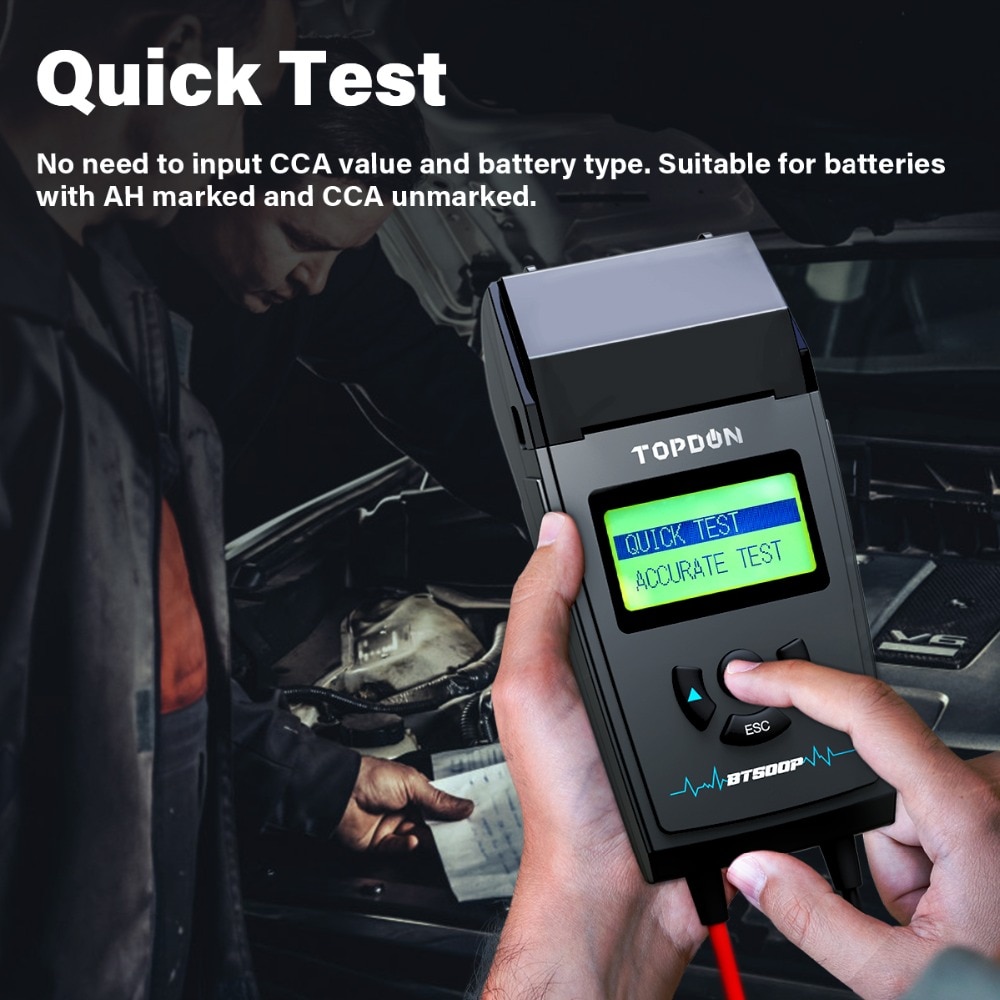 SAFE & RELIABLE
Afraid of the electric shock? BT500P is specially designed Reverse Polarity Protection. A solid and antiskid rugged case is also packed, to protect the tester from shock and being damaged.
NO WORRIES
Your pet doesn't like it? No question asked return in 30 days. Don't know how to use? Welcome to contact us through Amazon or send an email directly to ▶support@topdon.com◀, discover our professional technical service 24/7.
【2 Modes for Battery Test】
The TOPDON BT500P is a great option for those who need to check their automotive batteries on the regular. The tester comes to an innovative user-friendly design of introducing both a "Quick Test" and "Accurate Test" to get a precise estimation of a battery, depending on your experience level or needs: Quick Test: Takes some of the guidance away from your hands, if you are not sure about the battery type and its CCA value. Accurate Test: is used for getting an accurate reading of your battery's capacity status. In a nutshell, you can: Display SOH (State of Health, %): Represents a measure of the battery's ability to store and deliver electrical energy, compared with a fresh battery. Display SOC (State of Charge, %): Expressed as a percentage of its rated capacity, a measure of its condition to assess the potential energy. Display Battery Internal Resistance Value (mΩ): The lower the internal resistance, the more current the battery can output. The value above 15 milliohms indicates a broken battery (12V).
【Top Reasons to Choose】
TOPDON BT500P is a great all-round battery tester, and showcases brilliant design and quality: 1. Easy to use and will enable you to check the battery status with ease and simplicity. 2. Provide functions to check battery health, alternator's charging and starter's cranking conditions. 3. Much wider test range (100-1700 CCA) and more accurate test results compared to others. 4. Tests all battery rating systems - CCA, BCI, CA, MCA, JIS, DIN, IEC, EN, SAE, GB. 5. Compatible with Lead-Acid, regular flooded, AGM flat plate, AGM spiral, gel and deep cycle batteries. 6. Advanced conductive way to test. No need of a fully charged battery before the test. 7. Quick and accurate. The reliable tester offers results in just 10 seconds. 8. Small and compact. The tester is a handy device and a brilliant addition to any automotive toolbox. 9. Designed with a built-in printer for enjoying the comfort of accessing the data in hard-copy form, for better analysis and rectification. 10. Premium quality copper clip and wire keep guarantee to maintain a stable communication all throughout the testing process.
【What Is It Made For?】
This is a minor investment to save you from a potential headache of being stranded unexpectedly, and will gift you massive benefits in future. 1. Help you avoid the inconvenience of a roadside breakdown. 2. Help you keep a close eye on battery function and fix potential problems before they arise. 3. Help you check the battery status quickly and without spending too much on mechanic fees. 4. Lengthen the lifespan of your battery and enable you to fix problems quickly. 5. Ensure your batteries are always working at an optimum level. 6. Ensure your batteries will bring a reliable cold-weather starting. 7. Enable you to determine whether your automotive battery needs a jump start, or to be changed. 8. and more …
【2 Modes for Battery Test】
Cover 10 Battery Standards
CCA: Cold Cranking Amps (Range: 100~2000) BCI: Battery Council International (100~2000) CA: Cranking Amps (100~2000) MCA: Marine Cranking Amps (100~2000) JIS: Japan Industrial Standard (26A17~245H52) DIN: German Auto Industry Committee (100~1400) IEC: Internal Electrical Technical Commission (100~1400) EN: European Automobile Industry Association (100~2000) SAE: Society of Automotive engineers (100~2000) GB: China National Standard (30Ah~200Ah)
【Cranking Voltage Test】
This load tester actually checks the cranking effectiveness of the battery, and helps you predict when the battery will fail to crank a vehicle. It displays the Cranking Voltage parameters as follows in seconds, for you to make a decision on battery maintenance: Current Voltage Instant Minimum Starting Voltage Standard of Instant Minimum Starting Voltage Normally a Cranking Voltage value lower than 9.6V is regarded as abnormal. *The engine and all other accessory loads must be OFF during the test.
【Max Work Load Test】
Sometimes, a battery may have enough power to start your engine, but the electrical system can't support the increased load of operating other electrical things like your headlights or radio. According to the result of the max work load test from TOPDON BT500P, you can get to know the health status of the battery load system, and make sure if the battery is in a good condition. If > 12.8V (25.60V for 24V), the load system is working well. If < 12.8V (25.60V for 24V), check the engine belt abrasion and the electrical short circuit.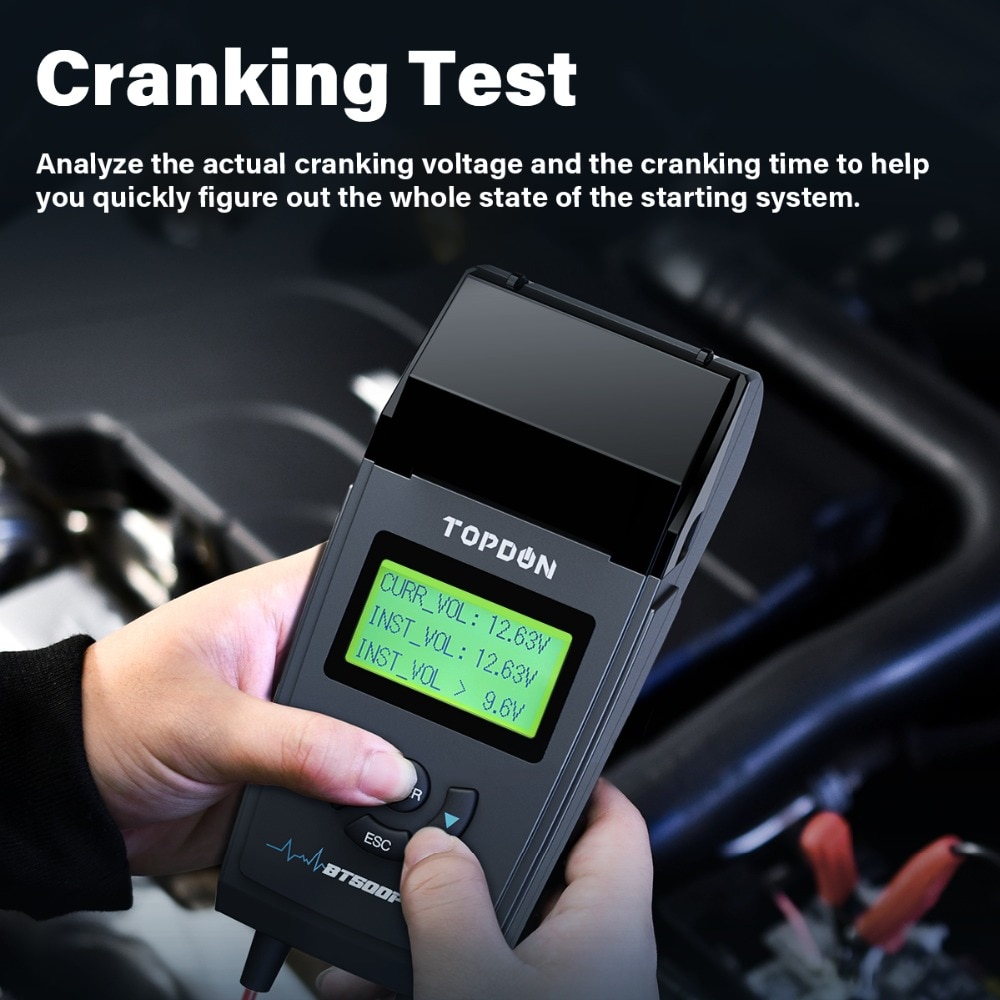 【Charging System Test】
Chronic undercharging can also cause premature battery failure. The battery tester TOPDON BT500P boasts a thorough charging system test, to help you avoid unpredicted system interruption, and prevent the batteries from being overcharged and over discharged, which may also cause permanent damage to the internal structure of batteries. By simply following the guidance you will get the test results as follows: The maximum value of output voltage The average value of output voltage The minimum value of output voltage Check the reference table in the product manual, you will have a basic idea of your charging system status.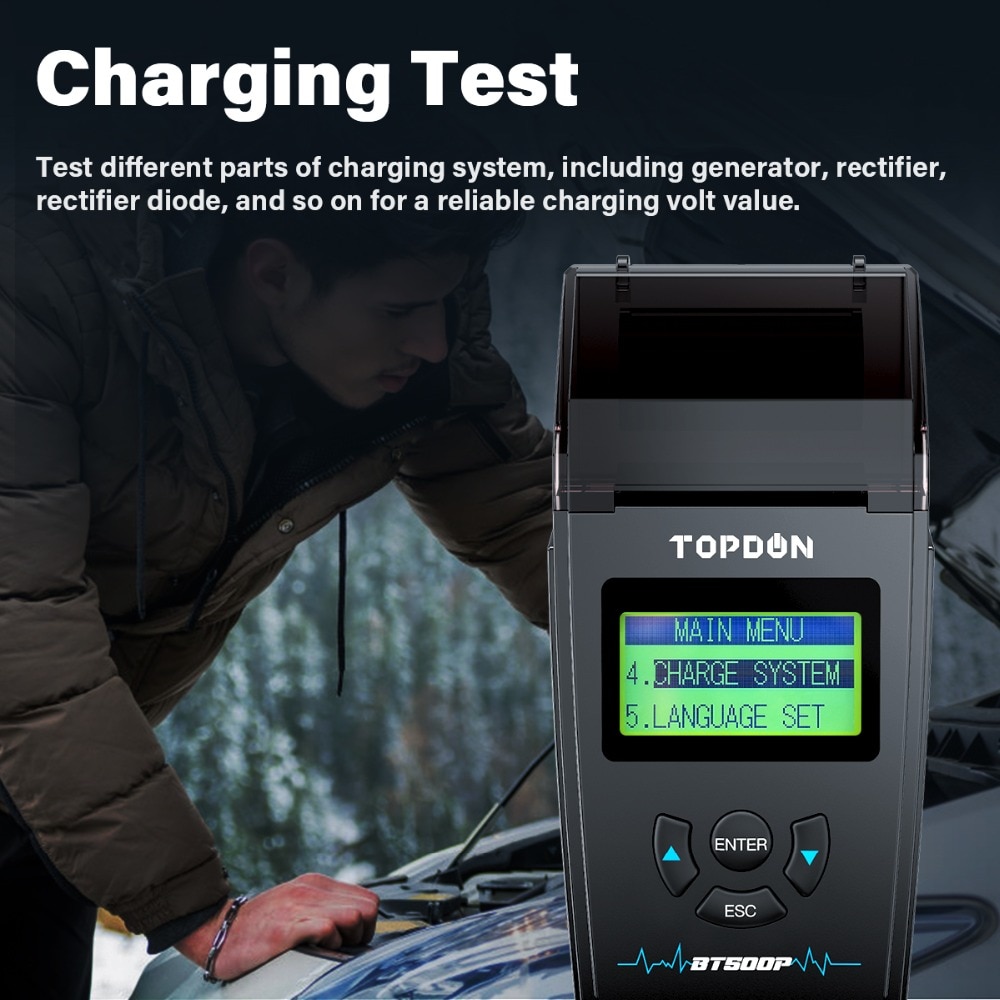 PACKAGE LIST:
1*TOPDON BT500P Vehicle Battery Tester 1*User Manual 2*Printing Paper